The Air Force's 102nd Intelligence Wing, which the Air National Guardsman suspected of leaking classified documents was assigned to, has been ordered to stand down from its intelligence mission as the service's inspector general investigates, the Air Force said Tuesday.
The Air Force also directed every unit to conduct security-focused stand-downs in the next 30 days to "reassess our security posture and procedures, validate the need to know for each person's access, and emphasize to all Airmen and Guardians the responsibility we are entrusted with to safeguard this information and to enforce and improve our security requirements," Air Force Secretary Frank Kendall and other military leaders said in a memo.
The 102nd Intelligence Wing is not performing its assigned intelligence mission, and it has been temporarily reassigned to other organizations within the military branch, the Air Force said in a statement.
Federal authorities arrested Jack Teixeira, 21, last week in connection with the investigation into classified documents that were leaked on the internet. He was charged with possessing classified documents pertaining to national security and possessing national defense materials. The charges carry a maximum of 10 years behind bars.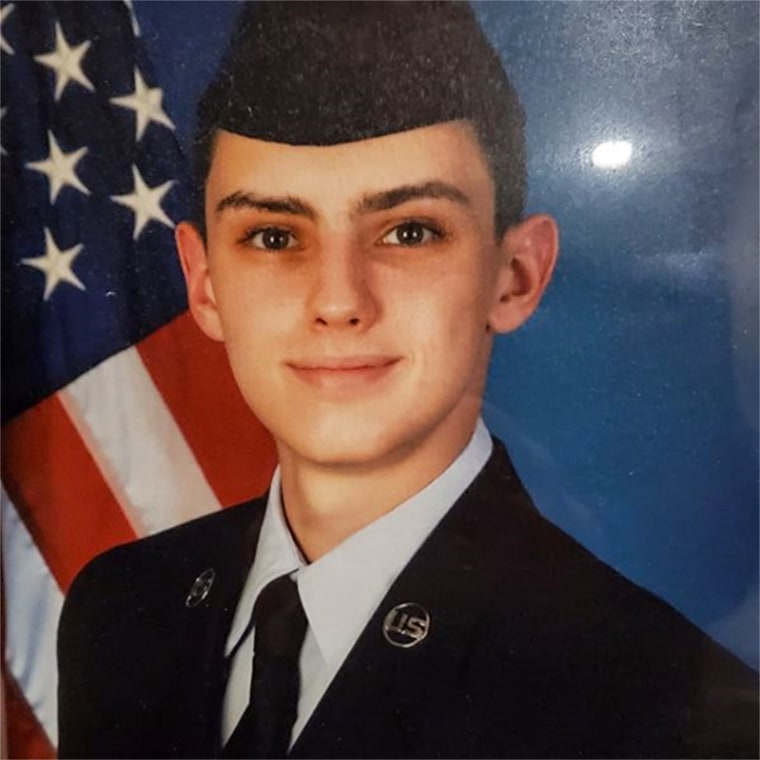 NBC News obtained more than 50 of the leaked documents, many of them labeled "Top Secret," the highest level of classification. They reveal details of U.S. spying on Russia's war machine in Ukraine and secret assessments of Ukraine's combat power, as well as intelligence about America's allies, including South Korea and Israel.
Teixeira, an airman first class with the Massachusetts Air National Guard who has been in uniform since September 2019, was stationed at Otis Air National Guard Base on Cape Cod. He was employed as a cyber transport systems journeyman — essentially an information technology specialist — which allowed him to obtain top-secret clearance for his work. 
Teixeira was not required to enter a plea at this initial court appearance Friday, and a federal public defender listed as his attorney could not be reached for comment Friday.
Teixeira's arrest has raised questions about why a low-level airman had expansive access to classified documents that he is alleged to have shared with a close-knit online community of fellow gamers. 
Teixeira was reported to have used Discord, an online forum originally used as a chat platform by video game enthusiasts, to share the leaked information with his small community of online friends to have taken photos of paper documents he may have smuggled out of a secure facility.
Defense Secretary Lloyd Austin issued a memo Tuesday that ordered an immediate review of how classified information is handled and secured. It directs several Defense Department leaders to review procedures and standards and to provide an interim report to the undersecretary of defense for intelligence and security by May 2.
Asked whether someone Teixeira's age should have access to high-level U.S. intelligence, Austin told reporters Wednesday that "the vast majority of our military is young, and so it's not exceptional that young people are doing important things in our military."
"That's, that's really not the issue," he continued. "The issue is — and by the way, he had a top-secret clearance — the issue is how you responsibly execute or carry out your duties and how you protect the information.
"All of us have a requirement to do that," he added, "and supervisors have a requirement to make sure that that's being done."
Lawmakers on both sides of the aisle have expressed concerns related to national security after Teixeira's arrest. A Senate Intelligence Committee aide said that Congress would review the clearance system after the recent leaks and that the committee would hold hearings on the topic.
Summer Concepcion reported from New York and Mosheh Gains from Stockholm.