Hours before the recent coup in Niger, American diplomats painted a picture of a democratic government that, while imperfect, was more stable than others in the region.
"There's a public perception of general corruption, but it's not as bad as other countries in the area," a U.S. official told NBC News on July 25. Later that day, Nigerien security and military leaders overthrew the country's democratically elected president, Mohamed Bazoum.
Niger was the sixth country in Africa's sprawling Sahel region, which spans the continent from the Atlantic Ocean to the Red Sea, to have experienced a coup since 2020. It is also a base for emboldened Islamist militants and one of the world's largest producers of uranium, which is coveted by many nations. France, the former colonial power in the region, has scaled back its once-frequent military interventions.
But the U.S. response to the coup raises questions about how effectively the West will be able to counter Islamist terrorist groups and Russian disinformation in a region that risks becoming a region of failed states. On Sunday, Niger's new military leaders announced that they will prosecute the country's democratically elected president for "high treason," a charge that could result in the death penalty.
Though rumors of a coup had circulated in Niger for some time, U.S. officials were blindsided when it happened because the U.S. has not prioritized Africa for years and does not have enough personnel there, more than a dozen current and former U.S. diplomatic and military officials said. The U.S. did not even have an ambassador in Niger on the day of the coup.
Once the coup began in the nation of roughly 25 million, it took U.S. officials days to accept that short of an international military intervention, it would not be reversed. Asked why the U.S. was caught off guard, White House National Security Council officials did not immediately respond to a request for comment.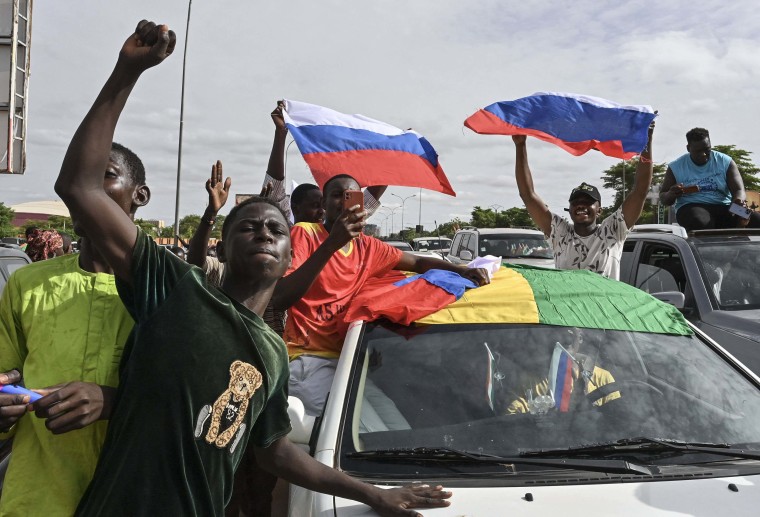 At first, U.S. diplomatic and military officials insisted the cause was a personal dispute between the president and the head of his Presidential Guard, Gen. Abdourahamane Tchiani, and that it could be resolved quickly. Tchiani had allegedly taken Bazoum hostage because he expected Bazoum to fire him.
"In the first day, we were told by all of our contacts that nobody supported this," a senior State Department official said 48 hours after the coup began. "And then in the second day it seemed to balloon a little bit, but those who we talked to said they were just acting to make sure that the president and his family weren't hurt and that there was no conflict among the military or with civilians."
U.S. military officials believed that the head of the Nigerien Special Forces, Gen. Moussa Salaou Barmou, their close ally, was going along with the other military leaders to keep the peace. They noted that in a video showing the coup leaders on the first day, Barmou was in the back of the group with his head down and his face mostly hidden.
Less than two weeks later, Barmou met with a U.S. delegation in Niamey, led by acting Deputy Secretary of State Victoria Nuland, and expressed support for the coup and delivered a sobering message: If any outside military force tried to interfere in Niger, the coup leaders would kill President Bazoum.
"That was crushing," said a U.S. military official who has worked with Barmou in recent years. "We were holding out hope with him."
Not only had Barmou worked with top U.S. military leaders for years, but he was also trained by the U.S. military and attended the prestigious National Defense University in Washington, D.C. 
Last week, sitting across from U.S. officials who had come to trust him, Barmou refused to release Bazoum, calling him illegitimate and insisting that the coup leaders had the popular support of the Nigerien people. Nuland later said the conversations were "quite difficult."
No faction of the army emerged to try to take on the junta, making it difficult for Western governments to respond. There was also no clear, organized opposition group ready to confront the coup leaders.
"That would have been much easier for the U.S. and for France. That did not happen," said Michael Shurkin, an expert on West Africa who served at the CIA and the National Security Council and is now the president of Shurbros Global Strategies, a consultancy.
"The Sahel is collapsing under the pressure of these jihadist insurgencies. There's this sort of groping and grasping for solutions, and there's no easy answers," Shurkin said. 
An ISIS ambush
U.S. troops have trained Nigerien troops for years as allies in the fight against Islamic terrorist groups. In 2013, the U.S. and Niger agreed to allow U.S. troop deployments in the country to support counterterrorism efforts in a noncombat role.
But the U.S. military role there changed after a deadly attack in October 2017. Searching for kidnapped American aid worker Jeff Woodke, U.S. and Nigerien troops were ambushed by a group of Islamic State fighters outside the village of Tongo Tongo. Outmanned and outgunned, four U.S. soldiers and four Nigerien troops were killed, and many more were wounded. (Woodke was released in March after spending six years in captivity.)
It was the deadliest attack against U.S. troops in Africa since the "Black Hawk Down" attack in Somalia in 1993, and it sparked a debate about the U.S. presence in Niger. Since that attack, the rules for troops at outposts in Niger have changed significantly, U.S. military officials said. 
"Tongo Tongo still affects military leaders in the region," a military officer recently deployed to Niger said. "We weren't allowed to travel more than 15 kilometers from the base for the first few months" because of concerns about safety. 
"We were trying to figure out how to make a mission work, but we were seeing and talking to the same people, talking to the same tribes, all the time," the officer said. Those limitations meant the Americans had only a limited sense of what was happening around them. 
A second U.S. military official in the region said: "Tongo Tongo had a chilling effect on how we operate in Niger, and it's still in the back of military leaders' minds every time they leave the base.
"We are not able to engage like we would like," the official added, "but that's also because we don't have the resources we need. We don't have enough, and so our hands are tied."
A third U.S. defense official said: "The entire National Defense Strategy for the U.S. includes exactly one paragraph about Africa. That tells you how much we prioritize the continent." 
A U.S. national security official said the Biden administration has paid more attention to the region than previous administrations, including being the first to release a strategy for West Africa and sending several senior leaders to that part of the continent, among them Secretary of State Antony Blinken.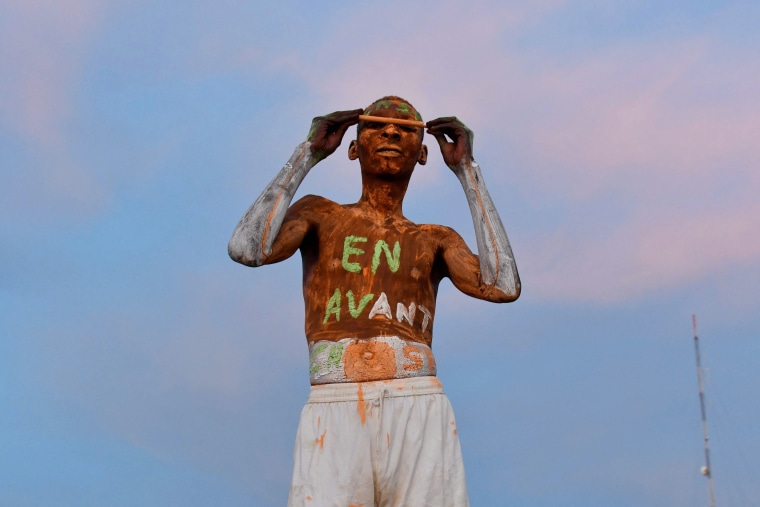 But the Biden administration did not nominate an ambassador to Niger until 18 months after it took office, and then the nomination got held up by Sen. Rand Paul, R-Ky., citing his request for addition information about the origins of Covid. The nominee, Kathleen FitzGibbon, was not confirmed for nearly a year, finally getting congressional approval on July 27, the day after the coup began.
As a result, the U.S. Embassy has been run by Charge d'Affaires Susan N'Garmin since December 2021. And the administration has not named a new envoy to the Sahel region, a position created during the Trump administration that has been vacant for nearly two years.
"We've invested half a billion dollars in military assistance plus probably somewhere close to $2 billion in humanitarian and development assistance in this country over the last 10 years. And yet we let it go for almost two years without an ambassador," said J. Peter Pham, the former envoy to the Sahel, who has yet to be replaced since he stepped down in January 2021. 
"In a way we were flying blind, and we knew it," he said.
The Biden administration's inability to anticipate or influence events in Niger reflects how Africa has often been a lower priority compared with other regions and crises, experts and former officials said, especially when compared to Washington's focus on Ukraine and China.
"People in Africa have been telling me for two years now that a coup in Niger was imminent," Shurkin said. But "at the end of the day, it wasn't that high of a priority for us, or even for the French."
Disinformation and poverty
Even if Washington had a clearer sense of Bazoum's vulnerabilities, it is not clear whether the U.S. or France could have averted the coup or shored up the president in time — short of taking risky military action, experts said.
"Ultimately, I don't know if there's anything that we or the French could have or should have done," Shurkin said.
During the Cold War, France might have taken unilateral military action in response to a coup. From 1960, when more than a dozen former colonies in Africa became independent, to the early 1990s, France intervened militarily on the continent dozens of times. More recently, French political leaders have been reluctant to shore up African governments with military force.
French President Emmanuel Macron "decided not to for all the right reasons," Shurkin said. "He didn't want France to be in a position of intervening like a colonial power."
The coup leader, Gen. Tchiani, has appealed to anti-French feeling, and Russia has helped fuel anger at France by disseminating online propaganda and disinformation in Niger and across the Sahel. Members of the Wagner Group, a Russian mercenary organization, operate in Mali and Sudan, two nations where coups occurred, and also in the Central African Republic
The Sahel, in addition, remains home to some of the world's poorest countries, and high birth rates have resulted in large numbers of unemployed youths.
"You don't need Russia to teach Niger to dislike France," Shurkin said, but the Russians "have definitely been turning up the heat a bit." Shurkin added that he had seen an "alarming" turn on African social media toward "the easy answers offered by strongmen."
Democratically elected leaders in Africa have vowed to fight back. Since the 1990s, popular movements across West Africa have pushed aside authoritarian regimes in multiple countries.
Two weeks before the coup in Niger, the democratically elected president of Nigeria, Bola Tinubu, who was forced into exile by his country's past military rulers, vowed to defend democracy. "We will not allow coup after coup," he said.
Tinubu has threatened to launch a military intervention in Niger with other democratically elected leaders in the region if Bazoum is not returned to power. But it is unclear if he and other regional leaders have the resources to do so.
Shurkin said the trend lines in the region remain worrisome. A recent report called the Sahel a new global epicenter of terrorism, noting that the number of deaths caused by terrorist attacks in the region in 2022 was higher than the number of deaths in South Asia and the Middle East combined.
"People are disappointed by those democracies and how they've worked out," Shurkin said. "And they're turning their backs on it, which I find understandable but tragic."