WASHINGTON — At roughly the same time President Donald Trump was laying out his administration's North Korea policy in Tuesday's State of the Union address, South Korean and U.S. officials in Seoul were waking up to the news that the administration's long-awaited choice for ambassador, Victor Cha, had withdrawn himself from consideration.
One top U.S. official said embassy staff learned through news reports that their embassy would remain without a top envoy, raising concern that the critical strategic post will remain empty for the foreseeable future.
Now, as the U.S. and its allies look to ramp up pressure against Pyongyang while avoiding military conflict, the prolonged — and now indefinite — vacancy of the job of ambassador to Seoul is raising concern that any hope for a diplomatic solution to the standoff with North Korea is diminishing.
A senior administration official confirmed to NBC News that Cha withdrew from consideration after disagreeing with the administration about its approach to the North Korean crisis. A second senior administration official and a third person close to the decision tells NBC News that South Korea's government had been informed that Cha was to be nominated as ambassador and he had received his clearances — but then some of his policy positions upset the White House.
A senior White House official confirmed that Cha had withdrawn from consideration and wished him well, but said the policy disagreements have been mischaracterized in the media. The official did not elaborate.
Cha, a professor at Georgetown University, penned an editorial for The Washington Post, which first reported that he had withdrawn from consideration. In it, he said that with regard to confronting North Korea, "the answer is not, as some Trump administration officials have suggested, a preventive military strike."
"To be clear," Cha continued, "(t)he president would be putting at risk an American population the size of a medium-size U.S. city — Pittsburgh, say, or Cincinnati — on the assumption that a crazy and undeterrable dictator will be rationally cowed by a demonstration of U.S. kinetic power."
Cha did not respond to a request for comment.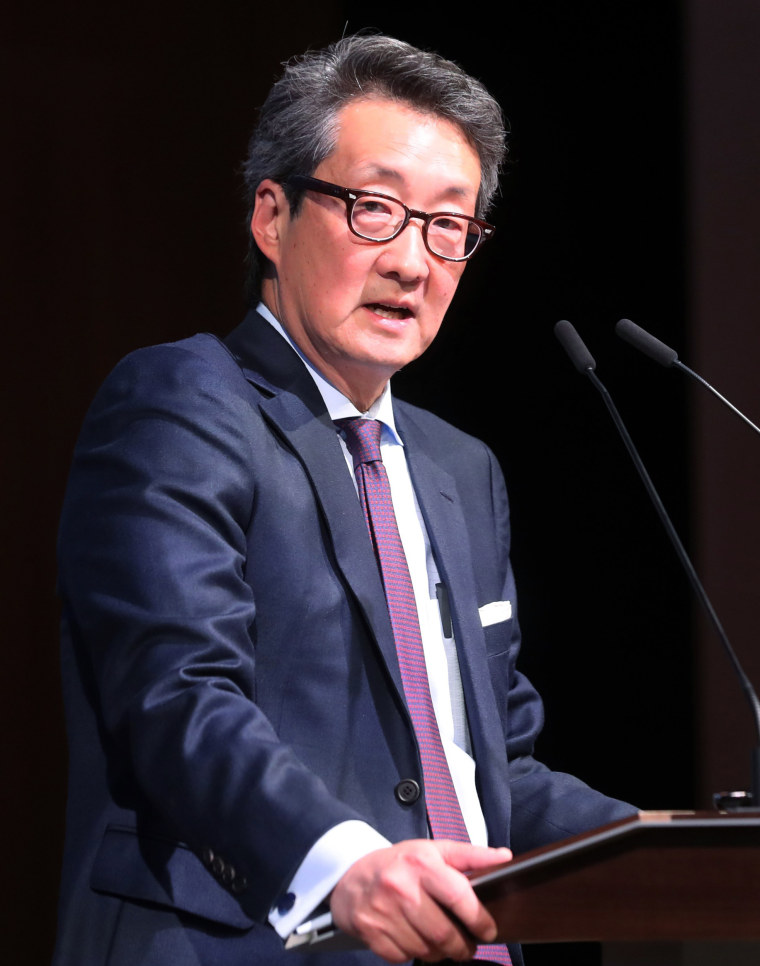 Viewed as a pre-eminent expert by professionals in both parties, Cha previously served in former President George W. Bush's national security council. His withdrawal as the ambassadorial nominee to Seoul was dropped just days before South Korea hosts the Winter Olympics.
The State Department said Wednesday that it is confident South Korea will host the Olympics without incident and that Cha's withdrawal has no impact on the event.
"South Korea understands we have not yet nominated, that the White House has not yet nominated an ambassador, that the White House will do so when it has a candidate that they are willing — that they are able to put forward," said Steve Goldstein, undersecretary of state for public diplomacy and public affairs. "The fact that we do not have an ambassador in place has not impacted the security planning for the Olympic games on behalf of the United States and for South Korea."
And while the U.S. embassy in Seoul is operating business as usual, the appointment of an ambassador is symbolically important, particularly amid increasing tensions between Washington and Seoul. South Korea's liberal President Moon Jae-in has repeatedly advocated for engaging with North Korea directly, while the White House has pushed back on the idea, saying that Pyongyang needs to make a compelling effort to dismantle its nuclear program before direct diplomatic efforts can resume.
Following talks between North and South Korea, Pyongyang agreed to send 22 athletes to the Winter Games, which begin on Feb. 8, as well as a music and dance troupe. But the plans are fragile, as is evident from North Korea's decision this week to cancel a joint cultural event with South Korea, blaming "insulting" media coverage by the South Korean press.
Last week, Secretary of State Rex Tillerson said that efforts to deter North Korea's nuclear advancements had reached "a very tenuous stage."
"We have to recognize that that threat is growing and if North Korea does not choose the pathway of engagement, of discussion, negotiations, then they themselves will trigger an option," Tillerson said, shortly before North Korea resumed talks with Seoul on joining next month's Olympic Games.
Tillerson called on Pyongyang to agree to talks on dismantling its nuclear program.
"The North Koreans know our channels are open and they know where to find us," he said, adding, "It's time to talk, but they have to take the step that says they want to talk."
While the administration says there are several potential candidates to take Cha's place, his withdrawal underscores growing concerns about the potential for a diplomatic vacuum, not only in Seoul but in strategic posts around the world.
To date, four of the six undersecretary of state positions remain unfilled and one is held by an Obama-era holdover. There have been nominations submitted to Congress to fill two of the four vacant positions.
Ambassador posts in critical locations like Riyadh, Saudi Arabia; Cairo; Doha, Qatar; Amman, Jordan and the European Union also remain vacant.
This unconventional foreign policy structure — often dictated by the president's public statements and tweets — has resulted in a withering State Department, crippled by budget cuts and staffing delays that have muddled the once-clear diplomatic channels to Washington, according to U.S. and foreign diplomats.
Trump himself made no mention of "Little Rocket Man" — his nickname for North Korean leader Kim Jong Un — or "fire and fury" when he spoke about the North in his State of the Union address Tuesday, instead adopting a relatively subdued approach.
He sought to highlight the human cost of North Korea's aggression, inviting as his guests Tuesday the parents of Otto Warmbier, the American student who died days after being released from captivity in North Korea, and Ji Seong-ho, a North Korean defector who works from Seoul to rescue other defector.
And he accused Kim and his regime of a "reckless pursuit of nuclear missiles" that pose a threat to American security.
"Past experience has taught us that complacency and concessions only invite aggression and provocation," said Trump. "I will not repeat the mistakes of past administrations that got us into this dangerous position."
The president "has served, for better or worse, as his own ambassador to Seoul," said Gordon Chang, author of "Nuclear Showdown: North Korea Takes on the World." "Any ambassador is going to be held hostage to policies that are probably very political" in nature.