Defense Secretary James Mattis isn't keeping private any of his feelings about what it means to serve in the U.S. Navy.
In an Aug. 9 speech, Mattis bluntly praised Navy sailors for their service, telling them it meant "you're not some pussy sitting on the sidelines."
"You will have some of the best days of your life and some of the worst days of your life in the U.S. Navy, you know what I mean?" Mattis told sailors stationed at Naval Base Kitsap, in Washington state.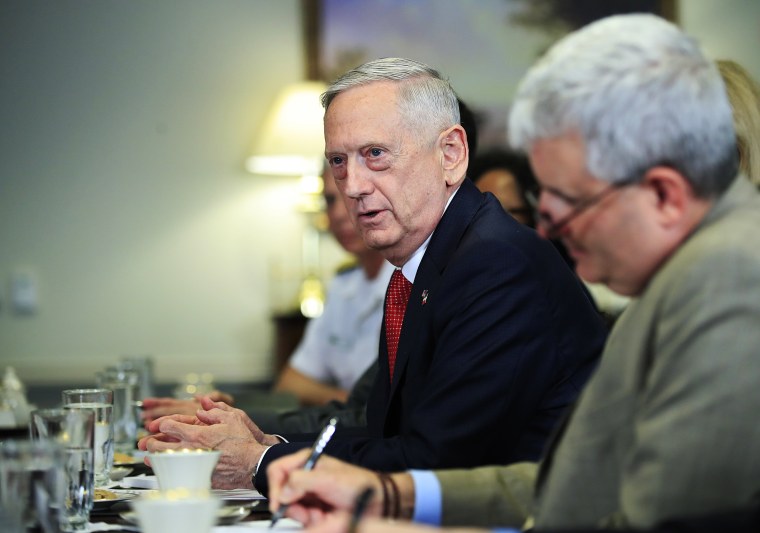 "That means you're living. That means you're not some pussy sitting on the sidelines, you know what I mean, kind of sitting there saying, 'Well, I should have done something with my life,'" Mattis added. "Because of what you're doing now, you're not going to be laying on a shrink's couch when you're 45 years old, saying 'What the hell did I do with my life?' Why? Because you served others, you served something bigger than you."
A transcript of Mattis' remarks was released by the Pentagon earlier this week.
In the speech, Mattis thanked sailors for "sticking with the Navy" and said he wished he was "young enough to go back out to sea."
"Although, I will admit it takes a special kind of person to be in submarines. I was in the Marines, and there's a world of difference between a submariner and a Marine, you know what I mean?" he said to laughter.
Mattis enlisted in the Marine Corps in 1969 and served in the Persian Gulf War, the War in Afghanistan and the Iraq War and served as the head of U.S. Central Command in 2010 to 2013. Along the way he picked up the nicknames "Mad Dog" and the "Warrior Monk."
Mattis wouldn't be the first member of the executive branch to make vulgar comments. Trump used the same obscenity in a 2005 conversation that was caught on tape and unearthed in October.