WASHINGTON — There has been a barrage of contradictory claims in recent days about how U.S. officials believe the coronavirus emerged from the Chinese city of Wuhan, what evidence they have and when President Donald Trump was first briefed about it.
Here is what we actually know:
When was Trump first briefed on the intel about the coronavirus?
As NBC News has reported, U.S. intelligence agencies first detected signs of a health crisis in Wuhan in November and began producing intelligence reports on the issue in December. Intelligence reports first appeared in the president's briefing book, known as the President's Daily Brief, in early January, according to NBC News' reporting. The brief is written for the president, but it also goes to certain Cabinet officials and top advisers.
Full coverage of the coronavirus outbreak
The National Security Council began meeting about the coronavirus in early January, according to NBC News' reporting.
But according to multiple officials, Trump rarely, if ever, reads his written intelligence product. On Sunday, Trump said he was first briefed on Jan. 23.
"On January 23, I was told that there could be a virus coming in but it was of no real import. In other words it wasn't, 'Oh, we've got to do something, we've got to do something.' It was a brief conversation, and it was only on January 23," Trump said during a Fox News town hall Sunday.
Did the virus really emerge accidentally from a Chinese lab?
Despite Trump's comment Thursday that he has seen information that gives him high confidence that the outbreak was the result of an accidental release from a Wuhan laboratory, U.S. intelligence officials told NBC News that they have made no such assessment. There is no "smoking gun" evidence pointing them in that direction, they say, and there may never be.
Intelligence officials stand by the public statement put out Thursday by the Office of the Director of National Intelligence, which said that the intelligence community has concluded that the virus was not man-made but that it had reached no conclusion about whether it emerged accidentally from a lab or was transmitted to humans through animals.
NBC News reported last week that the White House has tasked the intelligence community with investigating that and other questions about the origin of the virus, the extent to which China covered it up and whether the World Health Organization was complicit in the cover-up. Some critics have raised the concern that the White House is pushing the intelligence agencies to validate a conclusion that helps it politically, by distracting attention from the question of whether it acted soon enough. China and the WHO deny that they were less than forthcoming, and China says the virus couldn't have come from one of its labs.
Download the NBC News app for full coverage and alerts about the coronavirus outbreak
Secretary of State Mike Pompeo said Sunday on ABC that "there is enormous evidence ... I can tell you that there is a significant amount of evidence that this came from that laboratory in Wuhan." But he declined to detail the evidence, as did Trump when he was asked about it.
Two White House officials told NBC News that by saying he'd seen convincing evidence, Trump wasn't saying he'd seen an intelligence assessment.
Scientists and virologists say a far more likely explanation is natural transmission from animals to people. But experts and U.S. officials say a good deal of circumstantial evidence points to an accidental release. No one has credibly suggested that the virus was engineered by humans. Pompeo said he accepted the scientific consensus that the virus was naturally occurring.
Two labs in Wuhan were studying coronaviruses, experts told NBC News: the Wuhan Institute of Virology, or WIV, and the Wuhan Center for Disease Control and Prevention, shorthanded as the Wuhan CDC. Researchers from both facilities collected the virus samples from bats in caves. The goal of the research was to learn more about a family of viruses that had already been proven lethal to humans in the 2002 SARS outbreak.
Less is known about the Wuhan CDC, which is a short distance from the Wuhan wet market where officials first said the virus emerged. Much attention has been focused on the WIV, which has a Biosafety Level 4 section where scientists work on the most dangerous pathogens. It should be noted, however, that coronaviruses aren't deemed dangerous enough to require BSL-4 safety procedures. They are in a BSL-3 category, requiring less rigorous procedures.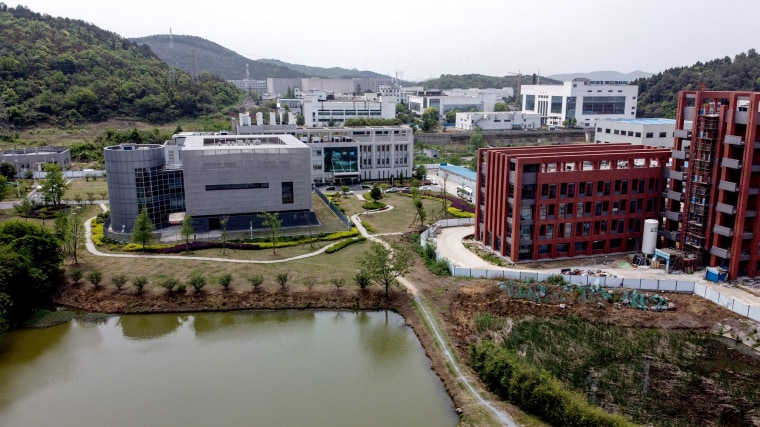 In the accidental release scenario, a worker at one of the labs could have become infected and transmitted the virus to others. Those who suspect such a lab release point to the following:
A Jan. 24 study published in the medical journal The Lancet found that three of the first four cases — including the first known case — didn't provide a documented link to the Wuhan wet market.
The bats that carry the family of coronaviruses linked to the new strain aren't found within 100 miles of Wuhan — but they were studied in both labs.
Photos and videos have emerged of researchers at both labs collecting samples from bats without wearing protective gear, which experts say poses a risk of human infection.
A U.S. State Department expert who visited the WIV in 2018 wrote in a cable reported by The Washington Post: "During interactions with scientists at the WIV laboratory, [U.S. diplomats] noted the new lab has a serious shortage of appropriately trained technicians and investigators needed to safely operate this high-containment laboratory."
According to Senate Intelligence Committee member Tom Cotton, R-Ark., the Chinese military posted its top epidemiologist to the WIV in January.
The Shanghai laboratory where researchers published the world's first genome sequence of the coronavirus was shut down Jan. 12, according to The South China Morning Post.
According to U.S. intelligence assessments, including one published by the Department of Homeland Security and reviewed by NBC News, the Chinese government initially covered up the severity of the outbreak. Government officials threatened doctors who warned their colleagues about the virus, weren't candid about human-to-human transmission and still haven't provided virus samples to researchers.
Despite all that, most scientists and researchers believe natural animal-to-human transmission is the most likely scenario.
Peter Daszak, a virus expert who has visited one of the Wuhan labs as part of a U.S.-funded program, said millions of people in China are infected each year by coronaviruses from animals. Most of the infections aren't life-threatening.
"There's just an incredible volume of traffic between wildlife and people," he said.
He added that the WIV rarely worked with live viruses and generally practiced sound safety procedures.
"I've been in hundreds of labs, and I know a good lab when I see one," he said. "These guys are good."