President Donald Trump seems to have doubled down on his position that countries with numerous American military bases and personnel should pony up enough money to help pay for that presence.
"We strongly support NATO, an alliance forged through the bonds of two World Wars that dethroned fascism, and a Cold War that defeated communism," Trump said during his joint address to Congress on Tuesday. "But our partners must meet their financial obligations. And now, based on our very strong and frank discussions, they are beginning to do just that. In fact, I can tell you the money is pouring in."
Trump himself hasn't given any indication as to how he would respond to allies who don't spend significant amounts of money on their own defense. On the campaign trail, he questioned why the U.S. would continue to defend countries he feels don't pay enough for the U.S. presence and singled out Germany, a NATO member, and South Korea, which is not, by name.
However, current and former members of the military, as well as other foreign policy experts, worry that his actions could end up matching his campaign rhetoric.
They caution against a dramatic reduction in the American military presence overseas citing an emboldened Russia and North Korea as possible consequences.
"The United States does not have alliances as an act of charity"
"The idea that we would simply walk away from our allies … is a mistake," said Adm. James Stavridis, a NBC News contributor and the dean of Tufts University's Fletcher School of Law and Diplomacy.
"In the end, we are all stronger when we stand together," added Stavridis, a former Supreme Allied Commander at NATO who Trump once considered as a possible secretary of state nominee.
A member of the military currently stationed in Germany, who asked that her identity not be revealed for safety and security reasons, told NBC News that "the reasons we are in the places we are is not just to defend these countries … they are smart, tactical places for us to be in the case of emergencies — we can quickly deploy and efficiently and still maintain good relationships with our host countries."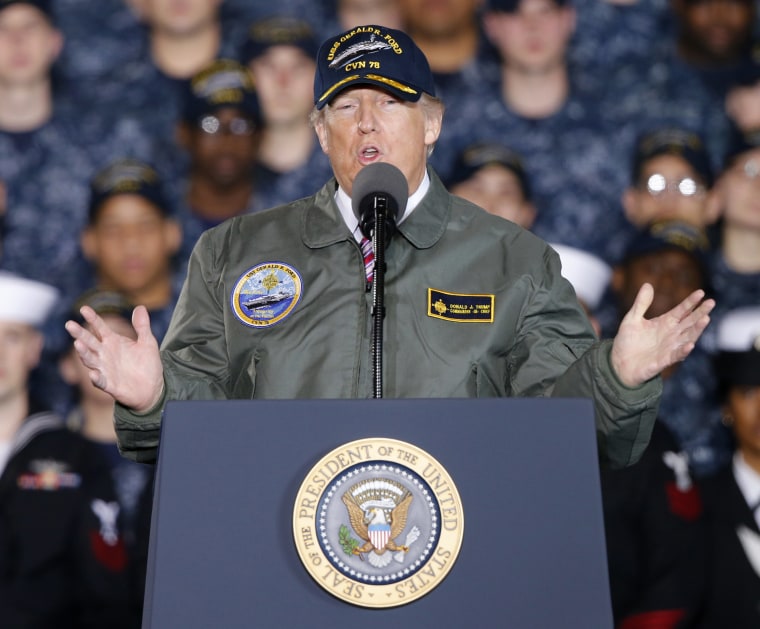 History is key to understanding both why the U.S. military is in Germany and South Korea in the first place, as well as why massive base and troop decreases could prove problematic, foreign policy experts said.
Related: Mattis to NATO: Increase Military Spending or Else
The U.S. vastly expanded its military footprint into Europe and Asia after World War II and the Korean War in order to ensure smooth and peaceful transitions of power while also safeguarding those countries from regional threats.
Over time, however, the U.S. has reduced military bases in Western Europe in particular to decrease the defense budget and better allocate resources in global hotspots, including in Eastern Europe. At the beginning of 2015, for example, the Defense Department announced that fifteen military bases throughout Western Europe would close between 2018 and 2021, resulting in a net decrease of around 2,000 U.S. troops and civilians there.
Some experts, however, caution against more drastic reductions.
"The general presence of U.S. troops and their military installations in Germany is still indispensable for the common security … this is necessary in light of the new threats from Russia" says former German Defense Minister Rupert Scholz.
December 2016 numbers from the Defense Manpower Data Center show that there are 34,805 and 23,468 active duty personnel currently stationed in Germany and South Korea, respectively.
Related: Trump's Address to Congress: Here's What Foreign Press Made of It
Defense Department cost estimates for 2017 show that the U.S. would pay over $4.28 billion for those bases and personnel in Germany and close to $2.93 billion for those in South Korea.
The U.S. has had a military presence in South Korea since the Korean War in 1950 when it was invaded by North Korea with the support of Communist China and the Soviet Union. Even today, however, the threat from North Korea is still very real, especially given their nuclear ambitions.
"The presence of U.S. troops in South Korea plays an essential stabilizer role in strengthening the security of the region especially when Northeast Asia has no effective mechanism for multilateral security cooperation like (the) OSCE in Europe," says Yoon Young-Kwan, a former South Korean foreign minister.
According to Gi-Wook Shin, the director of Stanford University's Shorenstein Asia-Pacific Research Center, the immediate impact of such policy changes in South Korea could be both a rise in anti-American sentiment as well as the seeking of stronger trade and security bonds with China – which also has tense relations with the U.S.
The White House did not respond to NBC News' requests for comment on this story.
But regardless of any burden American taxpayers may endure because of this presence, experts still argue that at the end of the day, the benefits greatly outweigh the costs.
"The United States does not have alliances as an act of charity," argues former Undersecretary of Defense for Policy Walter Slocombe. "Our own security would be in peril if our allies were successfully attacked."