WASHINGTON — The chairman of the Joint Chiefs of Staff told subordinates on Thursday that the U.S. military will not make any changes to its transgender policy until President Donald Trump clarifies what he meant in a series of surprise tweets.
"I know there are questions about yesterday's announcement on the transgender policy by the president," Marine Corps Gen. Joseph Dunford, chairman of the Joint Chiefs of Staff, said in a memo to military leaders. "There will be no modifications to the current policy until the president's direction has been received by the secretary of defense and the secretary has issued implementation guidance."
"In the meantime, we will continue to treat all of our personnel with respect," Dunford added.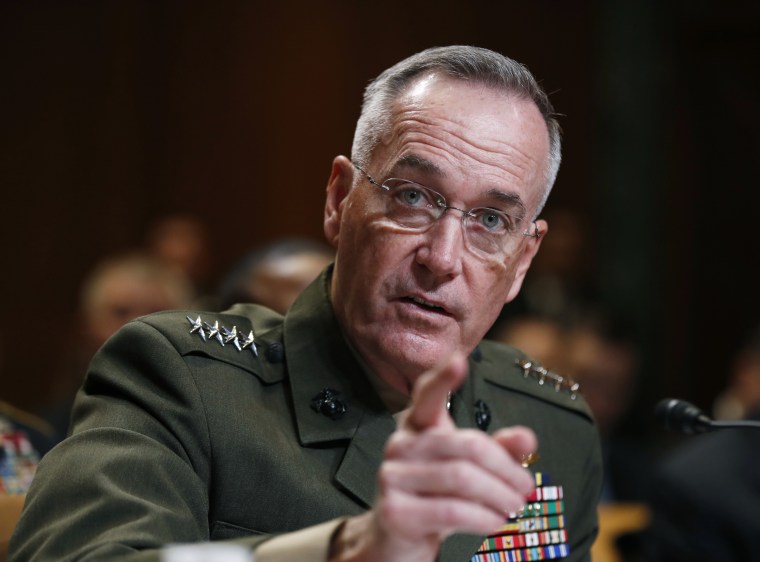 Pentagon officials were left scrambling Wednesday after tweets from the president announcing a ban on transgender people serving in the armed forces. The tweets seemed to indicated a reversal of the transgender military ban lifted more than a year ago under President Barack Obama.
The White House offered little insight into what the tweets could mean for transgender people currently serving.
"Implementation is something that the Department of Defense and the White House have to work together to lawfully determine," White House press secretary Sarah Huckabee Sanders said Wednesday.
Military officials, however, say they were caught off guard.
Vice Admiral Robert Burke, chief of naval personnel, sent a memo Thursday announcing that the office of the secretary of defense "is working to quickly discern the President's intent."
Currently serving transgender service members will continue to receive medical treatment, Burke's memo said. About 250 active-duty service members have applied to change their gender since the ban was lifted, the Associated Press reported in June.
"Treating service members with dignity and respect is something we expect from our Sailors at all times," Burke wrote.
Members of Congress from both sides of the aisle criticized both Trump's decision and the social media rollout.
Arizona Republican Sen. John McCain, who chairs the Senate Armed Services Committee, said the tweets are "yet another example of why major policy announcements should not be made via Twitter."
"We have right now an administration that is operating by tweets, and a president who is operating solely by tweets, rather than the careful process of developing policy carefully, working with your cabinet, working with your national security council in order to do what is right for our country," former Secretary of Defense Leon Panetta said on MSNBC's "Andrea Mitchell Reports."
The question of what kinds of legal protections apply to transgender people is a largely unanswered one.
The U.S. Equal Employment Opportunity Commission has ruled that transgender individuals are covered under the federal civil rights law. And the Obama Justice Department took the same position in opposing North Carolina's bathroom bill and in a case involving a transgender Virginia teenager.
But the Supreme Court has yet to rule on the issue, and the federal courts are divided.
Trump's tweets came on the same day the Department of Justice filed an amicus brief contending the Civil Rights Act does not offer legal protections based on sexual orientation.
Sasha Buchert, a transgender veteran of the United States Marine Corp and attorney with Lambda Legal, said there are "a range of Constitutional issues" under siege if Trump's tweets become policy.
Lambda, along with OutServe-Servicemembers Legal Defense Network, have promised to take immediate action if the Department of Defense bans transgender individuals.
What exactly they will challenge the Trump administration on, however, will depend on if and how Trump's words turn into action.
"The ban would go even further than 'don't ask, don't tell'," Buchert said, referencing the repealed military policy that homosexual service members keep their sexuality a secret.
But unlike "don't ask, don't tell," which was passed and repealed by Congress, Trump has used his power as commander-in-chief to take executive action.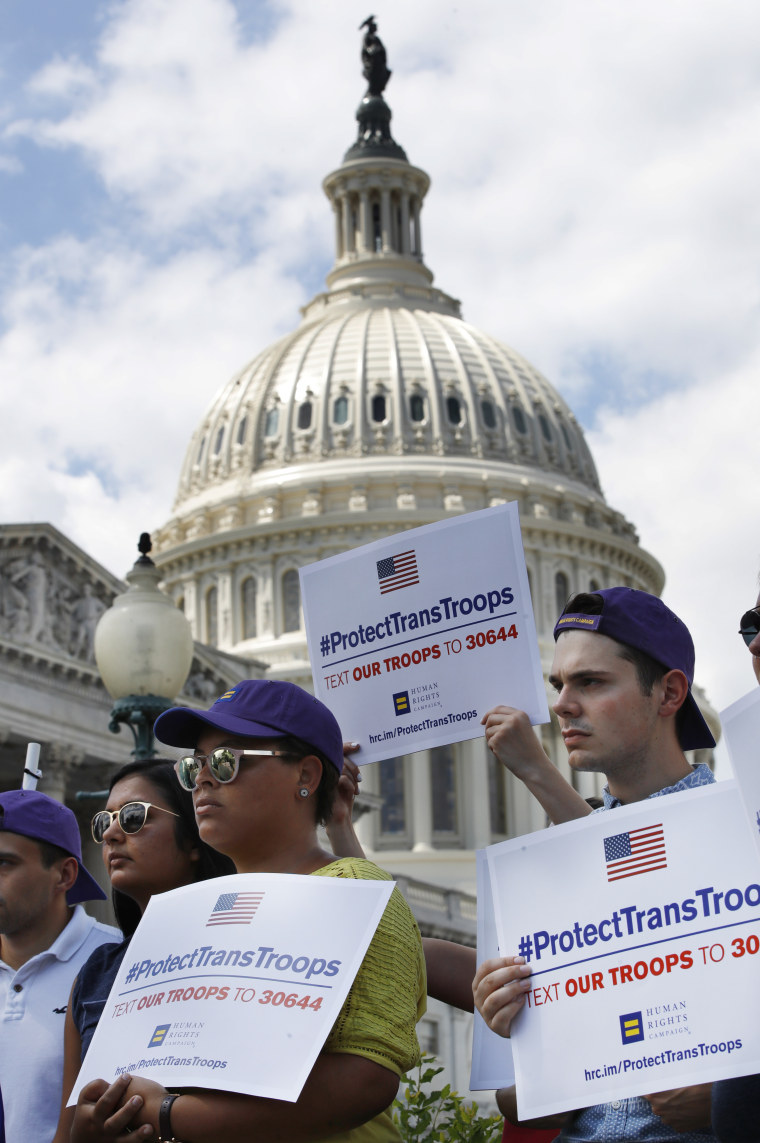 Tom Kolditz, a 30-year Army veteran and the founding Director of the Ann and John Doerr Institute for New Leaders at Rice University, said Trump's unilateral action will likely face scrutiny based on recent Department of Defense studies of the issue.
Under the Obama administration, a study commissioned by then-Secretary of Defense Ash Carter found allowing transgender people to serve would "cost little and have no significant impact on unit readiness."
That bolsters the case of transgender advocates who say the prohibition is aimed at doing nothing more than discriminate.
"What I think President Trump has done is he has said, regardless of medical condition, you cannot serve. And that to me brings up an entirely different range of issues," Kolditz said.
Eric Fanning — former Secretary of the Army and the first openly gay leader of any service in the U.S. military — said on MSNBC that transgender people in the military are "not a burden" and that the military needs to recruit from the largest pool this country has to offer.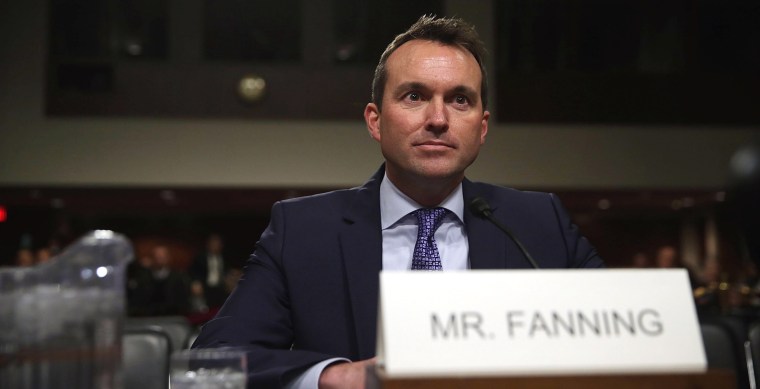 "The first thing I would say to people who are thinking about serving, and those who are serving, transgender Americans, you're not a burden, quite the opposite," Fanning said. "It's important and incumbent of us to recruit from the broadest pool of people this country has to offer. And so what I would say to those who are in uniform now and those contemplating joining the military is you know we had a bad day yesterday, we had a confusing day yesterday, but our progress is never linear and sometimes we have something happen that helps us propel forward pretty quickly."
But while there may be legal avenues to challenge a ban if it happens, all options are messy and none will be quick, cautions Eugene Fidell, a military law teacher at Yale Law School.
"The courts are very deferential to the government, especially when it comes to issues of the military," Fidell said.
That means federal courts could be hesitant to overturn military reviews of transgender military members, and how the Supreme Court would rule in a potential landmark case would be far from certain.
"If this transgender policy comes down as tweeted then this is going to last a good, long while," Fidell said.