WASHINGTON — The mother of a U.S. diplomat who fell ill after suspected "health attacks" in China is speaking out, sharing her family's harrowing story publicly in hopes of raising awareness about the potential danger facing American diplomats and other workers around the world.
Laura Hughes, an Air Force veteran, says her daughter Catherine Werner is struggling with the effects of traumatic brain injury after experiencing strange sounds and sensations at her apartment in Guangzhou, where Werner was a foreign trade officer until being medevaced out earlier this year.
She's calling on the State Department to do more to solve the mystery that has eluded investigators since U.S. diplomats and spies starting getting sick in Cuba in late 2016.
"I do not believe that our military, our diplomats around the world or here at home are safe," Hughes says in an interview with NBC News Chief Foreign Affairs Correspondent Andrea Mitchell. "Because this this weapon system is creating havoc."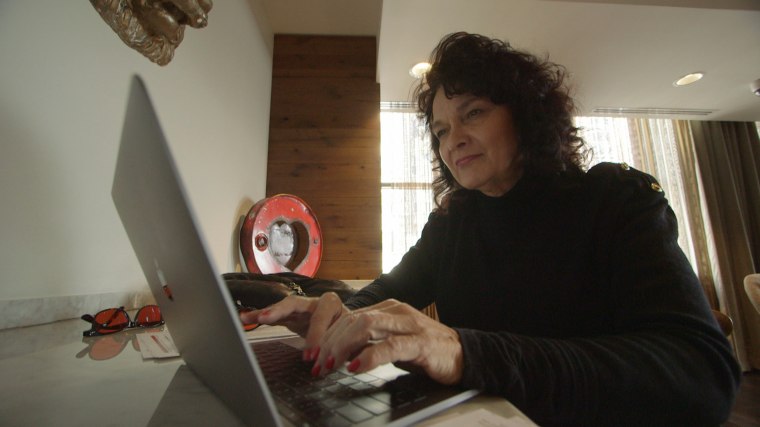 Asked whether she fears that what happened to her daughter could happen in other countries, Hughes says, "That's why I'm here."
Werner is the only American diplomat who served in China who the U.S. says is "medically confirmed" to have the same symptoms and findings as the 26 U.S. embassy workers who fell ill in Havana. The U.S. government has called what happened in Cuba targeted "health attacks" but says it can't identify the cause or culprit.
Last month, NBC News revealed key details about Werner's case and the extraordinary chain of events triggered by a suspected "health attack" on a U.S. worker abroad. Now Hughes is coming forward publicly because she says her daughter and the other government workers cannot.
"It's devastated our lives," Hughes says. "We'll never be the same."
Werner is the only U.S. worker in either Cuba or China whose identity is publicly known. None of the Cuba patients have come forward and the U.S. has not named them. Neither Hughes nor her daughter's lawyer, Mark Zaid, objected to her story being made public.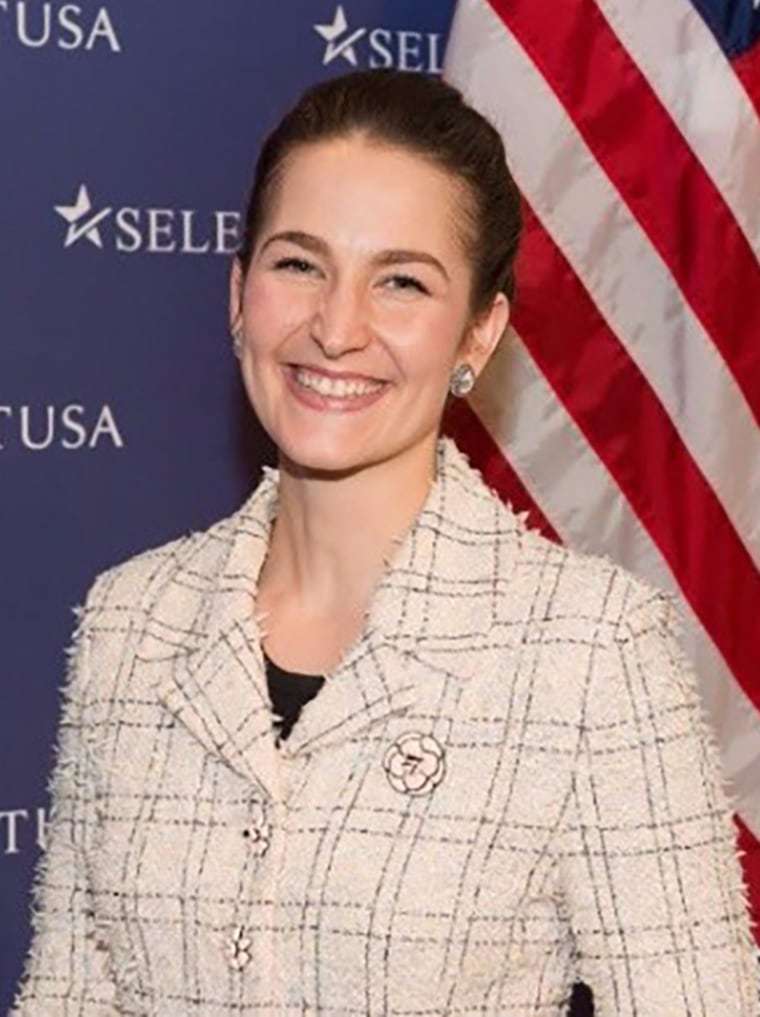 Hughes, too, fell ill and was diagnosed with brain injury after spending time with her daughter in China, medical records reviewed by NBC News show. Hughes is being evaluated by the same doctor in Philadelphia overseeing care for Werner and the Havana diplomats, and is part of a National Institutes of Health study aiming to learn more about the mysterious syndrome.
For Hughes, the saga started nearly a year ago when she said her daughter's health started declining: nausea, unbearable headaches, and problems with balance, vision and memory.
"Just struggling and just a shell of what she was," Hughes said, recalling how Werner looked during video-chats from Guangzhou. "She was ashen. Her complexion was off. She looked very, very fatigued."
Werner had been hearing unexplained sounds in her upscale apartment and feeling waves of pressure, but didn't connect the dots. Instead, she thought the sounds may have resulted from a malfunctioning air-conditioning unit.
When Werner's health worsened, her mother grew so alarmed that she quickly flew to China. She arrived and set about buying new air filters and imported food and water, thinking the city's pollution may have been harming her daughter's health. Nothing worked.
Then Laura started experiencing the sounds and sensations, too.
"We heard a very high-pitched sound in Catherine's bedroom. And we heard a very low, pulsing sound in the living room," Hughes said. "Our heads would pulse. You would feel like you would want to regurgitate. You could become instantly paralyzed, instantaneously fatigued."
Both Hughes and her daughter also believed they were being surveilled, having noticed signs that their apartment had been broken into. Hughes said they'd discover lights turned on that had been left off, or furniture and other items moved around in obvious signs of an intrusion.
They adopted a pair of dogs, hoping they would ward off intruders. Soon after, the dogs began acting strangely.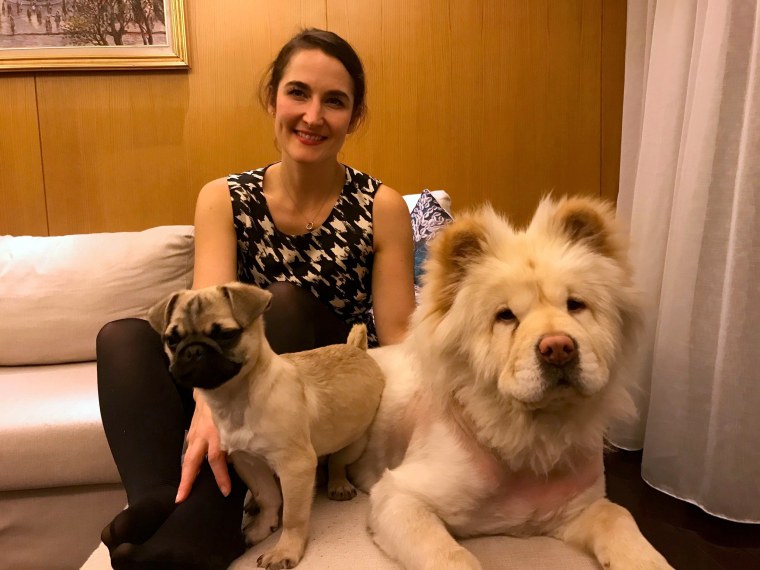 "They would be shivering under the bed when we'd return to the apartment. They would vomit blood," Hughes recalled. On one occasion, she said, they came home to find the dogs locked in a room they hadn't been in when Hughes and Werner left the apartment.
Hughes starting getting sick, too. She described the feeling as a mental "fog" in which everything moved in slow motion.
"You vomit. You get sick. You feel so sick," Hughes said. "Your head is splitting. You're dizzy. It's a horrible feeling. It's indescribable."
After three months, Hughes felt she was unable to tolerate it any longer. She headed back to the United States and pleaded with her daughter to come with her. But she said Werner wanted to stay on at her post.
Soon after, embassy security officials started connecting the dots when Werner reported the ongoing suspected harassment and also mentioned the sounds and her symptoms. She was given a series of medical tests, developed after the Cuba incidents to screen potential cases, and her results showed reason for alarm.
So Werner was evacuated back to the U.S., where doctors at the University of Pennsylvania found vision, balance and hearing problems along with an organic brain injury, medical records show.
"Their findings were the same as they found for the U.S. diplomats from Cuba," Hughes said.
Doctors have said many of the Havana diplomats have brain injuries that look like concussions, except with no known blow to the head. Internal government documents obtained by NBC News show doctors discussing what they're calling a new "Brain Network Disorder" acquired by U.S. diplomats overseas, with unique traits never seen before.
After Werner's case was confirmed, the State Department tested about 300 more workers in China and evacuated 15 of them to the U.S. for further testing. But other than Werner, the U.S. says none of them is considered a confirmed case.
Hughes says that's one reason she is concerned that the U.S. is downplaying what happened in China. She says rather than conducting a transparent investigation, some State Department officials have been "misinforming and they've been suppressing information."
"Our whole lives are uprooted," Hughes said. "And instead of being helped by the State Department, it's an atrocity how they're taking care of this."
Still, Hughes said that on the whole, the U.S. has a "great government" that her family has been proud to serve. She expressed gratitude to her and Werner's doctors at Penn and at Veterans Affairs for their diligence in treating and researching their conditions.
In a statement to NBC News, State Department spokeswoman Heather Nauert said the U.S. took "quick and decisive action" after a case in China was confirmed.
"The State Department continues to provide our employees with access to the best medical facilities and doctors in the United States," Nauert said. "We remain vigilant across the globe for any threat to the safety and health of our personnel, their families and U.S. citizens."
The State Department says it still doesn't know "who or what is responsible for the symptoms that some of our colleagues are suffering."
The strange sounds heard by many of the diplomats in Cuba and China led investigators to initially suspect a sonic weapon. But an FBI report this year ruled out that theory. Now U.S. officials tell NBC News they're considering the possibility of an electromagnetic weapon, possibly involving microwave technology.
Both Hughes and her daughter remain in intensive rehabilitation to overcome help with balance, vision and cognitive functioning. Hughes says that doctors have told Werner that for the time being, she's unable to work.
Since the Cuba incidents were first reported, skeptics in Congress and elsewhere have suggested they could be psychosomatic symptoms or an outbreak of "mass hysteria." But the U.S. government has said publicly that the concrete medical findings prove that something harmed its workers.
"Science doesn't lie. These scientists and these doctors and specialists have been working very hard and long on us," Hughes said. "There is no way you can fake this."
The Cuban and Chinese embassies in Washington did not respond to NBC News inquiries about the Werner case. Both Cuba and China have strongly denied knowledge of or involvement in any attacks on diplomats. Cuba has also offered to help the U.S. investigate the alleged attacks.