WASHINGTON — On Saturday, after Secretary of State Mike Pompeo finished talks with North Korean officials in Pyongyang, Kim Jong Un's foreign ministry accused the Trump administration of a "unilateral and gangster-like demand for denuclearization." It was an immediate and sharp contradiction to President Donald Trump's rosy descriptions of his North Korea diplomacy.
The harsh statement also illustrates the risks of putting so much stock in a ceremonial summit, now that last month's meet-and-greet between Trump and Kim in Singapore is colliding with the hard-nosed reality of enormously complex nuclear negotiations.
This dissonance between fact and fancy was made clear earlier this week. After NBC News first reported that Pyongyang was in fact expanding elements of its weapons program, the president tweeted, "Many good conversations with North Korea — It is going well!" He added: "If not for me, we would now be at War with North Korea!"
On Thursday, as his secretary of state was flying to Pyongyang, the President again pointed to eight months without a missile or nuclear test by the North as proof of his success. But in fact, Pyongyang also suspended tests for a while under President Barack Obama, and promised to denuclearize. It did not keep that commitment.
All this puts even more pressure on Pompeo and his negotiating team. Hoping to get something "deliverable" during his two days of talks in Pyongyang, the secretary departed North Korea claiming to have made "progress" in talks he described as "productive." That made the North Korean description of those talks as "deeply regrettable" only hours later even more stinging.
But in fact, the outcome of this first formal effort to test Kim Jong Un's sincerity about denuclearizing was utterly predictable. Trump's impulsive acceptance of the first summit between a North Korean leader and an American president was always going to be largely ceremonial. But the President's exaggerated and frequently false claims of tangible success afterward raised the stakes impossibly high.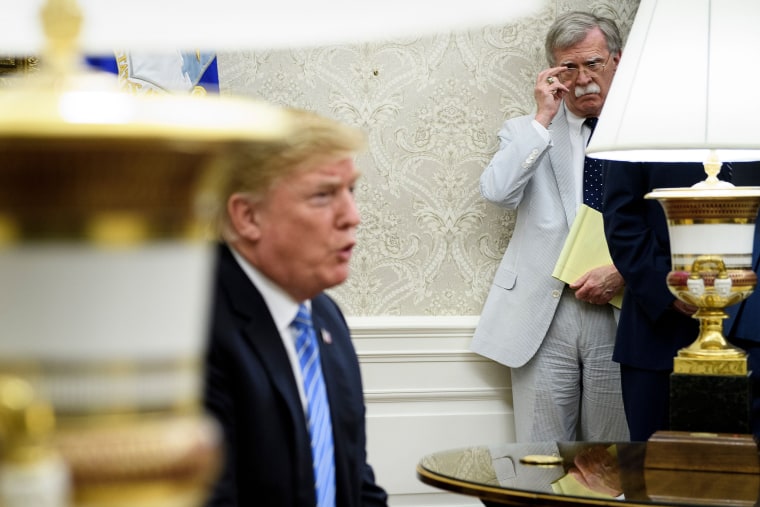 His comment after Singapore that the North was no longer a nuclear threat signaled how eager he is for a deal, thereby weakening American leverage in follow-up negotiations. John Bolton, his national security adviser, who is reportedly deeply skeptical of North Korean intentions, applied more pressure last Sunday by predicting, unhelpfully, that Pompeo could even conclude a nuclear deal in a year if the North were willing. Experts called that a ludicrously impossible timetable, and it was immediately rejected by the State Department.
Pompeo left Pyongyang with only the prospect of another round of talks, by Pentagon teams, later this month. That dialogue would not even be about nuclear weapons, but instead on Kim's promise in Singapore to return 200 remains of the 5,300 American soldiers still unaccounted for by the North since the Korean War.
Complicating the challenge of engaging the North in brass-knuckle talks about its multiple secret weapons sites, the president's arms-control team has been unable to temper the president's rhetorical flourishes about prospects for real results, which are animated in part by White House desires for a mid-term election issue.
As retired Army Gen. Barry McCaffrey, who conducted arms-control negotiations for the Joint Chiefs of Staff, told NBC News on Friday: "First of all you've got to be honest with yourself. For the president to come home and say 'the nuclear threat from North Korea is gone, you can sleep safely at night,' is an element of fantasy. So you have to have realistic, achievable, negotiating goals and deal with them from a position of strength and maintain your allies. We're doing none of that."
And there is another essential fallacy of these negotiations. Despite Kim's grand promises to the president, those who've negotiated with Pyongyang in the past doubt that North Korea would ever give up its weapons. With its rhetoric Saturday, the regime tried to drive that home, objecting to Pompeo's demand that denuclearization be complete and verifiable — even though that has been the administration's ostensible objective all along.
Pompeo's mission was to test North Korea's seriousness. The regime failed that test. There is no sign that Kim Jong Un is contemplating what nuclear experts say has to be the first step: a full disclosure of his weapons program, to create a baseline for future inspection and verification, fundamental to any arms-control agreement.
So far, at least, it appears that early concerns about Trump's Singapore diplomacy were well-founded. In the coming days, it will become clearer how this setback will influence his handling of the next two major foreign policy challenges: next week's NATO summit, and his meeting with Vladimir Putin days later.