Russian President Vladimir Putin called U.S. President Donald Trump on Sunday morning to thank him for providing a tip that allegedly thwarted a terrorist bomb plot in St. Petersburg, officials said.
The Kremlin was the first first to share details about the call and White House Press Secretary Sarah Huckabee Sanders later confirmed the phone exchange on Twitter.
According to the Russian government, Putin thanked Trump because the CIA provided Russian intelligence with information that led to the arrest of seven suspects who allegedly planned to explode bombs at Kazan Cathedral in St. Petersburg and other public locations in that city.
The Federal Security Service, the Russian intelligence agency known as the FSB, released a statement on Sunday that said the terrorist cell planned to send suicide bombers into St. Petersburg on Dec. 16. The plot also included placing explosives in public areas.
Explosives, automatic weapons, ammunition and extremist literature were also seized in a raid, Russian officials said.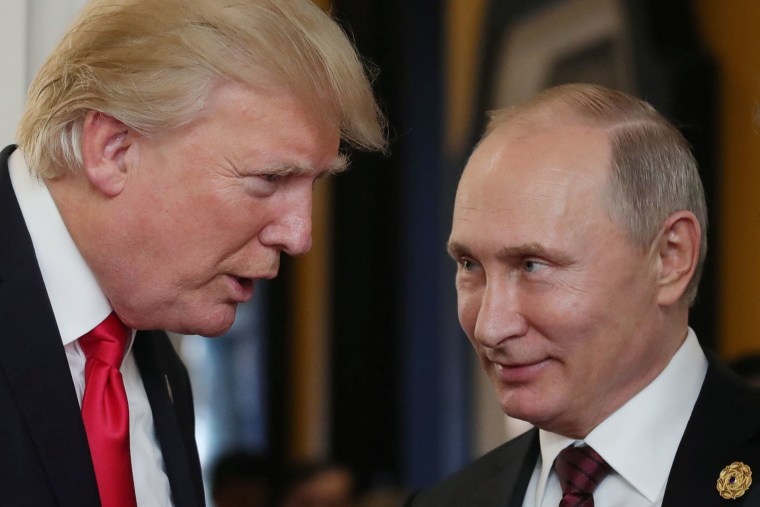 The Kremlin noted that Putin assured Trump that Russian law enforcement agencies would immediately pass along any information about potential threats to the United States.
Later in the day, The White House provided greater detail about the call.
A readout of the conversation said that Trump appreciated the call and "stressed the importance of intelligence cooperation to defeat terrorists wherever they may be."
Putin also thanked and congratulated the CIA Director Mike Pompeo and the CIA, according to the statement.
"President Trump then called Director Pompeo," the statement read, "to congratulate him, his very talented people, and the entire intelligence community on a job well done!"
It was at least the second time the two leaders have talked on the phone within the past few days. On Friday, Trump revealed that he called the Russian leader a day earlier to thank him for comments Putin made about Trump's ability to grow the American economy during a press conference.
"Look at how much the markets have grown in this short period of time," Putin said at the Thursday press conference. "It means that the investors trust the American economy, it means they trust whatever President Trump is doing in this area."