WASHINGTON — Qatari officials gathered evidence of what they claim is illicit influence by the United Arab Emirates on Jared Kushner and other Trump associates, including details of secret meetings, but decided not to give the information to special counsel Robert Mueller for fear of harming relations with the Trump administration, say three sources familiar with the Qatari discussions.
Lebanese-American businessman George Nader and Republican donor Elliott Broidy, who participated in the meetings, have both been the focus of news reports in recent days about their connections to the UAE and Trump associates.
It is unknown whether Qatari officials were the source of the recent news stories detailing activities by Nader and Broidy published by The New York Times and CNN.
NBC News previously reported that Qatari officials weighed speaking to Mueller during a visit to Washington earlier this year, and has now learned the information the officials wanted to share included details about Nader and Broidy working with the UAE to turn the Trump administration against Qatar, according to three people familiar with the discussions.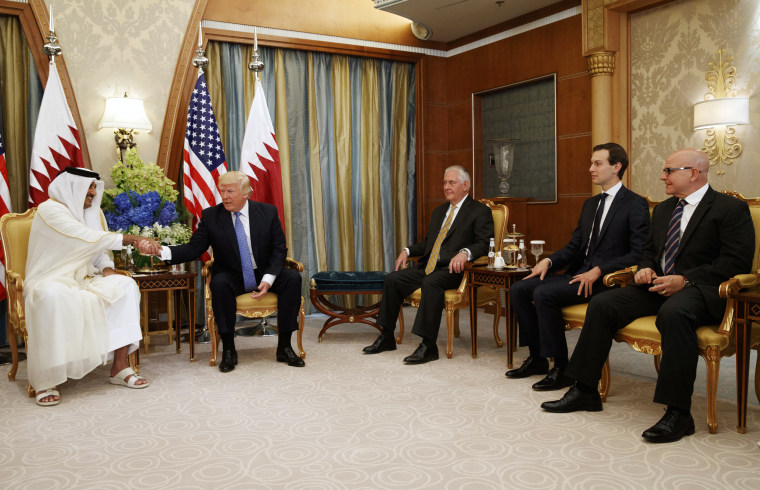 Qatari officials believe the meetings — as well as fallout from Qatari business dealings with Kushner — may have influenced President Donald Trump's public endorsement of a blockade of Qatar by its neighbors that began last year.
A Qatari delegation came to Washington in late January and early February and met with Trump officials to discuss shared national security interests. Despite Trump's endorsement of the blockade in June, the Qataris felt the meetings with top advisers had been productive and decided against reaching out to Mueller in order to preserve the relationship, according to people familiar with the internal Qatari deliberations.
A spokesperson for the Qatari embassy in Washington said in a statement last week that Qatar won't be providing materials to the Mueller investigation.
The Qataris also met with FBI Director Chris Wray while they were in Washington, but never shared their information about the UAE's alleged influence on the administration.
In a statement Monday evening, Qatar's ambassador to the U.S., Sheikh Meshal bin Hamad Al Thani, reiterated his country's position.
"On the topic of the Special Counsel's investigation: Qatar has not been approached nor has it considered approaching the Special Counsel's Office or any entity within the United States Government," said Al Thani.
The ambassador also raised the possibility of legal action "for rectification ... of harms" caused by the blockading states" or individuals "who acted as agents thereof of under their instructions; notwithstanding the damages that resulted from the media campaigns designed to tarnish the reputation of the State of Qatar. These actions included: harassment of our citizens including women and children, currency manipulation, as well as slanderous statements about Qatar."
Broidy, meanwhile, has accused Qatar of hacking his emails and distributing the contents to news organizations to discredit him. Qatar has denied that. Nader, who was stopped by federal agents at Dulles Airport near Washington in January, is now cooperating with Mueller's team.
Broidy was a top fundraiser for Trump in addition to being a member of Trump's inaugural committee and the Republican Jewish Coalition. According to the Hollywood Reporter, he is scheduled to host a $35,000-per-person fundraising dinner for Trump in Los Angeles Tuesday.
Nader helped organize a January 2017 meeting in the Seychelles, according to The Washington Post, and the Post says Mueller is investigating as an alleged attempt to set up a back channel of communications with the Russians.
In a statement, Broidy told NBC News that "recent reports regarding my involvement with activity that is subject to investigative and law enforcement scrutiny are absolutely false. I did not attend meetings in the Seychelles and I had absolutely no role in those meetings. Nor did I inappropriately influence the Trump administration regarding the administration's foreign policy, although it is true that I strongly support policies being taken by various countries to punish Qatar for its provision of safe harbor to terrorists. Not surprisingly, Qatar and the country's richly paid political henchmen are now peddling lies aimed to discredit me rather than addressing the policies that led to their problems in the first place."
Nader did not immediately respond to a request for comment.
Qatar vs. the UAE
The gathering of damaging information by the Qataris, their consideration of whether to speak to Mueller, and the alleged influence campaign inside the White House by the Emiratis are all evidence of how mounting tensions between the two tiny, wealthy Gulf nations are playing out in a high-stakes war of influence in Washington.
In June 2017, Trump endorsed the decision led by UAE and Saudi Arabia to blockade Qatar, saying the Qatar was funding terrorism. On June 5, the president tweeted, "Perhaps this will be the beginning of the end to horror of terrorism!" The blockade has cut the country off from shipments of food and medical supplies by land and sea.
Since then, according to Foreign Agent Registration Act (FARA) filings, both governments have greatly increased their hiring of American lobbyists, including some former Trump campaign officials.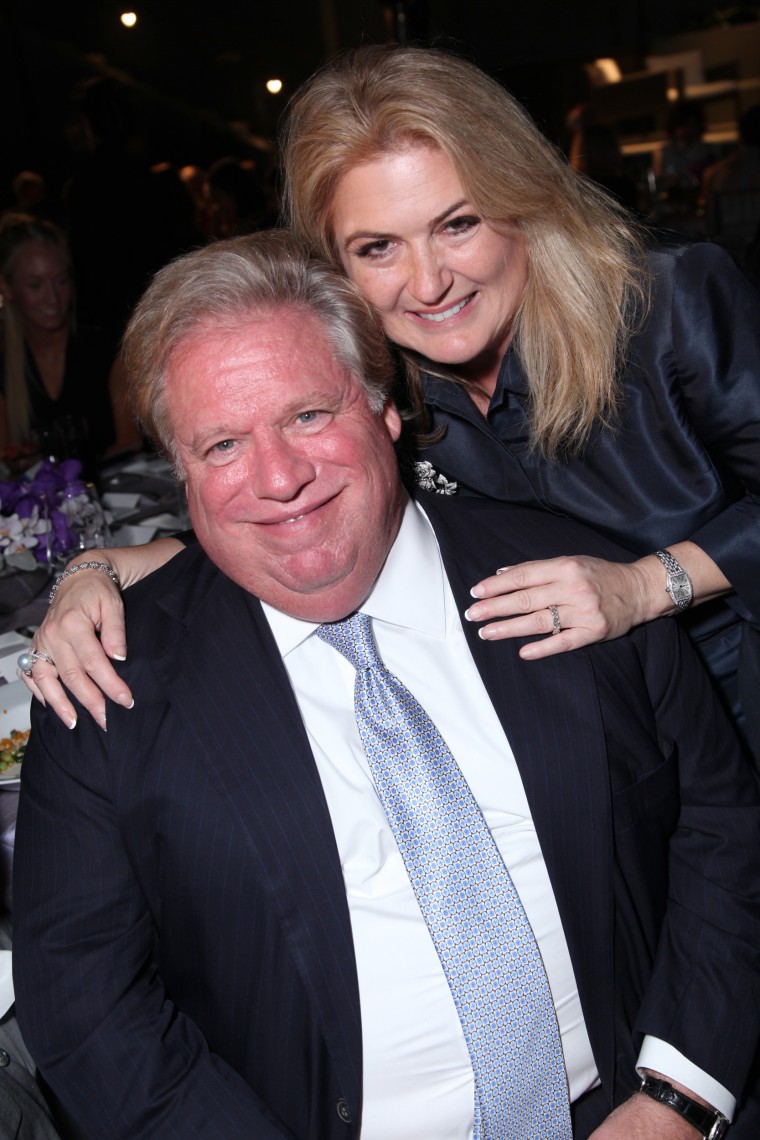 Qatari officials believe Trump's verbal backing of the blockade was a form of retaliation by his son-in-law and senior adviser, Jared Kushner, whose family's negotiations with Qatari investors had recently fallen apart, according to several sources familiar with the Qatari government's thinking.
Trump, the UAE and Saudi Arabia have said the blockade is in retaliation for Qatar's support for terrorism. A spokesman for Kushner's lawyer told NBC News that Kushner was "a point person for completely appropriate contacts from foreign officials and he did not mix his or his former company's business in those contacts and any claim otherwise is false."
Qatari officials also believe the Trump administration may have been influenced by the meetings with Broidy and have documents that they say show the connection between Broidy and the UAE, according to several people familiar with the Qatari government's thinking.
According to the sources, the officials have information they claim details Nader's involvement in a December 2016 meeting that Crown Prince Mohammed bin Zayed Al Nahyan of the UAE had with Trump officials at Trump Tower, including Kushner, incoming national security advisor Michael Flynn and incoming chief strategist Steve Bannon.
The meeting took Obama administration officials by surprise when they learned about it in intelligence reports because the crown prince broke diplomatic protocol and did not alert them that he would be in the U.S., according to people familiar with the matter.
The UAE and Saudi Arabia have long been rivals of Qatar, but their feud has escalated under the Trump administration.
Fourteen lobbying and public relations firms have publicly registered as agents of Qatar, UAE or Saudi Arabia since Trump's blockade endorsement last year, according to FARA data.
One firm that lobbied in favor of Qatar is Mercury Public Affairs, which worked with Trump's former campaign chairman Paul Manafort. Manafort has since been charged by Mueller with money laundering, bank fraud and tax evasion. Mercury is believed to be an unnamed party in Manafort's charges, but so far faces no legal exposure. Manafort has pleaded not guilty to all charges.
Another firm that worked for Manafort, the now-dissolved Podesta Group, lobbied on behalf of Saudi Arabia, and published a still-live web site that alleges Qatar is treacherous.
Trump's former campaign adviser Corey Lewandowski previously worked for Avenue Strategies Global, which alleged in a letter to the Justice Department that Saudi Arabia was violating FARA regulations. The firm is being paid $500,000 monthly for its contract with the embassy of Qatar, according to FARA filings.
The widening rift between Qatar and UAE comes at a time when the White House is hoping to reduce tensions between the two countries and facilitate a resolution to issues that led to the blockade. Trump is expected to host separate meetings with the Saudi crown prince, the crown prince of Abu Dhabi and the Qatari emir in coming weeks, in advance of an expected summit of Arab states this summer.