The U.S. has determined that Russia has committed "crimes against humanity" in its war with Ukraine, Vice President Kamala Harris said Saturday, adding that "justice must be served."
Speaking at the Munich Security Conference in Germany just days before the one-year anniversary of the Russian invasion of Ukraine, Harris said, "We have examined the evidence. We know the legal standards. And there is no doubt. These are crimes against humanity." 
"You will be held to account," Harris said. She also stressed the need to uphold international rules and norms, adding that "we must stay strong" because if Russian President Vladimir Putin were to succeed with his attack "other nations could feel emboldened to follow his example."
"Russian forces have pursued a widespread and systemic attack against a civilian population — gruesome acts of murder, torture, rape and deportation," Harris said, citing "execution-style killings, beatings, and electrocution."
In a statement, Secretary of State Antony Blinken, who is also attending the conference, said, "We reserve crimes against humanity determinations for the most egregious crimes."
Russia, which has said it is conducting a "special military operation" in Ukraine to eliminate threats to its security, has denied intentionally targeting civilians or committing war crimes.
Accusations of atrocities have dogged Russian forces since the invasion began.
Only days after Russian forces crossed the border, the International Criminal Court opened an investigation into "alleged war crimes and crimes against humanity," along with Ukraine's prosecutor general's office.
Russian troops raped and tortured children and committed a "large number" of executions, according to a United Nations investigation released in September. Some of those alleged atrocities have unfolded in front of relatives, who have been forced to witness their loved ones endure scenes of horror, the chairman of the Independent International Commission of Inquiry, which led the U.N. investigation, said.
Experts said satellite images that appear to have captured evidence of the atrocities could play key roles in prosecuting Russia for war crimes down the line — including images of a 45-foot trench in the Kyiv suburb of Bucha, where a mass grave was later uncovered; a view of a bombed-out theater in the southern port city of Mariupol, where hundreds of women and children sheltered from airstrikes; and a series of holes that appeared outside Mariupol that Ukrainian officials said were a mass grave.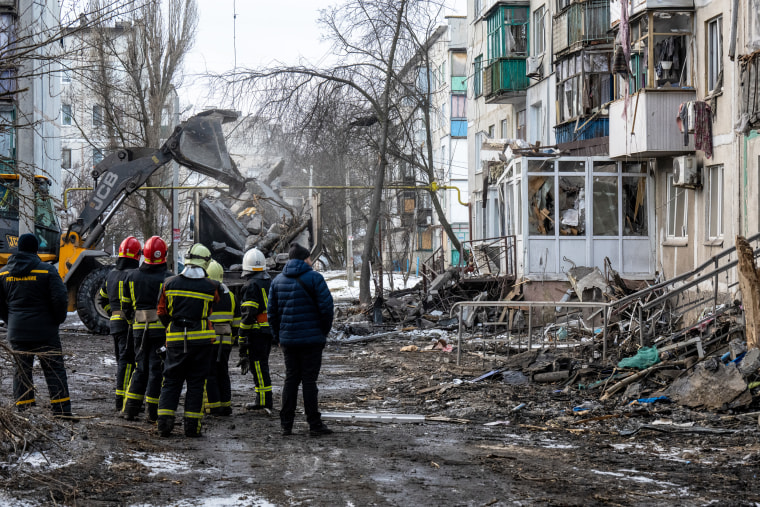 A U.S. government-sponsored study released Tuesday showed that Russian forces have taken around 6,000 Ukrainian children from their homes before putting them in camps as part of a systematic effort of relocation and reeducation.
An unknown number of children are also believed to have been adopted by Russia, the study's authors said. Actions described in the report are a violation of the Geneva Convention — which prohibits the change of a child's personal status, including nationality — and may constitute a war crime or crimes against humanity, the authors added.
Moscow has not yet responded to Harris' speech, which came as senior Western leaders met in Munich for an annual security conference.
During her remarks, Harris also said that Washington is "troubled that Beijing had deepened its relationship with Moscow" since the invasion.
She implied that the United States' dedication to Ukraine outstripped China's interest in Russia, and reiterated that the White House intends to assist the Ukraine effort "for as long as it takes."
"The United States of America is proud to be your partner in this noble pursuit," she said.
China has refrained from condemning the Russian invasion while being careful to avoid violating international sanctions.
Putin, whose dependence on China has deepened amid international isolation over his war, acknowledged last year that Beijing has "questions and concerns" about the conflict.