Russian jets harassed U.S. hunter-killer drones that were conducting a mission against ISIS targets in Syria on Wednesday, a U.S. commanding officer said.
At about 10:40 a.m. local time, three U.S. MQ-9 Reaper drones were conducting a mission against Islamic State targets in Syria when three Russian fighter jets began harassing them, said Air Force Lt. Gen. Alexus Grynkewich, the commander of the Ninth Air Force and the Combined Forces Air Component for U.S. Central Command.
"Russian military aircraft engaged in unsafe and unprofessional behavior while interacting with U.S. aircraft in Syria," Grynkewich said. "Against established norms and protocols, the Russian jets dropped multiple parachute flares in front of the drones, forcing our aircraft to conduct evasive maneuvers."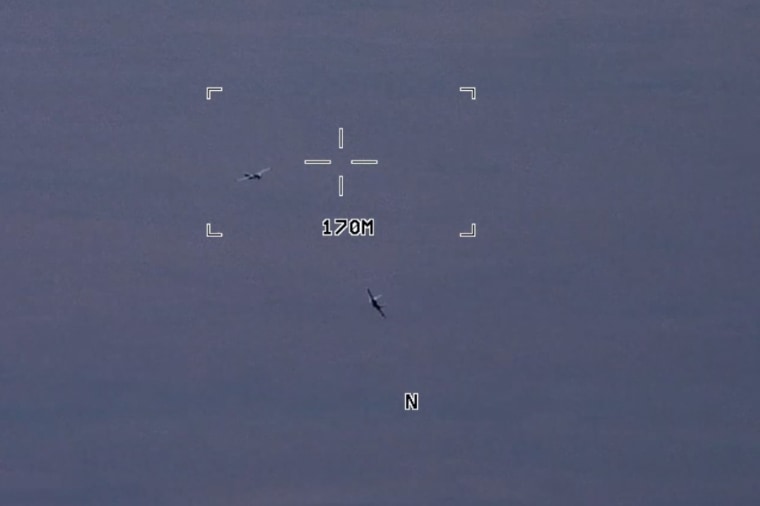 According to Grynkewich, a Russian pilot positioned an aircraft in front of one of the drones "and engaged afterburner, thereby reducing the operator's ability to safely operate the aircraft. These events represent another example of unprofessional and unsafe actions by Russian air forces operating in Syria, which threaten the safety of both U.S. and Russian forces."
Grynkewich said he urged Russian forces "to cease this reckless behavior and adhere to the standards of behavior expected of a professional air force so we can resume our focus on the enduring defeat of ISIS." 
MQ-9 Reaper drones that are searching for targets may carry Hellfire missiles and precision-guided bombs.
Russia has used its air power to support the Assad regime during Syria's long civil war, with deadly airstrikes on rebel-held territory.
In March, Grynkewich told NBC News that armed Russian jets were overflying U.S. positions in Syria nearly every day.
Russia and Syria are conducting joint air defense exercises, according to Russian media. The exercises began Wednesday and are expected to last six days.