SINGAPORE — The U.S. will not require North Korea to provide a complete list of its nuclear weapons and missile sites before President Donald Trump and the North's leader Kim Jong Un meet for a second time, Vice President Mike Pence told NBC News exclusively on Thursday.
Since an initial agreement for denuclearization on the Korean Peninsula was reached between Trump and Kim in June, the United States has pressed the North Koreans to provide information on the entirety of its nuclear operations. The Kim regime has refused to provide the details of the country's operations and postponed scheduled meetings with Secretary of State Mike Pompeo in New York City last week.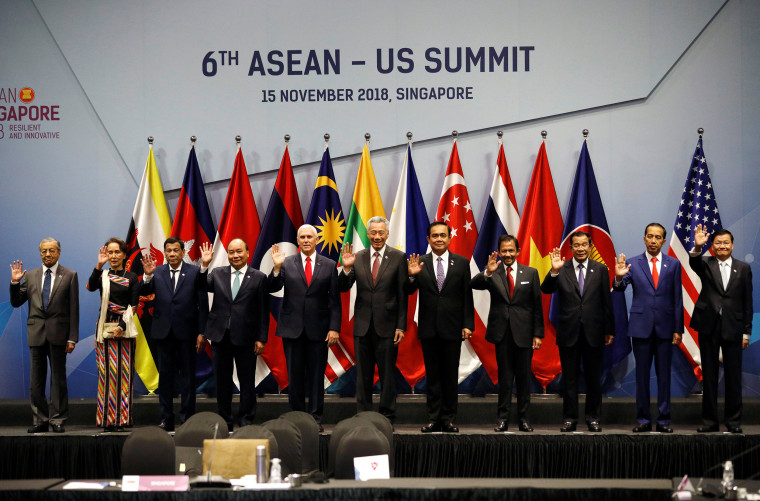 The second Trump-Kim meeting, slated for after the New Year, will be where a "verifiable plan" to disclose the sites and weapons must be reached, Pence said.
"Now we need to see results," he added during a wide-ranging interview that also touched on special counsel Robert Mueller's probe into Russia's alleged meddling and the vice president's conversation with Russian leader Vladimir Putin.
"I think it will be absolutely imperative in this next summit that we come away with a plan for identifying all of the weapons in question, identifying all the development sites, allowing for inspections of the sites and the plan for dismantling nuclear weapons,"
This week, a report from the Center for Strategic and International Studies outlined a number of missile operating bases that the North Koreans have continued to develop since the Trump-Kim summit five months ago.
"We can't negotiate over things they don't admit having," said Victor Cha, one of the authors of the report. "It should take us back to the initial U.S. negotiating point: We need a full declaration."
Speaking on the sidelines of a meeting of Asian leaders in Singapore, Pence said, "Everything begins with relationships, but now we need to see results.
He added that there had been "tremendous progress" in negotiations thus far — namely North Korea's stoppage of missile testing and the return of U.S. hostages and the possible remains of American service members in the Korean War.
The U.S. will maintain its hardline pressure on North Korea by not lifting its sanctions, Pence added.
"Until we have a plan that is implemented to achieve complete, verifiable, irreversible, denuclearization, we're going to keep the pressure on," he said.
Before his interview with NBC News, Pence left a meeting with South Korean President Moon Jae-in, who has called on the U.S. to sign onto a peace treaty that would end the Korean War. The Trump administration has not indicated that it would make that agreement before lifting sanctions on North Korea.
Pence used the Association of Southeast Asian Nations (ASEAN) summit to raise the issue of Russia's interference in the 2016 U.S. election directly with President Putin, his office said.
The conversation took place during his third interaction with the Russian leader over a 24-hour period. Pence and Putin shared a table at a dinner the night prior but only exchanged "greetings," Pence said. He stood next to Putin for two minutes at an afternoon session as the Russian president engaged in conversation with National Security Adviser John Bolton.
The vice president also weighed in on special counsel Robert Mueller's probe into Russia's alleged meddling.
"I think the people can be confident that we will continue to cooperate," Pence said when asked if the American public should be concerned about the investigation coming to an end.
Pence added that the administration had sent over a million documents to the special counsel so far. Earlier this month Trump ousted Attorney General Jeff Sessions, who had recused himself from the investigation, and named Matt Whitaker as acting attorney general. Whitaker was previously critical of the Russia investigation, but will now oversee Mueller.
Trump later slammed the special counsel investigation, tweeting it was a "total mess" that has "gone absolutely nuts."