WASHINGTON — On his first day as secretary of state, Rex Tillerson vowed to try to get to know everyone at the State Department. But senior diplomats say they never saw him again.
As President Donald Trump faces a collection of world leaders at his first United Nations General Assembly this week, U.S. officials are working behind the scenes to allay fears among foreign delegations that America's foreign policy decisions have become too dominated by the West Wing, and that the State Department, where many crucial positions remain unfilled, is adrift.
At the center of this concern is Tillerson, whose diminishing role in the administration is being blamed for the State Department's lagging clout, according to seven U.S. diplomats and four foreign diplomats who spoke to NBC News. The officials insisted on anonymity to discuss the administration's internal dynamics.
Three senior State Department officials said that there are a number of meetings with foreign delegations at this week's General Assembly that Tillerson either ignored or refused to attend, forcing either Vice President Mike Pence or Nikki Haley, the American ambassador to the U.N., to step in.
Haley and Trump's national security adviser, H.R. McMaster, spearheaded a briefing for journalists at the White House on Friday instead of Tillerson, and it was McMaster who was by Trump's side at his U.N. meetings on Monday.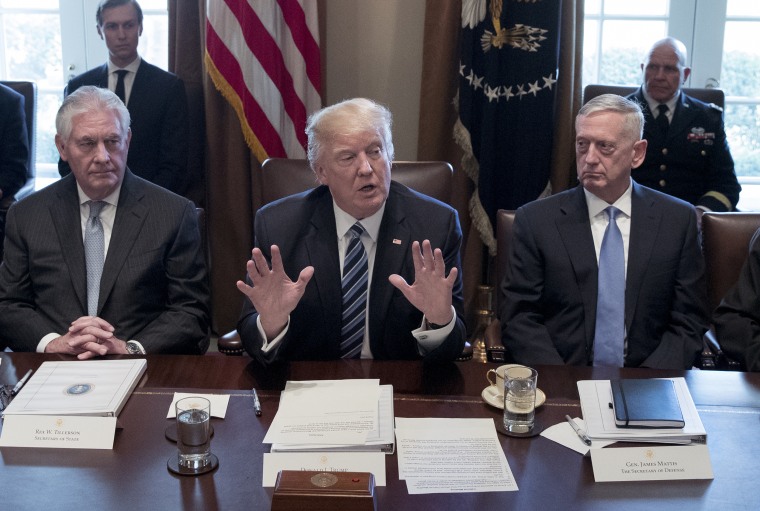 On CNN'S "State of the Union" on Sunday, Haley dismissed recent speculation that Tillerson's days as secretary are numbered and that she may step into the role.
"Rex Tillerson is not going anywhere," she said, adding that she took herself out of the running during the transition because "I just knew at that time (Trump) could find someone better."
A Withering State Department
Eight months into his presidency, many of Trump's more jaw-dropping foreign policy views have been tempered by a handful of generals who, since the start of the year, formed a stabilizing coalition in an administration whose earliest days were marked by turmoil.
But this unconventional foreign policy structure has resulted in a withering State Department, crippled by budget cuts and staffing delays that have muddled the once-clear diplomatic channels to Washington, according to the U.S. and foreign diplomats.
To date, five of the six under secretary of state positions remain unfilled and the sixth is held by an Obama-era holdover. Ambassador posts in critical locations like Riyadh, Saudi Arabia; Cairo; Berlin; Doha, Qatar; Kabul, Afghanistan; and Seoul, South Korea, also remain vacant.
"Rex Tillerson is not going anywhere."
Tillerson told Congress last month that most special envoys — including those for climate change, the Iran nuclear deal, Afghanistan-Pakistan, and closing the Guantanamo Bay detention center — will be abolished and their responsibilities reassigned as part of a wider State Department restructuring.
Tillerson, the former chief executive of Exxon Mobil, defended the cuts last week, saying that his primary objective is making the department "more efficient."
But the U.S. and foreign diplomats who spoke to NBC News describe broken channels of communication between Washington and many foreign capitals, saying that long-established relationships with the State Department have been undermined as a result of the overhaul.
State Department employees detailed to the National Security Council have been trimmed as a result of the budget cuts and, in many cases, Defense Department detailees were brought in to fill the void, raising concern about an increasingly military-dominated culture within the White House's main national security apparatus.
The foreign officials noted that their U.S. counterparts are often unable to speak with authority when interacting with their foreign counterparts, either because the administration's positions on some key issues remain undecided, or because they are not looped in to the decision-making process.
Senior U.S. officials stationed abroad say they constantly wait for guidance from Washington that, in many cases, never comes. Two State Department officials said that they are frequently forced to turn to the Defense Department for readouts on Cabinet-level meetings because the State Department has stopped informing diplomats about those discussions.
State Department officials note a perceived lack of interest by Tillerson to engage in some programs that are a centerpiece of the department's work. He is the first secretary of state not to attend the rollout of its annual Human Rights Report, which was unveiled in March.
"He doesn't understand the concept of an interagency process, of working with other departments toward a unified goal, and he doesn't understand symbolism," one senior diplomat said of Tillerson. "I wanted to give him the benefit of the doubt. I thought he could bring a corporate, globalist perspective, but it's been a disaster. It's as if he wants to dismantle the State Department."
Heather Nauert, the department's spokeswoman, strongly refuted those claims. "They don't add up," she said. "The State Department is focused on important matters of diplomacy. In fact, at this moment Secretary Tillerson is chairing a meeting with the foreign ministers of 15 like-minded countries and the EU on Syria."
The White House did not immediately respond to a request for comment.
Teaching Trump
When Trump was elected president last year, it was clear that the new American leader was a foreign policy novice.
As a candidate, he accused China of currency manipulation; he lashed out at Mexico for failing to stop "rapists" and criminals from entering the U.S.; he called the U.N. an "underperformer."
But Trump's inner circle of advisers -- dominated by former and current military generals including McMaster, Defense Secretary Jim Mattis, chairman of the Joint Chiefs of Staff Joseph Dunford, and chief of staff John Kelly — have patiently worked to school the new American leader on some of the most critical national security challenges, both new and inherited.
In Riyadh this year, Trump — who is seeking a temporary ban on travelers from six Muslim-majority nations and a longer-term ban on refugees — called on Muslim nations to join forces with the U.S. to defeat "radical Islamic terrorism."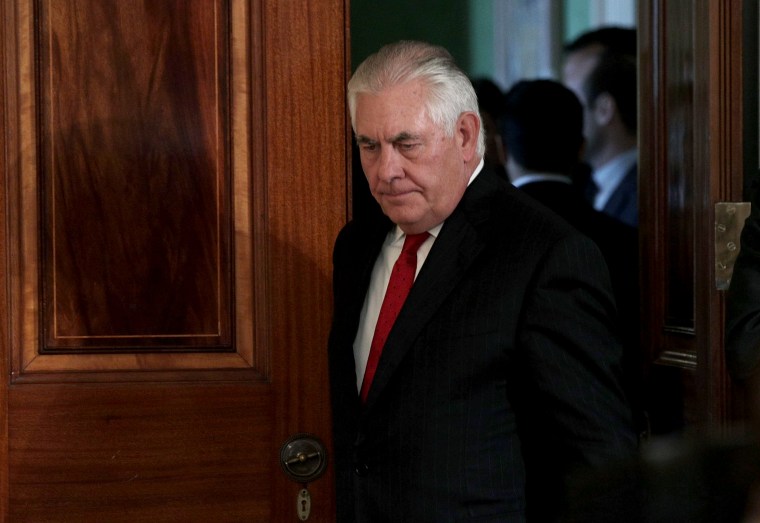 Having once described the North Atlantic Treaty Organization as "obsolete," Trump has recently embraced the military alliance but continues to urge member nations to meet spending targets.
Still, there is only so much his advisers can do. Where carefully crafted policies ideally precede public messaging, even Trump's most influential advisers now often scramble to reshape policy to catch up with the president's tweets and public declarations.
Last weekend, Trump tweeted that the suspect in London's latest attack was "sick and demented," prompting British Prime Minister Theresa May to note that his comments were not "helpful."
And his Twitter reference to North Korea's leader, Kim Jong Un, as "Rocket Man" is leading many current and former diplomats to warn that his inexperience could exacerbate already delicate attempts at diplomacy.