WASHINGTON — The Trump administration plans to unveil a new strategy for Africa this week focusing on countering China's growing influence on the continent, as well as Russia's attempts to gain footholds in resource-rich, unstable countries, two senior U.S. officials told NBC News.
The strategy will call for bolstering U.S. ties with countries deemed potentially vulnerable to overtures from China and Russia, as well as seeking to fend off attempts by North Korea and Iran to make inroads through economic investments or arms sales, said the senior administration officials, who spoke on condition of anonymity.
The plan, drafted by the White House National Security Council and due to be presented this week at a Washington think tank, will signal a shift by the administration — already underway — that emphasizes America's rivalry with China and Russia as a top priority rather than an exclusive focus on fighting terrorist threats, the officials said.
"Counterterrorism is no longer the organizing principle," said one senior administration official, who was not authorized to speak on the record.
"It's about geopolitics and countering the influence of China and others."
The White House declined requests for comment.
Trump's gaffes, travel bans and derogatory remarks about Africa have created friction with African governments. In January, Trump referred to Haiti and African states as "s---hole countries" and last year in a meeting with several African leaders, the president referred to Namibia as "Nambia."
Former U.S. diplomats and regional experts say the strategy is long overdue. Until now, the Trump administration has made few public statements on Africa and appeared preoccupied with nuclear diplomacy with North Korea, trade disputes with China and reimposing sanctions on Iran. Unlike his two immediate predecessors, the president has announced no signature initiatives for Africa so far.
It took more than a year for Trump to meet an African head of state and to fill key U.S. diplomatic posts for Africa, with some ambassadorships still vacant. African governments have interpreted the slow pace of appointments as a sign that the White House places little importance on Africa, experts and former U.S. diplomats said.
The planned Africa strategy does not call for devoting more funding for U.S. diplomacy, intelligence gathering or aid, but instead argues for using existing resources more effectively, an administration official and a defense official said.
Given that the White House has no plans to dramatically expand U.S. resources devoted to Africa, it's not clear how the administration will succeed in countering China, Russia or other adversaries, experts said.
The White House strategy is expected to name several countries as anchors for the U.S. strategy, and experts close to the administration expect the list to include Kenya, a longstanding U.S. ally. For U.S. counterterrorism efforts, the administration will seek to continue a number of key partnerships, including with Somalia, Libya and Mali, officials said.
Experts say Washington is lagging behind China in Africa, where Beijing has invested billions in infrastructure projects and used its economic might to boost its security interests. China has built a sprawling military base in Djibouti, just miles from where the U.S. has an important base that serves as a launching pad for U.S. special operations forces. American lawmakers and senior military officers are worried about the future of the U.S. base and that China could soon oversee operations at a key port in the country formerly run by a Dubai firm, giving it a crucial perch at the southern entrance to the Red Sea on the route to the Suez Canal.
China has built roads, laid down fiber-optic cables and delivered other massive infrastructure projects over the past decade, but often under loan terms that have left some impoverished governments saddled with large-scale debt, giving Beijing decisive leverage in coming years.
"The Chinese government or its state-owned companies have extraordinary power to dictate to these African countries," said Joshua Meservey, a senior policy analyst at the right-leaning Heritage Foundation, adding that China is "the most consequential foreign actor in Africa."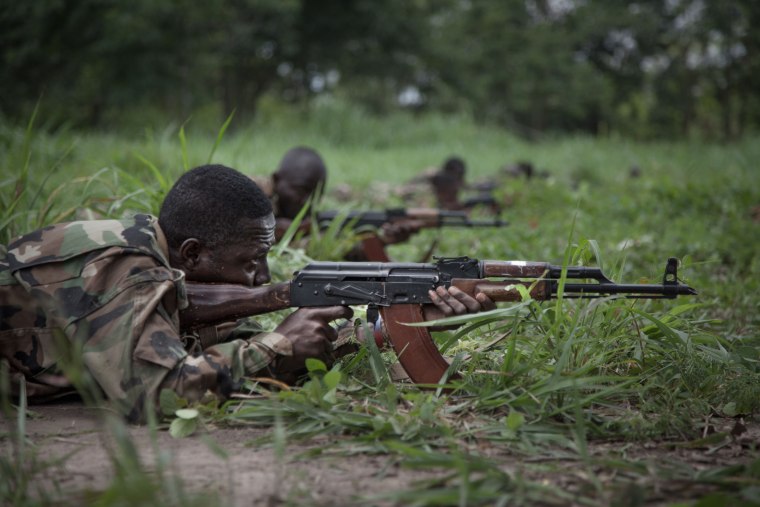 Apart from China's well-documented rise as Africa's top trading partner, Russia has moved swiftly over the past year to cultivate ties across the continent, with high-level delegations negotiating arms sales and military cooperation deals. In September, Moscow announced an agreement to build a logistics base in Eritrea on the Red Sea and Russian companies have clinched mineral deals in Sudan.
The most extraordinary example of Russia's rapidly growing presence is in the Central African Republic, where military and civilian advisers are helping train the government's security forces and Russian officials are negotiating access to the country's diamond, gold and other minerals. A Russian national, Valery Zakharov, serves as an adviser to the CAR government, and the Wagner private security firm, which is believed to have ties to the Kremlin, is reportedly securing mining sites and helping train President Faustin-Archange Touadera's security guards.
China and Russia also are looking to reap diplomatic benefits from stronger ties with African states, as the countries' votes at the United Nations can serve as a counterweight to opposition from the U.S. and other Western governments.
The U.S. military scales back in Africa
While Russia is looking to expand its military assistance and presence, the U.S. military has begun to scale back its forces on the continent and is weighing further reductions as the tempo of counterterrorism efforts slows and priorities shift, a defense official and an administration official said.
The U.S. military's operations in Africa came under scrutiny after an ambush in Niger in October 2017 when four U.S. soldiers were killed in a firefight with Islamist militants. A Pentagon investigation cited organizational failures and a lack of sufficient training.
In recent months, separate from the drafting of the new Africa strategy, the U.S. has been considering a plan to draw down some of the Special Operations missions in Africa, as part of what the Pentagon calls an optimization strategy. The plan, which has not yet been approved, calls for a cut of up to 50 percent in troops in West Africa, defense officials said.
One U.S. official, who is an expert on Africa and spoke on condition of anonymity, said the possible cut in the American military presence could not only jeopardize security in the region but also hurt U.S. relationships with local governments and damage Washington's ability to collect intelligence about foreign influence.
With its emphasis on great power competition, the strategy for Africa is likely to fuel criticism that President Donald Trump has given human rights and democracy promotion a lower priority in his foreign policy.
Blaine Johnson, a senior analyst at the Center for American Progress, a left-of-center think tank, said that by concentrating on countering China and other powers, the administration runs the risk of alienating Africans who have looked to Washington to support human rights, open markets, free trade and democratic reforms.
"In our engagement in Africa, we need to provide a contrast with China and Russia, based on who we are and what we value," Johnson said.
"The U.S. should compete in Africa by doing what's consistent with American values and not engaging in some realpolitik."