WASHINGTON — President Donald Trump appears to be having second thoughts about his choice of Patrick Shanahan as his next secretary of defense and asked several confidants in France last week about alternative candidates, according to four people familiar with the conversations.
The White House announced May 9 that Trump had decided to nominate Shanahan, who has served as acting defense secretary since January. But the White House has yet to formally submit Shanahan's nomination to the Senate.
While in Normandy, France, last week to commemorate the 75th anniversary of D-Day, Trump asked at least three people what they thought of Shanahan and if they had any suggestions for different candidates, the four people familiar with the conversations said.
They said Army Secretary Mark Esper was discussed as a possible replacement nominee should Trump decide to pull back his Shanahan announcement. Esper was among the candidates whom Trump had previously considered for the defense secretary job.
Asked by NBC News on Tuesday about Shanahan's nomination, Trump said he "put it out officially" weeks ago and now the acting secretary "has to go through the process."
In a statement, Lt. Col. Joe Buccino, a spokesman for Shanahan, said, "Acting Secretary Shanahan is focused solely on our military operations, the highest quality care for our service members and their families, and implementation of the National Defense Strategy."
White House officials told allies last month that Shanahan's formal nomination would be sent to Congress on May 18. Shanahan's team at the Pentagon expected it late last week, according to two defense officials.
The people familiar with the president's conversations about Shanahan last week said he didn't articulate what is giving him pause about his decision. But, they said, he made it clear he's wondering if there's another option.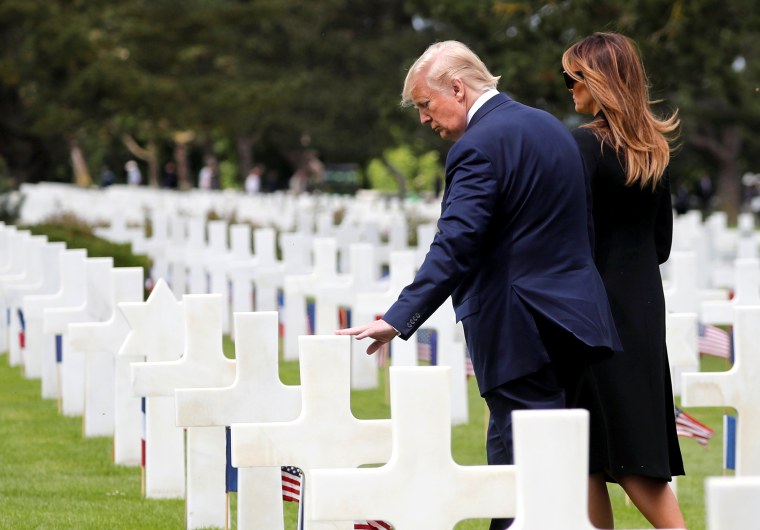 "He has no champion," one person close to Trump said of Shanahan. "No one is fighting for him."
One U.S. official said the FBI process for updating Shanahan's security clearance is not yet complete. Shanahan has had a security clearance as the acting secretary and the deputy defense secretary prior to that. The FBI's current review is an update of his existing clearance, officials said.
Trump's private solicitation of opinions about alternatives for Shanahan doesn't mean he will ultimately choose a different nominee. The president often asks aides and confidants for their thoughts on a staffer he's second-guessing at the moment without that individual being immediately forced out.
But a time lag between an announcement that Trump intends to nominate someone for a job and a formal nomination has sometimes meant the end for a would-be nominee. Trump publicly announced he'd recommended former 2016 presidential rival Herman Cain to serve on the Federal Reserve Board but later backtracked after questions about Cain's qualifications for the job.
Other times, the White House has submitted a formal nomination to the Senate, and Trump has later withdrawn the pick, such as in April when he reversed course on Ron Vitiello as the head of Immigration and Customs Enforcement because he wanted to go in a "tougher direction."
Six Trump picks are awaiting formal nomination, according to the Partnership for Public Service's Political Appointee Tracker. The list includes Shanahan, Barbara Barrett as secretary of the Air Force, and Mark Morgan as the director of ICE.
Shanahan was on Capitol Hill on Tuesday meeting with some of the senators on the Armed Services Committee, including Sens. Tim Kaine, D-Va., and Thom Tillis, R-N.C.
Shanahan was not Trump's first choice for the nomination, administration and congressional officials have said. Among Trump's concerns was that Shanahan lacks the strong presence in person and on television that he believes a defense secretary should convey, according to people who have discussed the matter with the president. Trump vacillated for months on whether to pick Shanahan, officials said.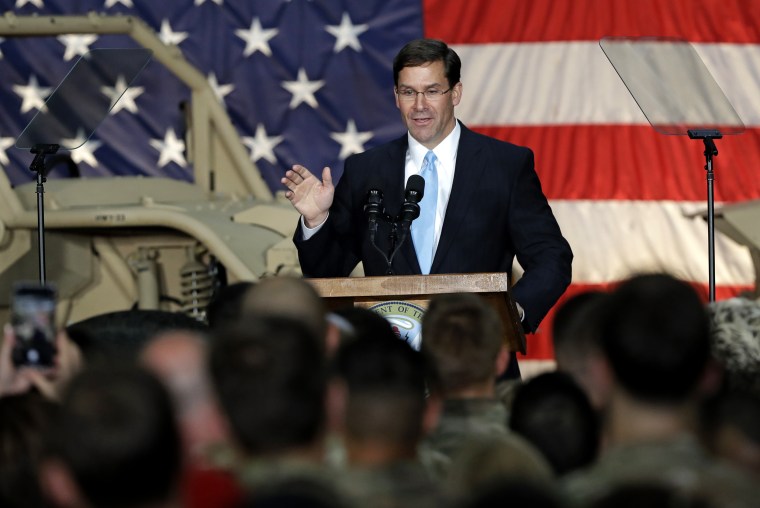 They said he settled on Shanahan after several of Trump's allies in Congress and outside the White House urged him to permanently fill the role because an acting secretary is not seen as having the full confidence of the president.
The May 9 announcement of Shanahan's pending nomination came from White House press secretary Sarah Sanders on Twitter. "Based upon his outstanding service to the Country and his demonstrated ability, President Trump intends to nominate Patrick M. Shanahan to be the Secretary of Defense," Sanders wrote. "Acting Secretary Shanahan has proven over the last several months that he is beyond qualified to lead the Department of Defense, and he will continue to do an excellent job."
While Shanahan has struggled to gain allies in Congress or completely win over the president, he has enjoyed the support of at least one senior White House official, National Security Adviser John Bolton. Bolton has backed Shanahan in part, officials said, because he views him as someone who will go along with whatever Trump wants. Bolton clashed with former Defense Secretary James Mattis over a host of issues and welcomed his departure from the administration.
"Bolton is the big winner if Shanahan gets it," the person close to Trump said.
A spokesperson for Bolton said he still supports Shanahan.
A former senior administration official who remains close to the White House said one of the reasons for the delay in Shanahan's nomination is it's been tougher than expected to detangle Shanahan from his time as an executive at Boeing and his other previous business relationships.
Shanahan's defense of the Pentagon's contracting process for a $10 billion federal contract to build its Joint Enterprise Defense Infrastructure, or JEDI, program, could also be raising questions both on Capitol Hill and with the president, the official said.
Members of Congress have raised concerns about the contract, which critics say has been tailor-made for only one company — Amazon, a company Trump has routinely criticized. Sen. Chuck Grassley, R-Iowa, who is the chairman of the Senate Finance Committee, is waiting for answers from the Defense Department on the contracting program. "The JEDI thing is definitely on people's minds," a former administration official said.
In the nearly five weeks since Trump announced Shanahan as his choice, some daylight has emerged publicly between the two men.
Shanahan differed from the president in his assertion that North Korea's recent short-range ballistic missile tests violate United Nations resolutions. "These were short-range missiles, and those are a violation," Shanahan recently told reporters.
Two days earlier at a news conference in Japan, Trump said the tests were not a violation. "My people think it could have been a violation," Trump said. "I view it differently."
Around the same time, Shanahan also announced that his staff would investigate a White House request that the Navy keep the USS John McCain out of the president's sight during his visit to Japan. "I would never dishonor the memory of a great American patriot like Sen. McCain," Shanahan said.
Trump, however, called the request "well-meaning" and made clear, as he has many times, how he feels about the late Arizona senator. "I was not a big fan of John McCain in any way, shape or form," Trump said.
Shanahan, who has no military experience, later announced he would not order an inspector general's investigation into the matter.
Shanahan served as Mattis' deputy until the latter resigned at the end of December over a string of policy differences with Trump. At the time, Trump hailed Shanahan's elevation to acting secretary, calling him "very talented."
"Patrick has a long list of accomplishments while serving as Deputy, & previously Boeing," Trump wrote on Twitter. "He will be great!"