WASHINGTON — U.S. Ambassador to the United Nations Linda Thomas-Greenfield warned that if China provides lethal aid to Russia, it would be a "game-changer."
President Joe Biden and Secretary of State Antony Blinken have conveyed those warnings to their Chinese counterparts, Thomas-Greenfield said during an exclusive interview set to air Friday on "Andrea Mitchell Reports." Greenfield and others officials are convening at the U.N. on Friday to mark the anniversary of Russia's invasion of Ukraine.
"China should not get involved in this war in the sense of providing lethal weapons to the Russians, that it would be a game-changer and it would be something we would have serious concerns about," Thomas-Greenfield said.
The Biden administration has made clear that such actions would be "unacceptable," said Thomas-Greenfield, who suggested it could adversely affect America's relationship with China. Thomas-Greenfield declined to elaborate on how the U.S. would respond if it learns that China has provided Russia with lethal assistance.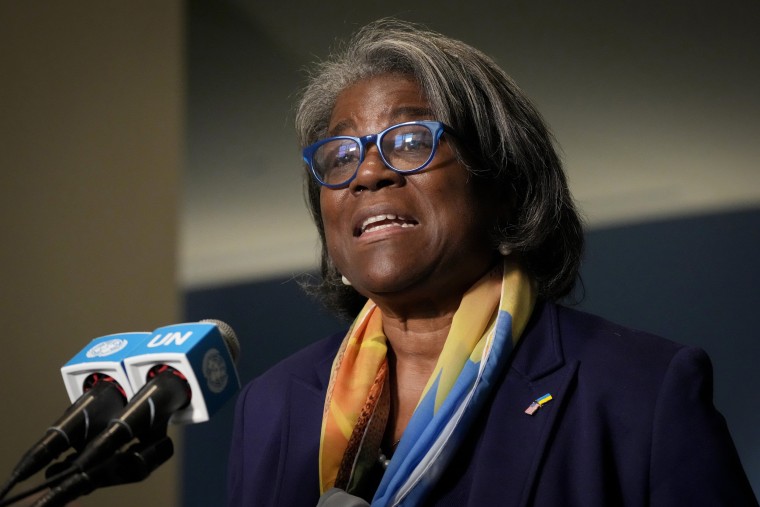 On Sunday, Thomas-Greenfield said China would be crossing a "red line" if it provides that aid.
China has shown "complete and total hypocrisy," she said Friday. "They talk about peace. They talk about the integrity of borders. They talk about sovereignty. They say they believe in the U.N. Charter. This is an attack on the U.N. Charter, which [shows] China, truly what they are, if they make the unfortunate decision of providing the support to the Russian effort."
China used the anniversary of the invasion to unveil a peace plan that appeared to be at odds with the renewed intensity on the battlefield — a move likely to do little to ease concerns that Beijing's balancing act on the conflict has shifted toward Russian President Vladimir Putin, who demonstrated his commitment to a lasting fight with a week of patriotic events.
If China were serious about peace, Thomas-Greenfield said their representatives at the U.N. "would have supported the resolution that we all voted on yesterday, 141 countries. If they are serious about peace, then they would not consider providing lethal weapons to the aggressor in this war."
Asked if Putin will ever be held accountable, Greenfield said that it's up to the international system and noted that it took a while to hold accountable other world leaders guilty of crimes against humanity.
"The world is looking at the atrocities that are being committed by Russian troops, and there's only one person responsible for them," she said of Putin.
The U.S. believes China may be providing nonlethal military assistance to Russia for use in Ukraine, four U.S. officials familiar with the matter told NBC News, and the administration worries China is considering sending lethal aid.
China hit back against the U.S. allegations that it may be providing Russia nonlethal military assistance in its war on Ukraine, telling Washington on Monday to stay out of its relationship with the Kremlin.