WASHINGTON — The U.S. military successfully test-launched an Intercontinental Ballistic Missile from California early Wednesday, according to an Air Force spokesman — just days after North Korea's second test of an ICBM.
The unarmed Minuteman III missile was launched at 2:10 a.m. PT from Vandenberg Air Force Base, about 130 miles northwest of Los Angeles.
An Air Force statement said that the test was not a response to recent North Korean actions, but shows that America's nuclear enterprise is "safe, secure, effective and ready to be able to deter, detect and defend against attacks on the United States and its allies."
The ICBM was equipped with a test reentry vehicle, which officials said showed it traveled about 4,200 miles to the Kwajalein Atoll in the Marshall Islands.
The operation was conducted by a team of Air Force Global Strike Command Airmen from the 90th Missile Wing, along with the 576th Flight Test Squadron and the 30th Space Wing stationed at Vandenberg.
"These test launches require the highest-degree of technical competence and commitment at every level," Col. Michael Hough, the 30th Space Wing commander and launch decision authority, said in a statement.
Air Force Global Strike Command has tested 299 Minuteman III ICBMs over the program's history. The Minuteman IIIs are the U.S. military's only land-based ICBMs. Another one was tested earlier this year in February from Vandenberg.
The U.S. military schedules four test-launches each fiscal year, with the actual schedule plotted out several years in advance — so it's unrelated to recent events, Air Force Capt. Michele Rollins, a spokesperson for the strike command, told CNBC.
Last week, North Korea tested an ICBM for the second time. The missile flew for 45 minutes and traveled more than 1,000 kilometers laterally, defense officials and analysts said. U.S. officials believe the missile broke up upon re-entering the atmosphere.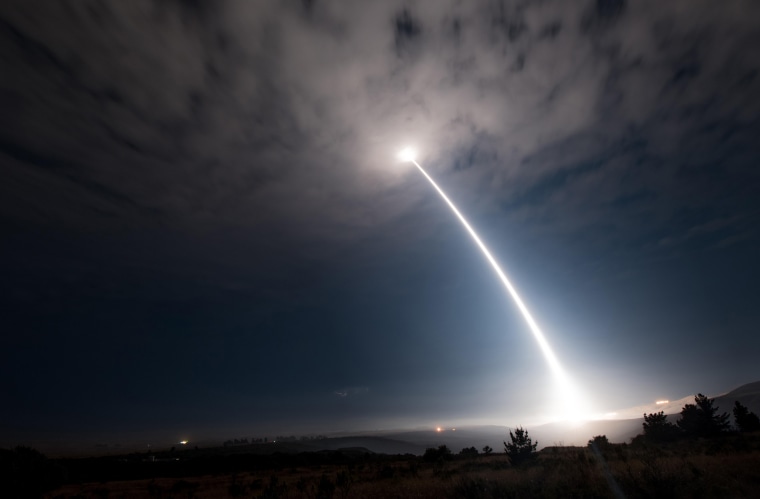 The United States and its allies flew supersonic bombers and fighter jets over the Korean Peninsula in a 10-hour show of force Sunday against North Korea following the country's latest ICBM launch.
The U.S. B-1 bombers first flew over Japanese airspace, where they were joined by two Japanese F-2 fighter jets, before flying over the Korean Peninsula with four South Korean F-15 fighter jets, U.S. Pacific Air Forces said in a statement.
The Air Force said the 10-hour mission was a direct response to North Korea's two ICBM tests this month, including the latest on Friday.
Analysts say the North's test Friday showed that a broader part of the mainland United States, including Los Angeles and Chicago, is now in range of Pyongyang's weapons.
Asked about possible U.S. military action against North Korea, White House Press Secretary Sarah Huckabee Sanders reiterated on Tuesday that "all options are on the table" but the administration would not "broadcast what we're going to do."
The focus for the administration remains on stopping North Korea's nuclear program and halting their aggression, Sanders said.
Sen. Lindsey Graham said Tuesday that President Donald Trump has told him he's willing to go to war over North Korea's missile program if the rogue nation continues to aim ICBMs at America.
Japanese Foreign Ministry spokesman Norio Maruyama said he was unaware of the remarks, but that his country — a key ally of the U.S. — was in favor of the Trump administration's posture "using both words and action to show that all choices are on the table."
Democrat, Ex-Obama Official Fear Trump Preemptive Strike
A senior Congressional Democratic aide who oversees military matters told NBC News he is viewing with growing alarm signs that the Trump administration is considering a preemptive strike on North Korea. A former senior CIA official in the Obama administration expressed a similar view in recent days.
Both said they believe the administration is seriously considering some sort of limited strike, which they believe would be the height of folly.
"We have struggled with this," the Congressional aide said. "It has been painful. We don't know what to do. These guys have decided. It looks a lot like Iraq to me — these guys are going to find a reason."
He and the former CIA official said any limited strike would carry a huge risk that North Korea would retaliate with the artillery it has arrayed against Seoul, resulting in unimaginable civilian casualties. Asked whether the U.S. and South Korea could quickly quell the artillery with counter batteries and air strikes, both experts said no — the artillery is in many cases shielded by thick rock.
"Unless you conduct a blanket nuclear strike, you are not going to get most of it," the former CIA official said.
Some analysts don't believe an artillery attack on Seoul would be as catastrophic as worst fears would suggest, but under any circumstances, it would be "the worst kind of fighting in most people's lifetimes," as Defense Secretary Mattis put it in May.
A longstanding ally in the region, the Philippines, is set to host an international regional security meeting on Monday, when leaders could pressure Pyongyang to halt its intermediate-range missile tests. Secretary of State Rex Tillerson is expected to attend the meeting in Manila.
On Wednesday, Philippine President Rodrigo Duterte went on the attack against North Korean leader Kim Jong Un, whom he referred to in a speech as a "fool" and a "son of a b----," according to Reuters.
"That chubby face that looks kind ... If he commits a mistake, the Far East will become an arid land," Duterte said. "It must be stopped, this nuclear war."
"A limited confrontation and it blows up here, I will tell you, the fallout can deplete the soil, the resources and I don't know what will happen to us," he added. Duterte has previously called for the U.S. to show restraint in dealing with Kim's totalitarian regime.