Hundreds of active-duty U.S. troops will continue their deployment to the southern border through the next month, the Defense Department told NBC News on Thursday. 
"On August 24, 2023, the Secretary of Defense approved an extension of up to 400 personnel providing support to Customs and Border Protection on the Southwest border through September 30, 2023," said a Pentagon spokesperson, Lt. Col. Devin T. Robinson.
In early May, Defense Secretary Lloyd Austin approved the deployment of 1,500 troops to the southern border for 90 days to support the Department of Homeland Security during a surge in illegal border crossings.
The troops' mission had been expected to end Aug. 8, but the Defense Department extended the stays of 400 of the troops until Thursday. The 1,100 other troops were sent home.
There was debate within the Biden administration about whether to extend them again, the officials said, with some military officials recommending the troops be sent home.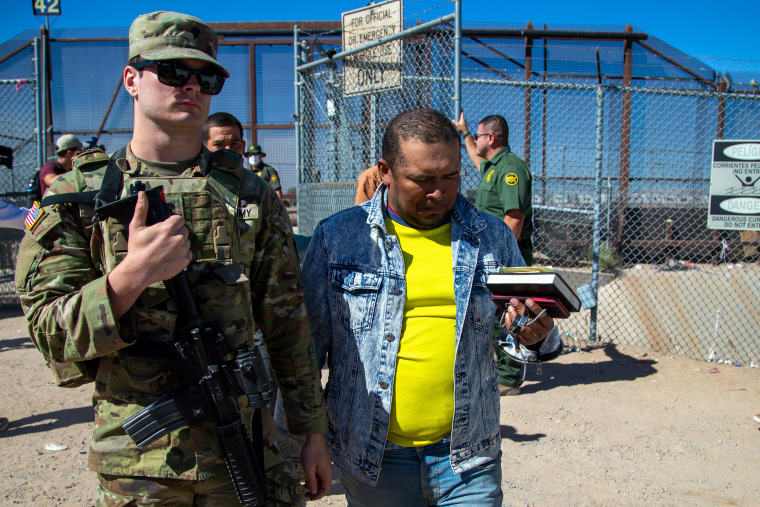 In a statement, a DHS spokesperson said, "DHS appreciates the extension of 400 DOD personnel who are providing support at the southwest border. The support personnel are critical so that CBP agents and officers can get out in the field to securely, safely, and humanely manage the southwest border." 
The troops were deployed in response to a record surge of more than 10,000 migrant crossings of the southwest border per day leading up to the lifting of the Covid border restrictions known as Title 42. DHS predicted the numbers would rise even higher after Title 42 ended on May 12, but instead they dropped to fewer than 3,000 per day.
Since then, they have slowly climbed back up to about 5,000 illegal southwest border crossings a day, according to CBP.