House Speaker Paul Ryan said Wednesday that it was "obviously" not appropriate for President Donald Trump to ask James Comey for "loyalty" after prepared testimony by the fired FBI director alleges the president did just that.
In a statement released Wednesday by the Senate Intelligence Committee, Comey said Trump asked for his loyalty during a one-on-one dinner at the White House. Comey said he replied that he could offer honesty.
When asked if it was appropriate for the president to be asking the FBI director for such loyalty, Ryan told MSNBC's Greta Van Susteren, "No, obviously, I don't think that is."
According to Comey, Trump told him during their dinner in January, "I need loyalty, I expect loyalty."
"I didn't move, speak, or change my facial expression in any way during the awkward silence that followed. We simply looked at each other in silence," Comey said in his testimony.
But near the end of their dinner, Trump reiterated that he needed loyalty, according to Comey.
"I replied, 'You will always get honesty from me,'" Comey wrote.
Ryan said Comey "will probably get a lot of questions about that tomorrow."
But the speaker hedged that the reporting was not "new" and said no one should "prejudge" anything, but follow where the facts lead.
NBC News and other media outlets reported last month that Trump had asked Comey for a loyalty pledge and that the former director replied what he could offer was honesty.
Still, Ryan said it was "critical" for FBI directors to remain independent.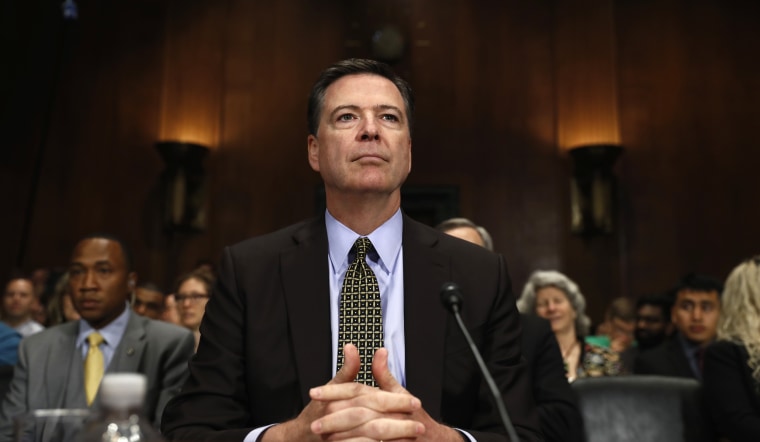 "FBI directors are supposed to be independent, that's something that's very, very critical," he said.
Ryan then signaled his support for Christopher Wray, a former Justice Department official and Gov. Chris Christi's personal attorney, whom Trump announced that he will nominate to replace Comey.
"I think that's why we have a new person that's been announced — Wray — who seems to fit the bill for an independent prosecutor, career-professional type, because we typically look for someone whose going to be independent but also that that position is treated independently and this obviously crosses that," Ryan said.
Comey's testimony was released one day before his appearance in front of the Senate committee on Thursday.
In the remarks, Comey also said that he told Trump he was not personally under investigation and that the president had pressured him to say so publicly.