PITTSBURGH — On the surface, the special election in Pennsylvania's 18th Congressional District on Tuesday isn't much to get excited about.
It's an off-year election in a district that will be redrawn by November because of a fight over the state's congressional map.
And yet the candidates, the two parties and outside interest groups have combined to spend eight figures on ads designed to help Republican state Rep. Rick Saccone or Democrat Conor Lamb, a Marine corps veteran and former federal prosecutor.
That's because the stakes are much higher than they may appear, not just for the candidates but for President Donald Trump.
The results will be taken as a clues to the national mood of voters heading into Trump's first midterm election, trends among key suburban and rural constituencies, and the effectiveness of the Trump tax cut as a campaign issue. It is also being watched closely to learn whether Republican incumbents should jump ship; would-be Democratic challengers should pass on races in tough districts; GOP lawmakers need to distance themselves from Trump; or Democrats must rethink their approach to campaigning in his shadow.
1. The Canary in the Coalfields
Last year, Democrats won a special Senate election in deeply Republican Alabama, but they came up just short in House elections in Georgia, South Carolina, Kansas and Montana. If they are to win control of the House in November's midterms, they'll have to capture some districts that have been GOP bastions.
Because Pennsylvania's 18th District has been so solidly Republican — Trump won it by 20 percentage points in 2016, and the last congressman, Republican Tim Murphy, was elected eight times — a Lamb victory would be taken by political pros in both parties as a sign that the GOP could get wiped out in November's midterm elections.
That is, if Democrats win districts like this one in the midterms, they should take control of the House with room to spare.
And even a narrow Republican victory could be a harbinger of a power shift in the House. If Saccone defies expectations and wins by a comfortable margin, Democrats will have to reassess their strategy.
2. Changing Nature of Suburban and Rural Voters
The Pittsburgh area is associated with blue-collar manufacturing jobs. And while the district certainly has plenty of white, working-class voters, it also includes a broad swath of better educated suburbs.
Both demographics are at the center of the wider political realignment of the Trump era, with educated suburban voters moving away from Republicans and blue-collar whites moving away from Democrats.
Low turnout elections like this one can offer hints about which types of voters are motivated enough to go to the polls at unusual times, and both parties will be watching the vote share between more suburban Allegheny County and more rural Westmoreland, Washington and Greene counties.
3. Tax Cuts: Silver Bullet or Pop Gun?
Republicans have been counting on tax cuts to save them this year.
"Our electoral success in 2018 is tied to tax reform," Cory Bliss, the executive director of House Republicans' flagship super PAC, the Congressional Leadership Fund, told NBC News in December.
But in Pennsylvania, outside GOP groups ended up abandoning the issue in their TV ads, focusing instead on issues like sanctuary cities and Lamb's record on crime. And while Saccone did campaign on the tax cuts, they were not his central focus.
To be sure, the tax cuts may play better in districts with a different socio-economic make up. But the first real-world test did not yield promising results.
4. Retirement Watch
Dozens of House Republicans have already announced they will not run for re-election this year, leaving behind more vulnerable open seats.
"If [Lamb] wins, you're going to see probably another half a dozen Republicans say they're not running again," former Vice President Joe Biden said while campaigning for Lamb last week.
Meanwhile, both parties are still trying to recruit candidates in some key races. If Lamb loses, Democrats may have a harder time convincing would-be candidates to run in conservative districts.
5. Trump Effect
Even if there's no rush to the exits, a Saccone loss could make House Republicans in tight districts even more wary of walking in lockstep with Trump. They would start looking for ways to distance themselves from the president, which would, in turn, make it harder for him to move his agenda in Congress and potentially further damage his standing with the public.
But, as noted by former Rep. Tom Davis, a Virginia Republican who once ran the National Republican Congressional Committee, a Lamb victory could present a tough balancing act for GOP lawmakers.
"A Democratic victory will send chills down the line of the Republican Conference that the president is an albatross even in seemingly safe districts in a general election," Davis said. "However, he is still the gold standard to Republican primary voters, so distancing yourself carries some risks, as well."
On the other hand, a Lamb loss — particularly if it's by more than a few points — could make Democrats re-examine their approach to Trump.
While the president is the loud background music for the entire campaign, Lamb has assiduously avoided taking him on in a district that favored him by so much. "I'm not running against President Trump," he has said over and over.
Kristen Hawn, a Democratic strategist who has long worked with centrist lawmakers and candidates, argues that even a narrow loss is an affirmation of the kind of candidate Lamb is and the style of campaign he ran.
"The fact that Democrats are even competitive in a district that Trump won by 20 points demonstrates the momentum we have headed into the midterms," she said. "As long as Democrats support candidates who accurately represent their districts, we have a real opportunity to take — and keep — seats currently held by Republicans in states across the country."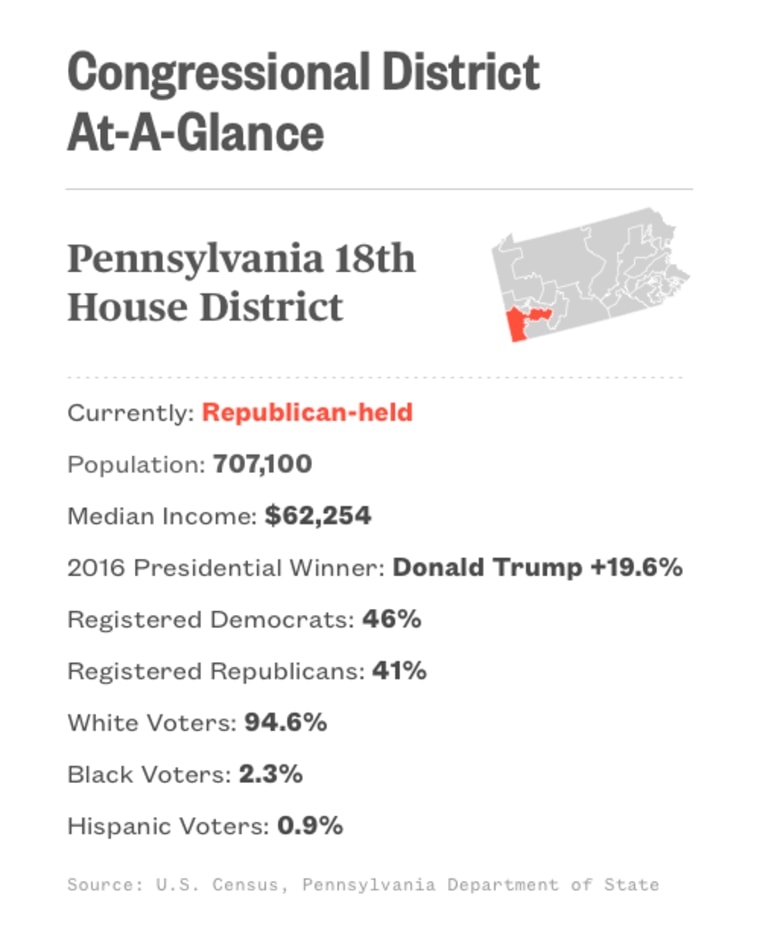 Jonathan Allen reported from Pittsburgh, and Alex Seitz-Wald from D.C.