WASHINGTON — The architect of the Osama bin Laden raid said Thursday that it was a badge of honor for former CIA Director John Brennan to have his security clearance stripped by President Donald Trump.
"I would consider it an honor if you would revoke my security clearance as well, so I can add my name to the list of men and women who have spoken up against your presidency," William McRaven, a retired four-star admiral, wrote in an open letter to Trump in The Washington Post. "Few Americans have done more to protect this country than John. He is a man of unparalleled integrity, whose honesty and character have never been in question, except by those who don't know him."
McRaven was responding to Trump's decision to rescind Brennan's access to classified information, a move the president announced in a statement read by press secretary Sarah Sanders on Wednesday. Brennan "has recently leveraged his status ... to make a series of unfounded and outrageous allegations, wild outbursts on the internet and on television, about this administration," Trump said in that statement.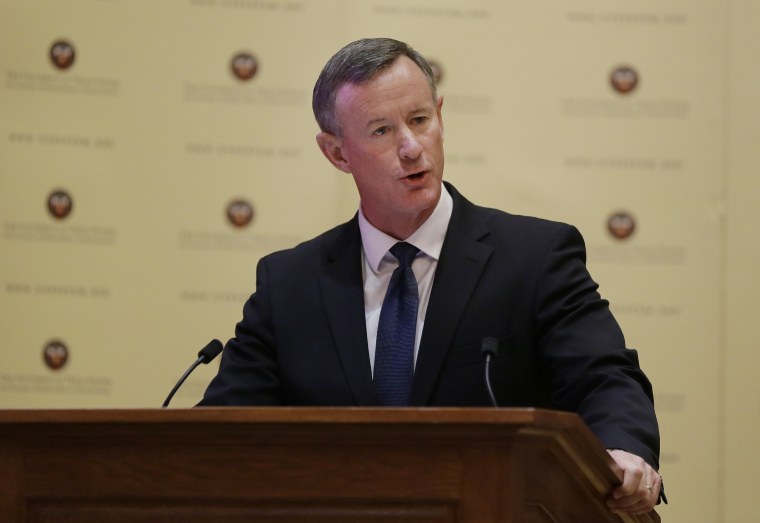 Brennan, who is a senior national security analyst for NBC News and MSNBC, said Wednesday in an interview with Nicolle Wallace that the cancellation of his security clearance was Trump's "way of getting back at me" and was designed to "intimidate and suppress any criticism of him or his administration."
McRaven wrote in his letter that Trump's "McCarthy-era tactics" would not silence criticism.
"Through your actions, you have embarrassed us in the eyes of our children, humiliated us on the world stage and, worst of all, divided us as a nation," McRaven wrote.
Also Thursday, former directors of central intelligence William Webster, George Tenet and Porter Goss, and former CIA directors Gen. Michael Hayden, Leon Panetta and Gen. David Petraeus and other former officials responded in a statement to "the ill-considered and unprecedented remarks and actions by the White House regarding the removal of John Brennan's security clearances."
"We know John to be an enormously talented, capable and patriotic individual who devoted his adult life to the service of this nation. Insinuations and allegations of wrongdoing on the part of Brennan while in office are baseless," they said in the statement.
It was also signed by former Director of National Intelligence James Clapper, former acting CIA Director John McLaughlin and former Deputy CIA Directors Stephen Kappes, Michael Morell, Avril Haines and David Cohen.
Also signing the letter was Robert Gates, who was defense secretary under Barack Obama and George W. Bush, CIA director under George H.W. Bush and deputy CIA director under Ronald Reagan.
"We all agree that the president's action regarding John Brennan and the threats of similar action against other former officials has nothing to do with who should and should not hold security clearances — and everything to do with an attempt to stifle free speech," the statement said.
"You don't have to agree with what John Brennan says (and, again, not all of us do) to agree with his right to say it, subject to his obligation to protect classified information," the statement continued. "We have never before seen the approval or removal of security clearances used as a political tool, as was done in this case."
"Beyond that, this action is quite clearly a signal to other former and current officials. As individuals who have cherished and helped preserve the right of Americans to free speech — even when that right has been used to criticize us — that signal is inappropriate and deeply regrettable. Decisions on security clearances should be based on national security concerns and not political views," the former officials said in the statement.