WASHINGTON — The office of an African American employee of the U.S. Department of Education was vandalized earlier this week, and other employees have expressed concern that the attack may have been racially motivated. African art figurines were found beheaded, with their limbs removed, and a school desegregation poster was damaged, according to Education Department employees and a congressional aide.
The incident happened at the department's Office of Elementary and Secondary Education, the employees and the aide told NBC News. The department said the employee had been out of the office for several days and reported the incident on Tuesday afternoon.
The poster, which was pulled off the wall and damaged, was believed to depict Ruby Bridges, an African American schoolgirl who became an icon of the civil rights movement, sources told NBC News. Some of the employee's co-workers are now looking for copies of the poster to put up in their own offices to show solidarity, they added.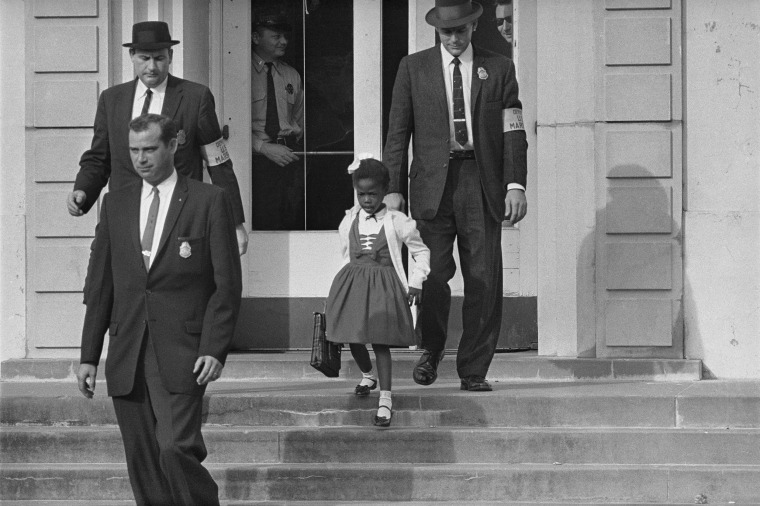 The office belongs to an African American woman who was recently designated as a "diversity change agent" within the Education Department to provide diversity and inclusion training to department staffers, the sources said.
Education Secretary Betsy DeVos reacted quickly to the vandalism, department officials said.
"We can confirm there was an incident involving an employee's personal belongings on the third floor," Angela Morabito, an Education Department spokesperson, said. "Secretary DeVos took immediate action, including referring the case to Federal Protective Services for a comprehensive investigation, increasing building security, and most importantly, ensuring the impacted employee was supported."
A department official sent an email to staff members Thursday saying the incident was under investigation.
"There was an unfortunate incident on our floor this week. An office was vandalized. This cowardly action is intolerable and unacceptable," Frank Brogan, assistant secretary for elementary and secondary education, wrote in an internal email obtained by NBC News.
One Education Department employee said that staff members were shaken and disturbed by the vandalism, which gave the impression that it was racially targeted.
"I don't know if it was targeted, but it sure does feel like it," the employee said. "To pick one room and to go in and destroy it like that."
Some employees expressed frustration that leading department officials were not more forthcoming about the incident, with one accusing them of "keeping this under wraps." The email from Brogan did not include specific details about the vandalism, and was sent only to staff members from the department's Office of Elementary and Secondary Education.
Both department employees and the congressional aide said they did not believe that a personal feud or conflict led to the incident, because the staffer whose office was vandalized seemed to have a collegial relationship with her colleagues.
"I could not believe that something like this happened," a department employee said. "This should be a place that's safe for all of us."