WASHINGTON — President Trump still has confidence in Attorney General Jeff Sessions, the White House said Thursday, despite the president's blunt comments that he would've chosen a different person for the top Department of Justice job had he known Sessions was going to recuse himself.
"Clearly he has confidence in him or he would not be the Attorney General," White House Deputy Press Secretary Sarah Huckabee Sanders told reporters Thursday.
In the White House's fourth off-camera briefing this week, Sanders swatted down suggestions that Trump wanted Sessions to resign, saying "if he wanted somebody to take an action, he would make that quite clear."
Sessions said Thursday he plans to continue as the nation's top law enforcement officer "as long as that is appropriate," calling the job "something that goes beyond any thought I ever would have had for myself." He told reporters Thursday he is "totally confident" that he can continue to be an effective attorney general despite the president's remarks.
Trump has not spoken with Sessions in the last 24 hours, Sanders said, defending the president's comments to the New York Times as more "candid" than undermining to one of his top Cabinet members and earlier supporters.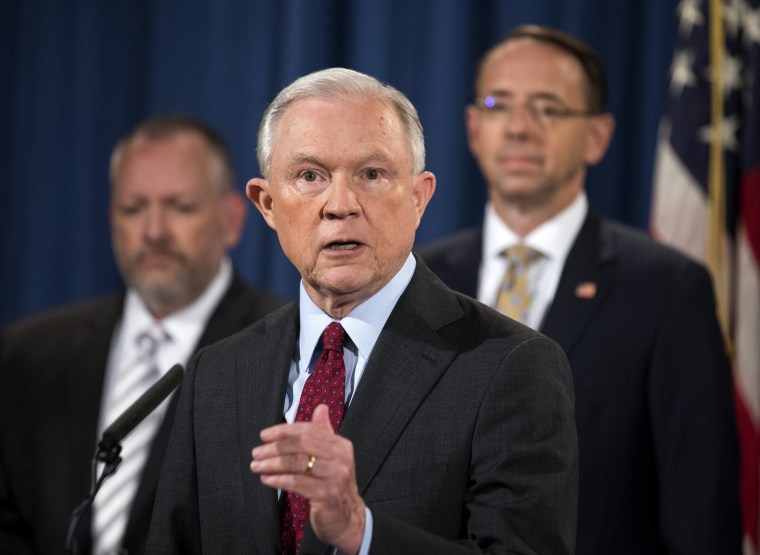 Trump on Wednesday told The New York Times he never would have appointed Sessions if he knew Sessions would recuse himself from the investigation into possible ties between Russia and the Trump campaign.
"Sessions should have never recused himself, and if he was going to recuse himself, he should have told me before he took the job and I would have picked somebody else," Trump told the paper.
Sessions announced his recusal following revelations he met with a Russian official during the 2016 presidential campaign. The former Alabama senator did not disclose the meeting during his confirmation hearing.
Sanders was also asked whether Trump was suggesting he would consider firing Special Counsel Bob Mueller if he looked at finances unrelated to Russia in the probe, something Trump told the paper would be "a violation" and the crossing of a red line.
"The point he is trying to make is that the clear purpose of the Russia investigation is review Russia's meddling in the election, and that should be the focus of the investigation, nothing beyond that," Sanders said.
Trump has no plans to fire Mueller, but does have the authority to do so, she said.
Session's comments came during a press conference announcing the takedown of AlphaBay, the largest dark web marketplace for illegal goods. That news, however, was overshadowed by the president's blunt criticism of Sessions, who was the first U.S. senator to endorse him and campaigned aggressively for him.
"The work we're doing today is the kind of work that we intend to continue," Sessions said when asked about the distraction.
The law enforcement officials received no questions about the AlphaBay case, which Sessions called "one of the most important criminal investigations of this entire year."
About 200,000 members used the site to purchase drugs, weapons, malware and stolen credit cards and identities, according to officials. Several Americans died, including a 13-year-old, from drugs purchased on AlphaBay, Sessions said.
The site's suspected founder, Alexandre Caze, was arrested earlier this month in Thailand at the request of U.S. officials. A week later he was found dead in his cell.
"Make no mistake, the forces of law and justice face a challenge from criminals and transnational criminal organizations who think they can commit their crimes with impunity by going dark," Sessions said. "This case, pursued by dedicated agents and prosecutors says you are not safe, you cannot find. We will find you."