PRATTVILLE, Ala. — Jerome Cox, the pastor at the Greenwood Baptist Church in this small city 20 miles northwest of Montgomery, put down his banjo and smiled as he explained that he aims to always see the good in people.
That includes people like Roy Moore.
"I don't know whether he did those things. It's not for me to say, or judge, whether he did those things," Cox said Friday, referring to the embattled GOP candidate in his state's U.S. Senate race. "What I do know is that he's done a lot of good for the state of Alabama. He's stood by his convictions."
Cox, whose friends call him "Willie," was wrapping up a bluegrass-infused Christian hymn jam session with fellow congregants — a twice-monthly Friday-night tradition at his small church — as he defended Moore from a report in the Washington Post that he had forced a woman into a sexual encounter when she was 14 and he was 32.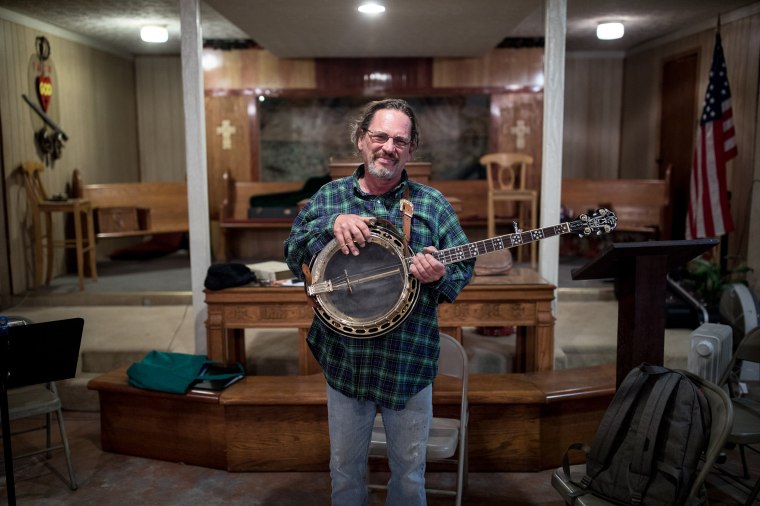 "I voted for him in the primary, in the runoff and I'll be voting for him again on Dec. 12," Cox said, referring to the general election when Moore is set to face Democrat Doug Jones, a former U.S. Attorney, who is an underdog in the contest.
On Friday, Moore called the allegations "false, false, [and] misleading" and at a Veterans' Day event on Saturday, the Republican candidate said, "Everybody in this room, every person watching on these cameras, should ask theirselves, 'Isn't it strange that after 40 years of constant investigation people have waited until four weeks prior to the general election to bring their complaints?'"
Moore finds his defenders back home while the climate is less hospitable in Washington, where GOP senators, as well as the White House, have called on the conservative firebrand to drop out of the race if the report is true.
Of more than 15 Republican voters in Alabama interviewed by NBC News, none said their support for Moore would change.
Most said they didn't believe the allegations and some said even if they are true, that wouldn't sway their vote for him next month because they think Moore is a good man, should be forgiven and they could never bring themselves to vote for a Democrat anyway. Several attacked the media.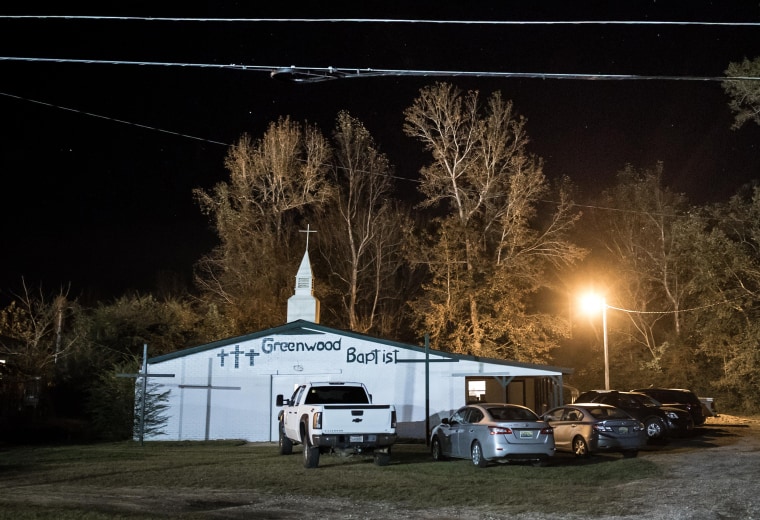 Across the street from Cox's congregation, rock music blared from the Big Star Tavern, where locals slammed Bud Lights, watched college football, shot pool — and defended Moore with suds-soaked passion.
"Why would they wait until now to come forward with this unless someone put them up to it," said Tony Emfinger, a 57-year-old barback at the tavern.
Emfinger, who used mostly four-letter words in referring to the allegations, has held Moore in especially high regard since 2003, when his 66-year-old aunt was handcuffed in her wheelchair and arrested after having participated in protests, led by Moore, against orders from a federal judge to remove a monument of the Ten Commandments from the lobby of the Alabama state Supreme Court.
"What he stood for then, what he stands for now, that's why I want him" in the Senate, Emfinger said.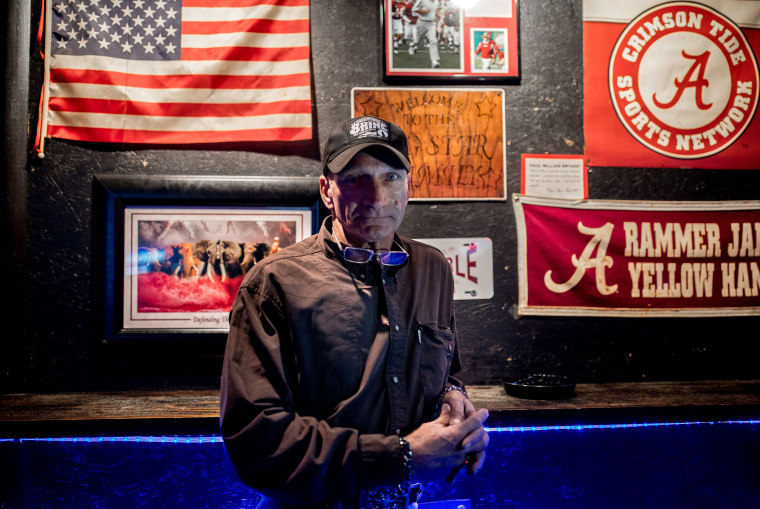 Republican voters in Alabama said they love Moore's penchant for political incorrectness — they like the same thing about President Donald Trump — and blame the media for Moore's troubles.
"Not until this race did the media go digging around on him," said Charles Bodenheimer, a 39-year-old garbage truck driver from Tallassee, Ala., as he sat on a park bench in Montgomery. "If (the allegations) are true, then why did (the women) wait so long to say anything?"
Bodenheimer, who voted for Sen. Luther Strange in the primary and runoff, said he was now backing Moore because Jones is "an absolutely immoral man," citing the Democrat's support for abortion rights.
Bodenheimer's friend, Derek Alexander, from Jacksonville, Ala., nodded in agreement and questioned why the report about Moore should matter — even if it were proven true.
"We've all made mistakes in the past, we all have sins," said Alexander, who backed Moore in the primary and the runoff. "He should stay in, and he will stay in. No charges will be brought."
"I've got his back," Alexander added.
Women were as adamant in their continued support for Moore, too.
Ann Eubank, a retired accountant from Hoover., Ala., called the allegations a "he said, she said situation" and a "distraction started by those who don't want him in office."
"Why are we following this shiny object?" asked Eubank, who was at the Veterans' Day event attended by Moore in Vestavia Hills, outside Birmingham.
Some voters even said the allegations endeared them even more to the GOP candidate.
"Oh, he's going to win, I'm sure of it," said Ricky Ousley, a 57-year-old owner of a lawn-care company who voted for Moore in both the primary and runoff.
"The media tries to control everything but won't win this time," he added. "This whole thing done nothing but lit up Alabamians."
Meanwhile, residents of Gallant, the sprawling, wooded town of less than 1,000 where Moore grew up and continues to call home today, were far more tight-lipped about the controversy surrounding their native son.
Outside the local convenience store, a woman who gave her name as Carol said she has known Moore her whole life and called him a good man. Carol doesn't believe Moore's accusers, but she said even if the allegations are true, "there's a thing called grace — God's grace," noting that the allegations are decades old.
Inside the store, a man who declined to give his name said, "This is Republican town, man. (Moore) could have killed Obama, and we wouldn't care."
Cox, of the Greenwood Baptist Church, said as long as Moore is on the ballot, the GOP candidate would have his support.
"Everything else," Cox said, "is for the Lord to sort out."