ESPN President John Skipper on Friday sent a company-wide email to staff about its social media policies and "issues of significant debate in our country" amid a controversy surrounding comments anchor Jemele Hill made about President Donald Trump.
Hill, an anchor for the network's "SC6" program, in a series of Tweets on Monday called Trump "a white supremacist who has largely surrounded himself w/ other white supremacists."
Trump on Twitter Friday took aim at the sports network, saying "ESPN is paying a really big price for its politics (and bad programming)" and demanding, "Apologize for untruth!"
Skipper did not refer to Hill or Trump by name in the email sent Friday, but wrote that while "ESPN is not a political organization" its employees "are citizens and appropriately want to participate in the public discussion."
"At a minimum, comments should not be inflammatory or personal," Skipper wrote in the email. The email was not released by ESPN and was posted online, but an ESPN representative confirmed it was accurate.
White House Press Secretary Sarah Huckabee Sanders this week called Hill's comments "outrageous" and said they were a "fireable offense."
Hill has deleted the tweets, and said on Twitter Wednesday that "My comments on Twitter expressed my personal beliefs. My regret is that my comments and the public way I made them painted ESPN in an unfair light."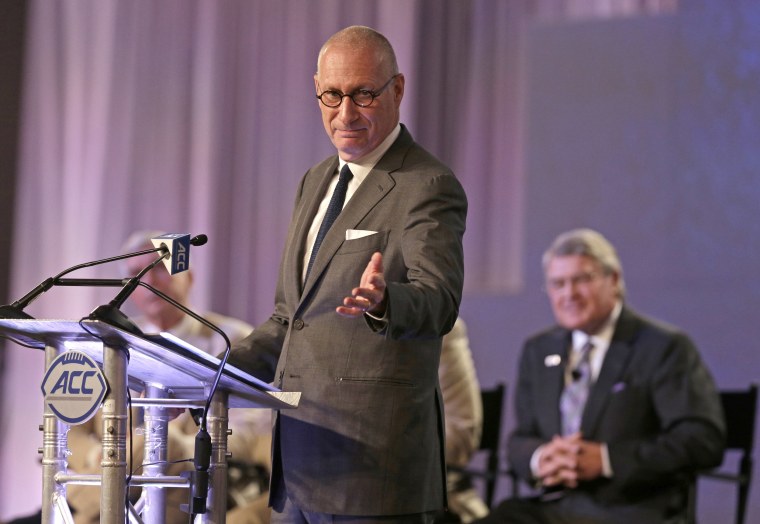 ESPN had previously said "the comments on Twitter from Jemele Hill regarding the President do not represent the position of ESPN. We have addressed this with Jemele and she recognizes her actions were inappropriate."
The National Association of Black Journalists said Wednesday that she is an "award-winning, veteran journalist" and the organization "supports Hill's First Amendment rights on all matters of discussion, within and outside the world of sports, as they do not impinge on her duties as a host and commentator."
Trump has been criticized for his role in promoting the debunked "birther" theory that President Barack Obama was not born in in the United States, something he did for years. Trump publicly acknowledged that Obama was born in the United States in September of 2016, during the presidential campaign.
Some critics have said the "birther" movement is racist. When Trump made the announcement last year that he believes Obama was born in the U.S., he did not apologize.
Trump has made targeting what he calls "fake news" a theme of his campaign and presidency. Huckabee Sanders on Friday again said that she thinks Hill's comments are a fireable offense.
"I think it is a fireable offense based on the standard that ESPN has set themselves by saying that people that go too far and make political comments have been suspended from their own network," Huckabee Sanders said.
In the email to ESPN employees, Skipper made no mention of any personnel changes and said "our handling of this is a private matter."