Former White House Communications Director Anthony Scaramucci said Sunday that President Donald Trump should have been "much harsher" in his reaction to the deadly violence at a white nationalist rally in Virginia — and he continued to criticize strategist Steve Bannon during his first TV interview since his abrupt ouster last month.
"I wouldn't have recommended that statement," Scaramucci said on ABC News' "This Week" after H.R. McMaster, Trump's national security adviser, condemned the attack as terrorism. "I think he needed to be much harsher as it related to the white supremacists and the nature of that, I applaud General McMaster for calling it out for what it is — it's actually terrorism."
"And whether it's domestic or international terrorism, with the moral authority of the presidency you have to call that stuff out," he said.
Scaramucci also bashed the influence of Bannon, the former Breitbart News executive.
"You also got this some of Bannon-bart influence in there, which I think is a snag on the president," he said, coining a portmanteau. "If the president really wants to execute that legislative agenda that I think is so promising for the American people ... then he has to move away from that sort of Bannon-bart nonsense."
Scaramucci, who has been a vocal critic of Bannon's, offered a cryptic response when asked whether Bannon should go.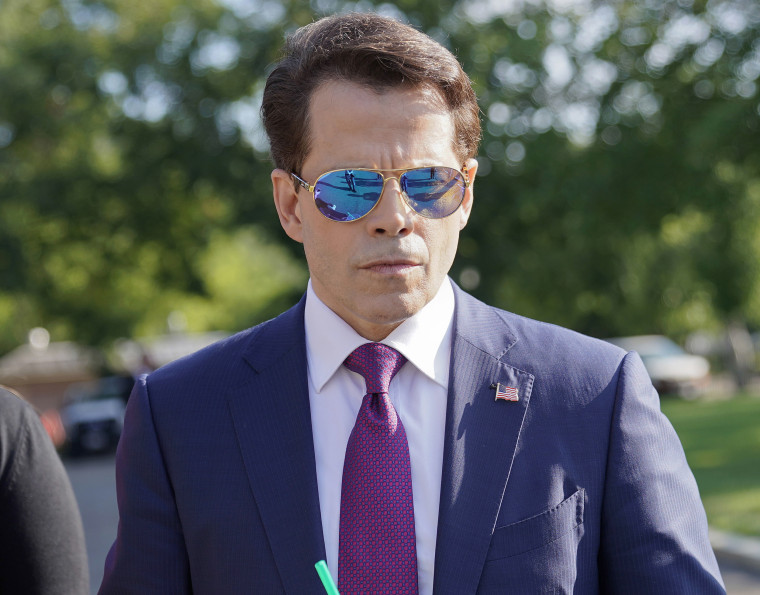 "I think the president knows what he's going to do with Steve Bannon," he said, adding: "Let's leave it up to the president. It's his decision."
"At the end of the day, I think the president has a very good idea of who the leakers are inside the White House, the president has a very good idea of the people that are undermining his agenda — that are serving their own interests," he said.
Trump fielded bipartisan criticism on Saturday when he suggested that "many sides" were to blame for the violence at a white nationalist rally in Charlottesville, Virginia, which ended in a car plowing into a group of described "anti-racist" protesters — killing one person and injuring 19 others.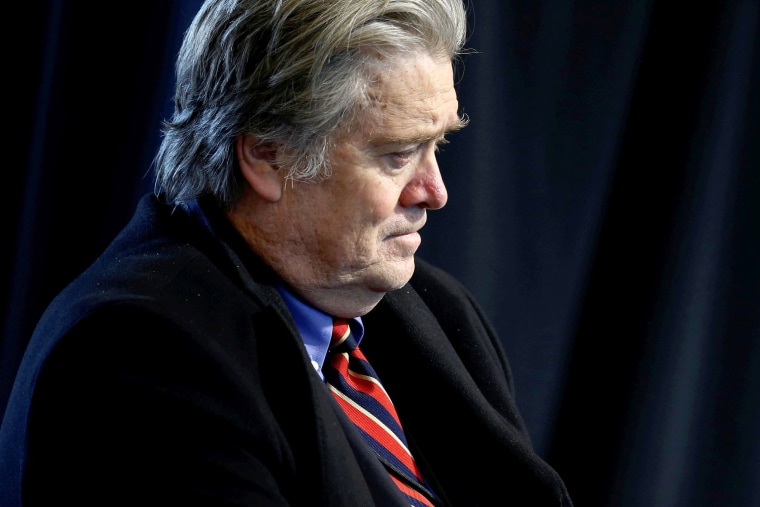 While Trump used the word "bigotry" in his remarks, he drew criticism from members of both political parties for not specifically rebuking white nationalists or supremacists.
On Sunday, the White House put out a statement further clarifying:
"The President said very strongly in his statement yesterday that he condemns all forms of violence, bigotry and hatred and of course that includes white Supremacists, KKK, neo-Nazi and all extremist groups. He called for national unity and bringing all Americans together."
Meanwhile, the White House is still without a communications director after Scaramucci's sudden departure just 11 days after he was appointed.
On Sunday, Scaramucci also addressed the expletive-ridden phone call with New Yorker reporter Ryan Lizza, in which he blasted Bannon and former White House Chief of Staff Reince Preibus.
He said he believed that the call was "off the record" and that it was "a very deceitful thing" for Lizza to record the call.
But he added that he wanted to take accountability for his actions and that what he did "was wrong."
Scaramucci acknowledged that he did not specifically ask for the conversation to be off the record. Federal law permits recording phone conversations if one party consents to the taping, and in Scaramucci's case, that person would be Lizza. While some states places require both parties to consent to being recorded, Washington, D.C., where Lizza received the call, does not.
Scaramucci said that he spoke with the president "this week" and that the two "had a very candid conversation."
"Listen, there's probably mutual disappointment on both sides. Again, I have to be accountable for what I did and I am," he said.
Asked whether he believed he deserved to be fired, he said, "Obviously, I wished they would've given me a bar of soap and told me to wash my mouth out in the bathroom and move on."