Arizona Gov. Doug Ducey has decided to just do it: Change his mind and welcome Nike with open arms.
Ducey initially tweeted last week that he was ordering the state's commerce authority to "withdraw all financial incentive dollars" for Nike to build a plant in the city of Goodyear. His decision followed the sneaker company's announcement that it would not produce a new Fourth of July shoe featuring Betsy Ross' flag for the 13 American colonies after former NFL quarterback Colin Kaepernick reportedly expressed concern over its historic representation of the nation's racist legacy.
"Instead of celebrating American history the week of our nation's independence, Nike has apparently decided that Betsy Ross is unworthy, and has bowed to the current onslaught of political correctness and historical revisionism," Ducey tweeted, adding that "Arizona's economy is doing just fine without Nike. We don't need to suck up to companies that consciously denigrate our nation's history."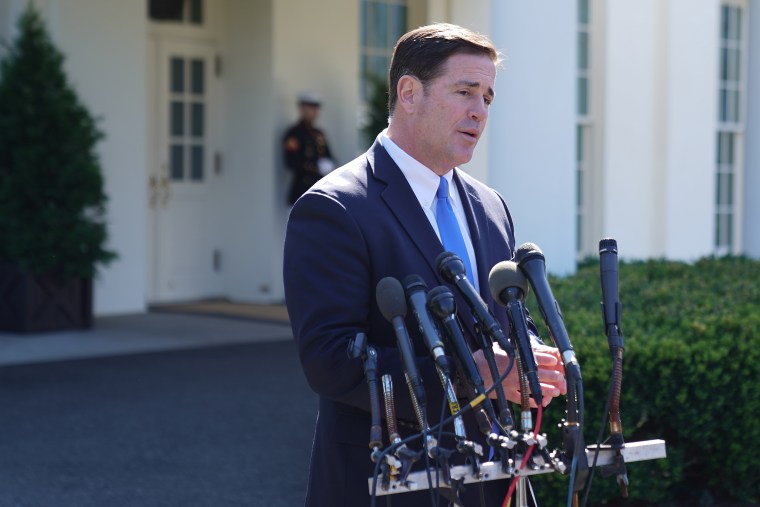 But Ducey has now suggested a change of heart after Nike said Thursday in a news release that its Nike Air Manufacturing Innovation facility would generate more than 500 full-time jobs and result in an investment of at least $184 million in Goodyear. Hiring "will begin immediately," the company added.
"This is good news for Arizona and for @GoodyearAZGov," Ducey tweeted in response. "500 plus jobs. Over $184 million in capital investment. Arizona is open for business, and we welcome @Nike to our state."
The Arizona Commerce Authority, a public-private economic development agency, also touted the deal.
Ducey's office did not immediately respond to a request for comment about his apparent flip-flop over Nike.
Despite the governor's initial tweets blasting Nike, local officials were happy to see the company, considered the world's largest sneaker maker, according to Forbes, get a foothold in the state.
"We will honor the commitment we made in our agreement," Goodyear Mayor Georgia Lord said in a statement last week after the city council unanimously approved a job creation agreement with Nike.
Nike's decision to cancel the shoe design for its special edition of the Air Max 1 Quick Strike was done "based on concerns that it could unintentionally offend and detract from the nation's patriotic holiday," a spokeswoman previously said.
Betsy Ross' 13-star pattern was used as early as 1777 and is associated with the Revolutionary War. Kaepernick, a brand ambassador with Nike, was concerned because the shoe design incorporates the flag, which has connections to slavery, people familiar with the matter told The Wall Street Journal.
In addition, the flag has been appropriated by the white nationalist group Identity Evropa and the Ku Klux Klan, whose members use it to represent a time when slavery was legal.