Artists are taking on President Donald Trump — wrestling with how to portray him and how to protest him.
The latest debate in the creative community raged around the free summer production of "Julius Caesar" in New York's Central Park, which opened on Monday amid outcry over the fact that Caesar, the Roman dictator who is eventually assassinated, is portrayed by a Trump lookalike.
But this lightning rod of a production joins the numerous expressions, large and small, since Trump's election as theater artists, musicians, visual artists and poets work out how best to capture the sentiment of the time in politics.
Among them: Robert Schenkkan, the Tony- and Pulitzer Prize-winning playwright, rushed a Trump nightmare-scenario play he had written in October to production in March. Erika Paget, a 27-year-old artist and curator in Los Angeles, who started smoking again the night of the election, threw herself into organizing an art show only for women of color. The filmmaker Michael Moore, a left-leaning provocateur who predicted Trump's surprise win, will debut his one-man anti-Trump Broadway show next month.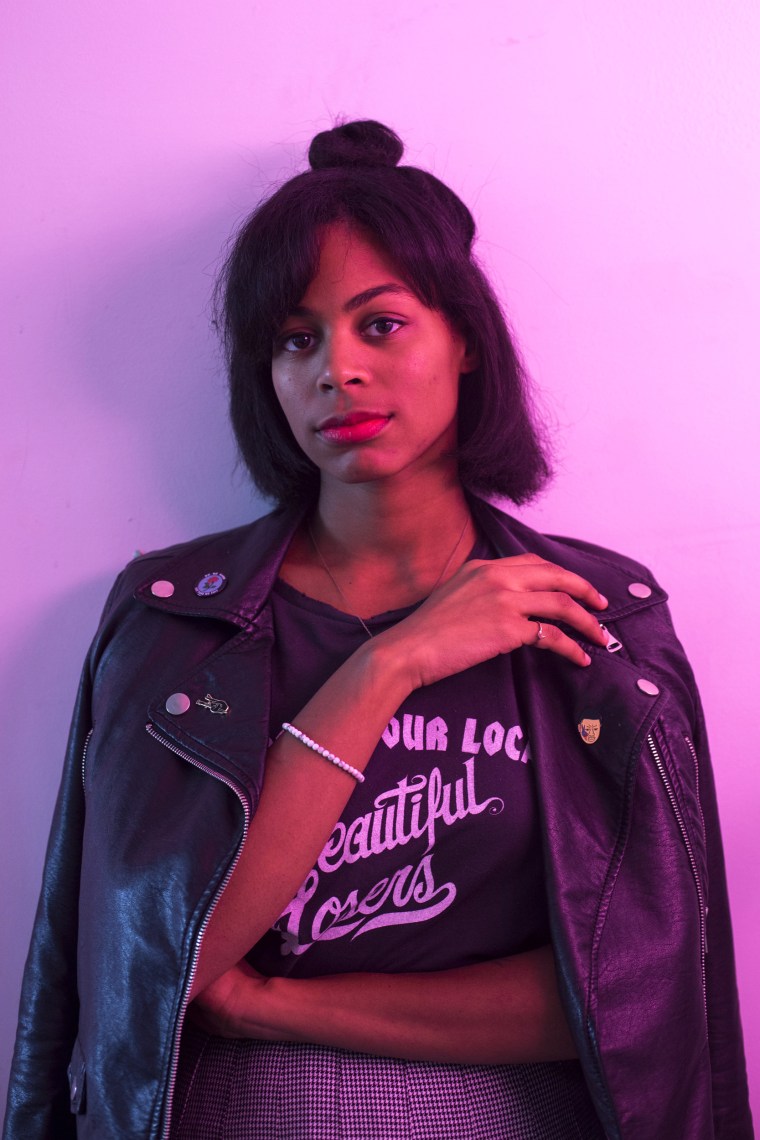 The artists across the country interviewed by NBC News described their need to put something out into the world after Trump's surprising victory in November. They expressed worry for their friends and neighbors and frustration over what they see as an erosion of truth, as well as anger over specific policies. In terms of their work, it was a matter of figuring out how to confront a president who has struck American artists as particularly unsympathetic — proposing a budget that guts funding for the arts as well as women's health care while enforcing harsh immigration policies — and someone who they see as unabashedly uncultured.
"I felt so helpless ... I felt catatonic," Paget said. "And all I could do was think about people who were more scared than me."
Some cheered the Public Theater's decision to put Caesar in a red tie, tweeting support with the hashtag #weareonepublic. Many have pointed out that the idea of the Roman dictator taking on the likeness of a modern politician is not new — a Minneapolis production cast a tall, lanky black man as their Caesar in 2012.
"Julius Caesar can be read as a warning parable to those who try to fight for democracy by undemocratic means. To fight the tyrant does not mean imitating him," Artistic Director Oskar Eustis, who directed the production, wrote in a letter posted on the theater's website.
"And in case you are wondering: No, we didn't write any new lines. It's all Shakespeare," the letter adds.
In Schenkkan's play, "Building the Wall," there's the specter of Trump in what Schenkkan calls a dystopian fiction inspired by the president's real-life statements on the campaign trail.
Schenkkan told NBC News that he wrote it fast, out of "frustration and concern about where our republic was headed."
After that, his priority was to get the play produced as quickly and as widely as possible. It opened in Los Angeles in March, where it's been extended twice, and had runs in Silver Spring, Maryland, Washington, D.C., Portland, and New York. More productions are in the works in the U.S., as well as Costa Rica, Mexico and Canada.
But in Manhattan, the play closed just weeks into its run at a nearly 500-seat commercial Off-Broadway venue. The large size of the house, Schenkkan said, was a challenge. Breitbart, which has written multiple stories about "Julius Caesar," covered the play's closure in the "liberal" city.
"The play is meant to be provocative, it's meant to get people to think, and to talk," Schenkkan said. "And it's done that, and will continue to do that. So in that sense I feel that it's been very successful."
The two-person play mentions Trump in passing — he's been impeached after his declaration of martial law is discovered to have led to the mass murder of immigrant detainees reminiscent of the Nazi gas chambers.
Related: Et Tu, Delta? Airline Pulls Sponsorship for Trump-Like 'Julius Caesar'
Amit Majmudar, the 38-year-old poet laureate of Ohio who curated a book of poems titled "Resistance, Rebellion, Life: 50 Poems Now," told NBC News that just as 9/11 was a "wake up call" for his generation, Trump's election is shaping up to be such a moment for younger artists.
"This is real, things are at stake, you have to pick a side, you have to fight, you have to at least think about it and engage with your own time at this particular moment," Majmudar said.
The poems, he said, are an attempt at keeping a record.
"People will be able to look back on it and say, okay, this is how they were feeling, this is how they were reacting to that weird election and that whole weird sequence of events during the early Trump presidency," Majmudar said of the compilation, which features American poets with diverse backgrounds.
Majmudar, like other artists interviewed by NBC News, said different styles of activism are important.
"It is true that it's not like Trump or anyone in his administration will read this book. If the entire world media on both sides of the political spectrum has failed to bring him down, '50 poems' ain't going to do it," he said. "But at the same time, I would say that when we speak of a citizenry that is politically active, and is politically activated, it's not like everyone does the same thing."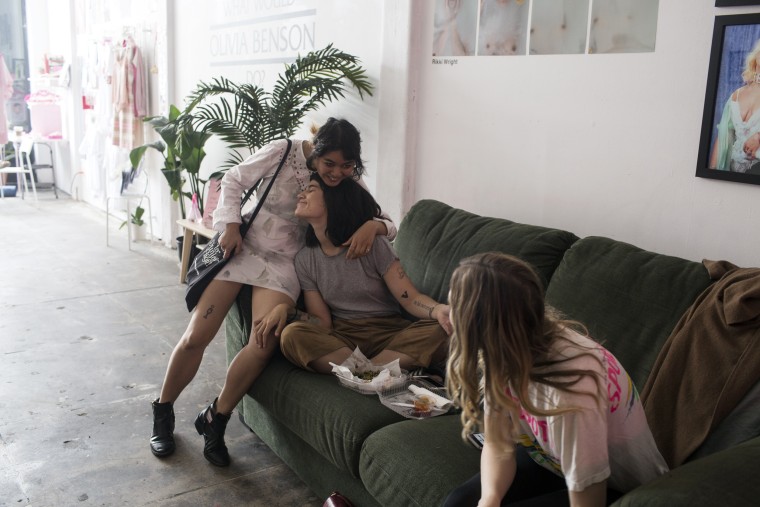 Faye Orlove, 26, opened her Los Angeles gallery Junior High in January 2016 with the intention of creating an accessible art space for women, LBGTQ people and teenagers.
Trump's name doesn't appear on any of her gallery's fliers. Instead, Junior High's Instagram promotes events like "A Night of Radical Trans Cinema" and "I am an immigrant: a night of bilingual entertainment and immigration awareness," alongside hangover yoga and an art show benefiting the rape kit testing charity "End the Backlog."
"I think people are now under the impression that this was a post-Trump decision, where it was like, 'Oh, everything sucks now, let's change it.' But the fact of the matter is, I started this during Obama's administration," Orlove said, adding that she feels like most people are aware of the cultural and political circumstances that would inspire the events at her gallery.
"The thing I've noticed that changed [since Trump] is the amount of people who want to be involved in activism," Orlove said.
Paget, who co-curated the all-women of color show at Orlove's gallery with a friend, said that over the course of Trump's campaign she became hyper-aware of the fact that she was not just an artist and curator, but a black female artist and curator. The anger she felt at Trump's election eventually propelled her out of her catatonic state, seeking ways to connect her activism to her art.
"I want to focus more on doing shows and facilitating shows where I can make marginalized voices louder," she said.
Drummer DJ Hostettler from Milwaukee described going to work on November 9, the day after the election, in a daze. He and a group of friends began recruiting bands from around the Midwest for what would become "UNPRESIDENTED: DIY vs. Donald Trump," a protest album. The tracks, with titles like "Fake News (You're Not the Best)" and "Make AmeriKKKa Great Again," and "53 Percent," run the gamut of taking Trump to task and calling to arms.
"The main job is to document, to motivate, and provide solace and let people know you're not alone," Hostettler said. "Our mission was to really document the fact that artists are not happy right now, and to hopefully provide some sort of soundtrack that is a catharsis for people."
After its "Julius Caesar" made waves, the Public Theater issued a statement, saying that it "stands completely" behind the production, and that it recognizes that the play has sparked heated debate. "Such discussion is exactly the goal of our civically-engaged theater; this discourse is the basis of a healthy democracy," it said.
The Public Theater's offerings over the past year and a half have circled presidential politics in both direct and indirect fashion. One play cycle chronicled the 2016 election season in real time, while Lynn Nottage's documentary-like play, "Sweat," toggles between 2000 and 2008 to examine the racial divides and economic crises that would later help enable Trump's rise. In May, the Public hosted a star-studded reading of "All the President's Men?" — a supercut of the months-long Senate confirmation hearings for Trump's Cabinet.
"People are very upset. They're concerned, they're anxious, they're confused, they're angry," said Schenkkan, who wrote "Building the Wall." "And theater is traditionally a place where one can go to wrestle with these kind of strong public feelings."