Former Deputy Defense Secretary Ashton Carter will likely be President Barack Obama's choice to head the Pentagon following the resignation of Chuck Hagel, NBC News has learned.
Carter emerged as the leading candidate after former Department of Defense official Michele Flournoy removed herself from consideration. Homeland Security Secretary Jeh Johnson was also rumored to have been under consideration, though his close ties with the Obama administration were expected to cause a partisan confirmation battle.
Republican senators have expressed support for Carter, who formerly served as the second in command at the Pentagon.
White House press secretary Josh Earnest on Monday did not confirm Carter's selection, but lauded his service.
"He's somebody that certainly deserves and has demonstrated strong bipartisan support for his previous service in government," Earnest said. "He's somebody who does have a detailed understanding of how the Department of Defense works."
Carter, who stepped down in December of 2013, was considered a leading contender to succeed former Defense Secretary Leon Panetta before Obama settled on Hagel. Before serving as the top deputy to Panetta and Hagel, he was the Pentagon's chief arms buyer and worked to secure life-saving gear for troops in combat.
If confirmed, Carter would take over for Hagel after his abrupt resignation last month. The Vietnam War veteran and Nebraska senator was tapped to head a Defense Department that was winding down America's military presence overseas and grappling with a shrinking budget.
But new threats emerged, including the rise of Islamic militants in the Middle East and Russian aggression in Ukraine, that ultimately led the president to urge Hagel to step down.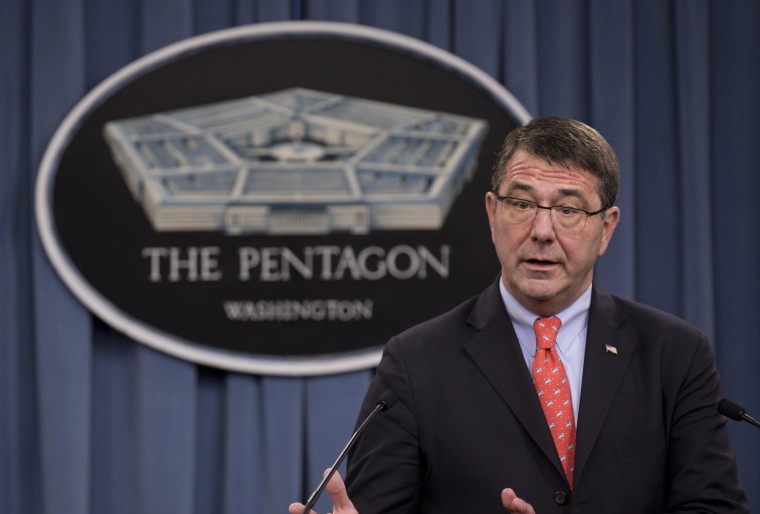 — Andrea Mitchell and Andrew Rafferty