DES MOINES, Iowa — A conservative nonprofit group founded by former Trump administration Education Secretary Betsy DeVos said it poured about $9 million into state elections last year, backing nearly 200 candidates. Now, some of those candidates are pushing a wave of legislation boosting DeVos' longtime goal: subsidizing private schools with public dollars.
Using at least $2.5 million from DeVos and her husband, the American Federation for Children has played a pivotal role in getting what supporters call "school choice" policies passed into law in at least three states and introduced in several more, according to current and former GOP legislators, lobbyists for teachers unions and academics.
The nonprofit group has found success amid a 20-year low in approval for the K-12 education system and after two years of protests over lessons involving race and LGBTQ identity. It is now on the verge of ushering in a transformation in how large swaths of the country fund schools.
"They've been quite strategic," Patrick Wolf, an education policy professor at the University of Arkansas, said of the group. "They've particularly targeted rural Republicans who are opposed to school choice. They just had to take out a few marginal incumbents, and thereby put the fear of God into the rest of them."
It's difficult to determine whether the laws would have been enacted without the American Federation for Children's involvement; other groups supporting the same "school choice" policies also targeted lawmakers with campaign ads last year. Each state's political landscape is unique and subject to myriad factors. But the federation's spending preceded a marked increase in both the scale of private school subsidies on the table at the state level and the rate at which the laws have been enacted. 
In Florida, where the American Federation for Children's state political action committee spent $1.7 million during last year's elections, Gov. Ron DeSantis signed a law Monday that will allow more families to receive public funds to pay for private education, regardless of their financial need.
In Iowa and Arkansas, where the organization's PAC put money into ousting incumbent Republicans who had resisted past proposals to subsidize private education, GOP governors signed sweeping legislation this winter to offer money for school tuition for every child in their states. 
And in Texas, where the American Federation for Children's PAC spent $1 million during last year's election cycle, and in Georgia, where it spent $380,000, bills recently advanced in the GOP-controlled legislatures to create programs to fund private schooling. 
"We're doing a lot of winning — I'm almost getting tired of winning so much because we're winning all across the country," Corey DeAngelis, a senior fellow at the federation, said in a Twitter Space on Sunday.
DeVos and other conservatives have long advocated for financially supporting families who want to move their children from public schools to private ones, calling these policies "school choice," and arguing that they would help poor children get a better education. Opponents, including teachers unions, educators and Democrats, have pushed back, arguing that such policies would siphon students and money away from public schools.
DeVos, a billionaire philanthropist, was unsuccessful in pushing for "school choice" bills in Congress during her time in the Trump administration and was stymied in attempts to reroute federal dollars toward private education, but the political winds among the GOP base have changed since then.
Republican lawmakers in over a dozen states have recently cited complaints about liberal ideology in public schools as a reason to support helping parents pay for private education. That shift in strategy has been hailed by organizations like the Heritage Foundation, a conservative think tank that helped spur parent protests over lessons about racism. And it has helped cement funding for private schooling as a benchmark of Republican governance.
DeVos said in a June 2022 C-SPAN interview that parent protests had driven increased interest in "education freedom" policies, and that this was having an electoral impact. 
"Importantly, we've seen this issue really inform many of the primary races this year in states where there haven't been programs and where there's been legislation introduced in the past but there simply hasn't been enough support," she said. "But this issue has really popped to the top of the list for many states. And so I think in this next year or two, we're going to see some major gains."
Tommy Schultz, CEO of the American Federation for Children, said the group targeted 69 incumbents in state legislatures last year and ousted 40 of them.
The group is "willing to beat opponents of either party who oppose the desires of parents who want these educational options," Schultz said in a statement. 
"Especially after 2020 and the chaos created for parents by the teachers' unions and the education establishment," he added, "parents are now winning one of the most important domestic policy issues of our time: school choice."
Removing incumbents is a move that sends a strong signal, said Maurice Cunningham, a University of Massachusetts-Boston professor who studies the impact of dark money groups: "Get in our way, and you'll be gone."
"Politicians are rational," Cunningham said. "It intimidates people. Who wants to be next after that?"
DeVos left her role as chairman of the American Federation for Children when she joined the Trump administration, but she remains one of its largest financial backers. She and her husband, Dick, gave at least $2.25 million to the nonprofit group's national PAC and $250,000 to its Texas PAC last year. The organization's national political arm also drew $1 million from Cleveland Browns co-owners Jimmy and Dee Haslam for its national election efforts. Jim Walton, a billionaire banker and son of the Walmart founder, put in $100,000 toward the group's work in Arizona last year. 
The American Federation for Children "helps make sure what's best for students comes first by ensuring parents, not just the unions, have a seat at the table when it comes to education policy," Nate Bailey, DeVos' chief of staff, said in an email.
The Haslams said in a statement that they support the American Federation for Children's efforts "to help students from all different areas and backgrounds have a chance for a quality education and a brighter future." 
Walton did not respond to requests for comment.
Public funding for private schools
Perhaps nowhere has the federation's impact been more evident than in Iowa.
Proposals to direct taxpayer money to cover the cost of attending a private K-12 school floundered in the Iowa Legislature for several years. Gov. Kim Reynolds, a Republican, pushed for this funding as a way to help students from low-income families get a better education. But Democrats uniformly opposed it, and many rural Republicans did, too, worried that the shift in funding would hobble public schools and cost the state too much money.
The proposals Reynolds advocated for in previous years were limited in scope. They would have provided state dollars to families to pay for private school if their child had special needs, or went to poor performing public schools, and included income caps. A majority of Iowans opposed them, according to polls.
Last year, Reynolds endorsed supporters of her education proposals in nine state legislative primaries, including primary challengers running against incumbent GOP lawmakers. The American Federation for Children Action Fund spent $254,000 during the primaries, targeting some of the same legislators, including Dustin Hite, a Republican who chaired the Iowa House Education Committee.
Hite faced a challenge from Helena Hayes, a mother who home-schooled her children and had no political experience before the primary. Hayes said she didn't realize groups like the American Federation for Children had gotten behind her until she received supportive flyers in the mail with her picture on them. The nonprofit group also sent out mailers that linked Hite to "liberal teachers unions" and blamed him for blocking school choice proposals.
Hayes said that she was grateful to the American Federation for Children, and that the money the group "poured into my campaign, enabling and helping me win that primary," was what boosted her chances. 
Hite said he had opposed previous proposals to fund private education because the vast majority of his constituents in a district of small towns outside of Des Moines told him they did not support them. He didn't expect a sitting governor of the same political party, or national conservative groups, to campaign against him in the primary. 
"That probably made the difference," Hite said. "Because what I was starting to get as the campaign wore on was reactions from people over mailers they would see or advertisements they would hear."
Hite spent $43,000 before the June primary, while Hayes spent just $4,000. The American Federation for Children Action Fund put $64,000 into the race — significantly more than either candidate.
"To see one entity dump that much money into the primary is unheard of," said Melissa Peterson, lobbyist for the Iowa State Education Association, a teachers union that donated $2,500 to Hite last year.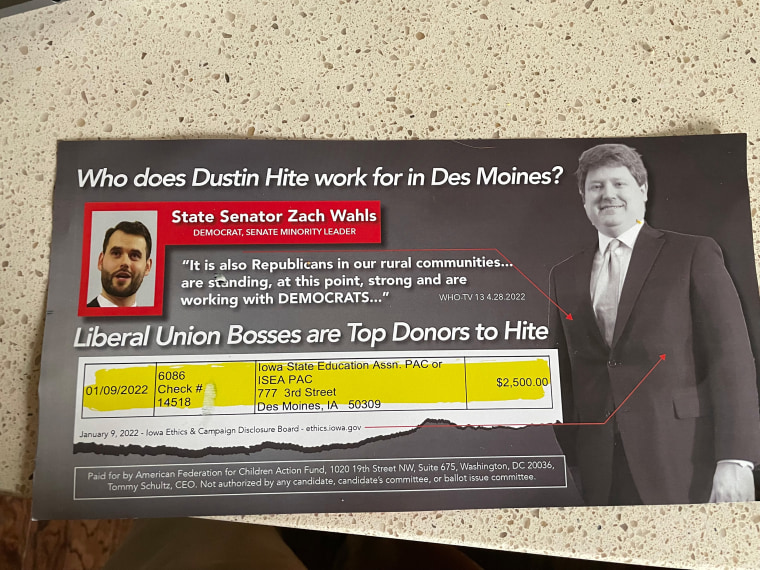 Hayes took Hite's seat in the House, and six other candidates backed by the American Federation for Children also won, helping to give the GOP an expanded majority in the Iowa Legislature. 
In January, Iowa Republicans passed a seismic bill that will, within three years, provide up to $7,598 for every family to pay for private school expenses, with no income cap. After the bill cleared both chambers, lawmakers hugged the federation's DeAngelis, and Reynolds clasped his hands in jubilation, according to photos and video captured by reporters.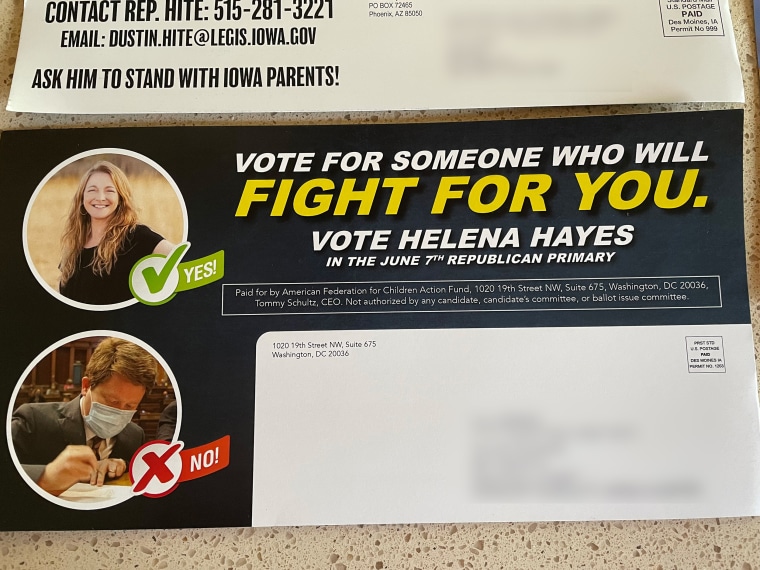 "That school choice bill was won back in the primaries," said Hayes, who voted in favor of it.
Reynolds, who did not respond to a request for comment, later promoted the new law as a way to financially pressure public schools to drop contentious lessons on race and policies to accommodate transgender children, because parents who don't support those lessons and policies can now easily move their children to private school.
However, the new law appears unpopular. Sixty-two percent of Iowans said in a Des Moines Register poll this month that they disapprove of it, including 51% of Republicans.
Many of the bills moving forward this year create education savings accounts, in which parents whose children do not attend public school receive money for approved expenses related to private schooling, including books, supplies and tutoring. These accounts — which a former Heritage Foundation fellow proposed, modeling the idea off of health savings accounts — differ slightly from vouchers, in which states pay private schools directly for children's tuition. Some states have already used education savings accounts, but in the past have limited them to children with disabilities or those from poor families.
Arizona was the first state to implement universal education savings accounts last year, opening up a decade-old program to all families. Katie Hobbs, a Democrat who was elected governor in November, has said she wants to roll back this expansion because too much money otherwise reserved for public schools has gone toward wealthy families. But that will be a hard sell in the Arizona Legislature, where the American Federation for Children's state PAC spent $512,000 to help Republicans hold slim majorities.
The organization also worked against activists who were collecting signatures in an attempt to force a voter referendum on the new universal education savings account program.
When Save Our Schools Arizona, a public school activist group, held signature drives, counter-protesters showed up with signs reading "Do Not Sign Anything from SOS Arizona." The bottom of the signs included a disclosure: "Paid for by the American Federation for Children."
The push for a referendum failed.