There's apparently something sneaky in Bill Clinton's shadows. The artist who painted an official portrait of the two-term president in the Oval Office claimed this week that a shadow to Clinton's right is a winking nod to the Monica Lewinsky scandal.
The shadow was of a blue dress that artist Nelson Shanks placed on a mannequin while working on the painting a decade ago — the frock serving as a metaphor for the Clinton administration's woes, he first told the Philadelphia Daily News.
The 77-year-old artist, who referred to Clinton as "the most famous liar of all time," admitted that he was never able to shake the Lewinsky scandal from his mind at the time. "I was aware that it was a blue dress," Shanks told NBC News on Monday, "and it had a certain echo, let's say, of some history that we're aware of."
Clinton's extramarital affair with Lewinsky, a White House intern, rocked the country in the late 1990s and became a blotch on his political legacy. In an added effect in the full-body portrait, Shanks didn't include a wedding band on Clinton's left hand, which was noticeably missing when the work was unveiled in 2006.
The artist has claimed the Clintons aren't fans of the painting, although the former president has previously said Shanks did a "marvelous job." The artwork currently hangs in the National Portrait Gallery in Washington, D.C., and museum officials have denied the Clintons have put pressure on them to take it down. "I think the painting should be seen by the public," Shanks told NBC News.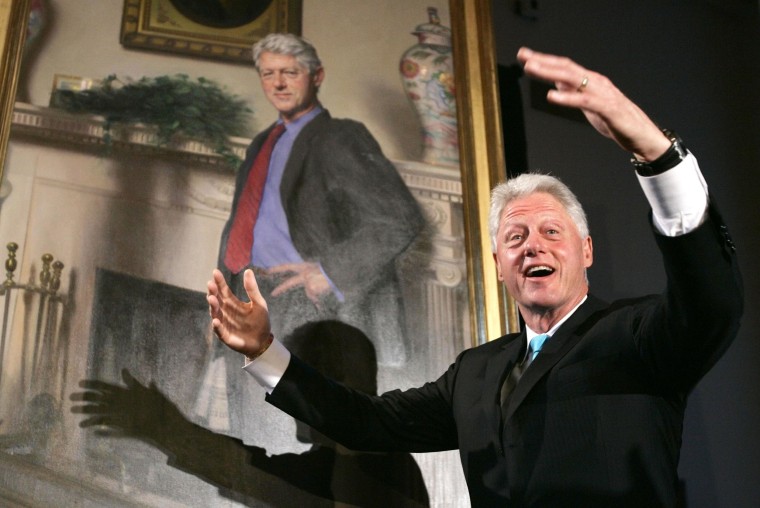 IN-DEPTH
— Erik Ortiz