NEW DELHI — Secretary of State Antony Blinken and Russian Foreign Minister Sergey Lavrov chatted briefly on the sidelines of a Group of 20 meeting in India on Thursday, the first meeting between the top diplomats since Russia invaded Ukraine.
Their encounter involved less than 10 minutes of discussion, a senior State Department official said in a background call with reporters.
Blinken urged Moscow to reverse Russian President Vladimir Putin's decision last month to suspend New START, the last remaining nuclear arms control treaty between the world's two largest nuclear powers. He said that the treaty is in the interests of both the countries, as well as international security, and that the world expects the nations to behave responsibly when it comes to nuclear security, the senior official said.
The treaty was originally set to expire in February 2021, after the Trump administration failed to hammer out an agreement. But President Joe Biden reached an agreement with Putin to extend New START for five years shortly after taking office. Last year, the United States and Russia committed to create a new agreement "to achieve deeper, irreversible, and verifiable reductions in their nuclear arsenals," according to a joint statement.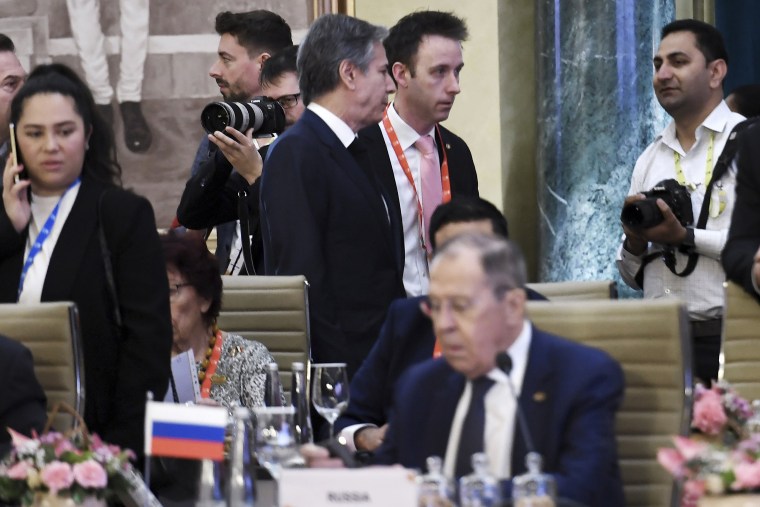 At a news conference Thursday, Blinken said he urged Russia to return to implementing New START in his meeting with Lavrov.
"Mutual compliance is in the interest of both our countries. It's also what people around the world expect from us," Blinken said.
"I told the foreign minister that no matter what else is happening in the world in our relationship, the United States is always ready to engage and act on strategic arms, just as the United States and the Soviet Union did even at the height of the Cold War," he said.
Blinken also reiterated the need for the Kremlin to release "wrongfully detained" U.S. citizen Paul Whelan, a former Marine who was arrested in Russia in 2018 on espionage charges that he and Washington have denied. Whelan was sentenced to 16 years in jail in 2020.
"The United States has put forward a serious proposal. Moscow should accept it," Blinken told reporters Thursday. "We're determined to bring Paul and every other American citizen who is unjustly detained around the world home. We won't rest until we do."
In addition, Blinken underscored continued U.S. support for Ukraine, including his proposals for a just and durable peace that respects the United Nations Charter and the sovereignty and territorial integrity of Ukraine, the State Department official said. Blinken stressed that Ukraine and the U.S. want Russia's war to end on that basis, but that a similar determination from Moscow continues to be missing.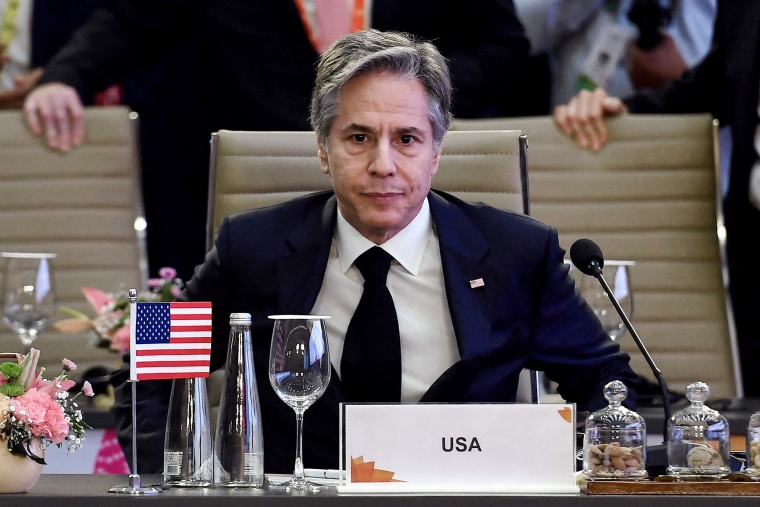 Blinken made clear that decisions regarding Ukraine were left up to Kyiv and emphasized that he and his team are committed to conveying and standing up for U.S. interests through the appropriate channels, which must remain open.
"End this war of aggression. Engage in meaningful diplomacy that could produce a just and durable peace," Blinken told reporters, referring to his conversation with Lavrov. Ukrainian President Volodymyr Zelenskyy "has put forward a 10-point plan for a just and durable peace. The United States stands ready to support Ukraine on the diplomacy to end the war on this basis."
"President Putin has demonstrated zero interest in engaging, saying there's nothing to even talk about, unless and until Ukraine accepts and I quote 'the new territorial realities' while doubling down on his brutalization of Ukraine," he added.
Maria Zakharova, a spokesperson for the Russian Foreign Ministry, told the state-run news agency RIA Novosti that Blinken had asked to make contact with Lavrov, and that they spoke "on the go" during the second session of the G-20, but that there were no negotiations.
Blinken and Lavrov's last in-person meeting was last January in Geneva. Their last phone call occurred last July when they discussed a proposal for the release of Whelan and WNBA star Brittney Griner.
In a statement later Thursday, Whelan's brother, David, said Paul would be "glad to hear" that Blinken has continued to advocate for him.
"Our family is grateful that the secretary of state took this high-profile, rare opportunity to include Paul's freedom in his discussions with Kremlin representatives," he said.
He went on to condemn the Kremlin for continuing to "stall on having the discussions with the U.S. government that would resolve Paul's case and bring him home" but expressed hope that Blinken's discussion with Lavrov will lead to talks about a resolution. He stressed that his brother "continues to suffer" and that he will spend yet another birthday as a "Russian hostage."
The meeting between Blinken and Lavrov comes as Russian troops seek to seize the ruined eastern Ukrainian city of Bakhmut in what would be their first major victory in more than half a year. Russia says seizing Bakhmut would allow it to fully control the rest of the strategic eastern Donbas industrial region, one of the main objectives of its invasion a year ago. 
Abigail Williams reported from New Delhi and Summer Concepcion from New York.