Coverage here has ended but find the latest updates here.
Ukraine's capital was rocked by explosions and the sound of air-raid sirens early Friday, on the second day of a Russian advance that left residents and leaders bracing for the city to be overrun.
Ukraine said that hundreds of Russian troops were killed and injured as they bore down on Kyiv — with Ukrainian President Volodymyr Zelenskyy calling on Western governments to take stronger action against Russia and anyone with military experience in Europe to help defend the country's independence.
Russia is meeting "greater resistance" from the Ukrainians than they might have expected, a senior U.S. defense official told NBC News on Friday. "They are fighting for their country," the official said, referring to Ukrainian troops and freedom fighters.
Zelenskyy said that at least 137 people had been killed and 316 injured after Russia launched its invasion Thursday, attacking key cities and taking control of the Chernobyl nuclear power plant.
Follow our in-depth coverage of the Russia-Ukraine crisis here.
Ukraine prohibits men ages 18 to 60 from leaving
Ukraine's State Border Guard Service announced late Thursday that all Ukrainian men ages 18 to 60 are prohibited from leaving the country.
In a statement posted on Facebook, the border guard service said the rule will apply for the period of martial law. It did not provide further details as to why. 
Many people who have been trying to leave the country have struggled to find a way to get to the nearest border. 
Alisa Rodionova, 20, said she is in Kyiv with her mother. "We don't have transport to move anywhere," she said through the Telegram app.
Zelenskyy imposed martial law Thursday morning, shortly after the Russian invasion of Ukraine. No end date has been given.
Sirens activate in Kyiv as city warns to seek shelter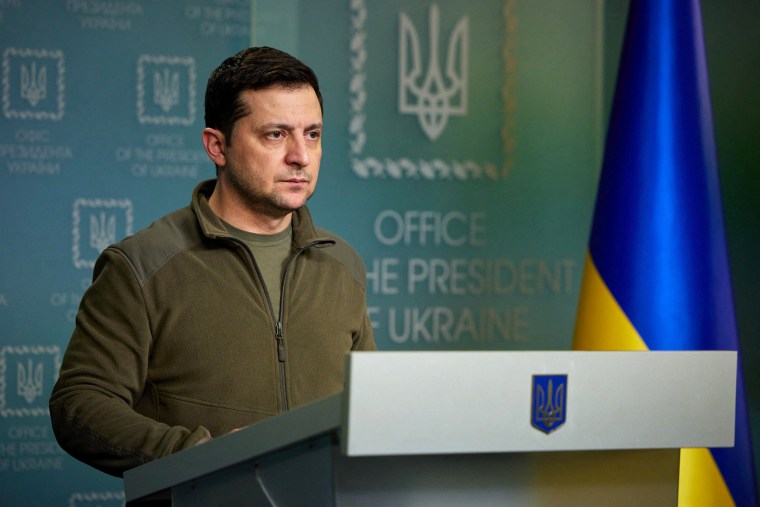 Sirens sounded in the Ukrainian capital, Kyiv, on Friday morning with warnings from the city to immediately seek shelter, and Zelenskyy said Russian forces continued to fire missiles at Ukraine. 
"Attention, this is not a training alarm! An air threat has been announced!" the Kyiv city government warned in a message on Telegram and its website after the sirens sounded around 7 a.m. local time.
The message told people to seek shelter and reminded residents that all subway stations were available as shelter.
Sirens were also heard in the city of Lviv, in western Ukraine.
Zelenskyy said Friday that Russian forces continued firing missiles at Ukraine at 4 a.m. Ukrainian Foreign Affairs Minister Dmytro Kuleba tweeted that there have been "horrific Russian rocket strikes on Kyiv."
Zelenskyy said in a speech Friday that fighting continued, and he was defiant. "Russia expects us to get tired, but we're not tired," he said. 
A top Pentagon official told lawmakers in the U.S. on Thursday night that Russian forces were around 20 miles from Kyiv.
Large explosion rocks Kyiv apartment building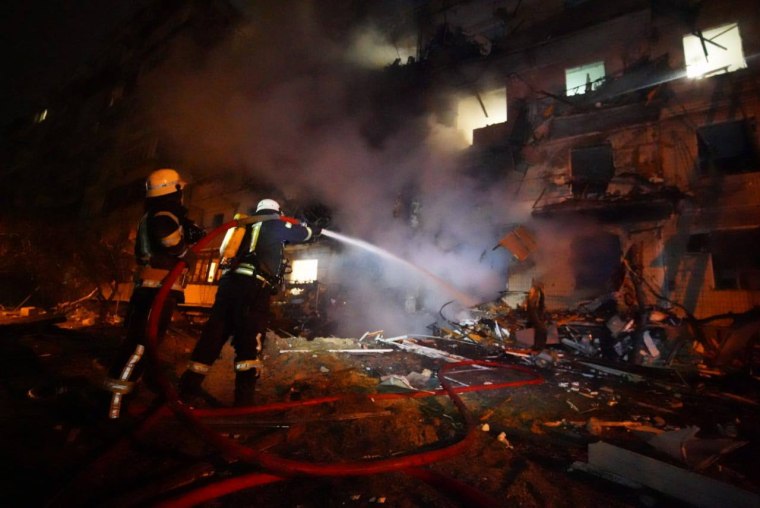 An apartment building in Kyiv was hit by debris after an aircraft was shot down over the capital city Thursday evening, according to Ukrainian officials and the country's emergency services.
Photos shared with NBC News producers in Kyiv showed a multistory apartment building that had sustained heavy damage. The state emergency service said on Telegram that eight people were injured and that 150 were evacuated from the building.
Foreign Affairs Minister Dmytro Kuleba said on Twitter that Ukraine had been the victim of "horrific Russian rocket strikes." Anton Herashchenko, an adviser to Ukraine's interior ministry, said on Telegram that Kyiv was attacked by either cruise or ballistic missiles. Details about any damage or casualties were not immediately available, and NBC News reporters on the ground were not able to independently verify the accounts.
Sen. Marco Rubio, R-Fla., the top Republican on the Intelligence Committee, said on Twitter that "at least three dozen missiles" appeared to have been fired at Kyiv in under an hour. He did not specify where he received that information from.
Macron says he called Putin because Zelenskyy couldn't reach him
French President Emmanuel Macron held a "frank, direct and quick" phone call with Russian President Vladimir Putin on Thursday to ask him to stop military operations because Ukrainian President Volodymyr Zelenskyy had asked him to.
"It was also to ask him to discuss with President Zelenskyy, who had requested that, because he could not reach him," Macron told reporters after an E.U. summit in Brussels.
Top Pentagon official: Russian troops 20 miles from Kyiv
A top Pentagon official told lawmakers Thursday that Russian troops are just 20 miles from the Ukrainian capital, Kyiv, according to a source on the call.
The chairman of the Joint Chiefs of Staff, Gen. Mark Milley, made the comments in an unclassified call with House lawmakers, the source said.
Defense Secretary Lloyd Austin, who was also on the call, described the current phase of the Russian military operation as the tip of the spear as the vast majority of Russian troops are still farther back, a person on the call and a senior defense official said.
Without providing a timeline, Austin said he expects the next phase to involve more Russian forces and focus on consolidating gains in populations centers, the member on the call and the senior defense official said. He also warned that civilians could be killed and injured, especially by missile and air strikes, a senior defense official said.
'Enemy sabotage groups' in Kyiv, Zelenskyy says
Zelenskyy said Thursday that Russian "enemy sabotage groups" had entered Kyiv, the capital, and that he was the "number one target."
"They want to destroy Ukraine politically by destroying the head of state," he said in a video address.
He said his family was the "number two target" but that they were still in Ukraine. Zelenskyy gave no additional details about the groups. 
"My family is not traitors. They are the citizens of Ukraine," he said. "But I have no right to say where they are now."
Zelenskyy said he was still in the government quarter "together with all those who are necessary for the work of the central government."
E.U. leaders vow 'massive and targeted' sanctions on Russia
European Union leaders have approved "massive and targeted" sanctions against Russia in response to its invasion of Ukraine, European Commission President Ursula von der Leyen said.
The sanctions target 70 percent of the Russian banking market, von der Leyen said. Others will target oil exports, ban the sale of aircraft and parts to Russian airlines and limit access to technology like semiconductors, she said.
The agreed-upon legal texts for the sanctions are expected to be finalized overnight and be ready for approval Friday, The Associated Press reported.
"President Putin chose to bring back war to Europe. This is a fully fledged invasion of Ukraine," von der Leyen said. She called Russia's actions "atrocious and unprovoked attacks" on Ukraine.
IOC condemns Russia for violation of Olympic Truce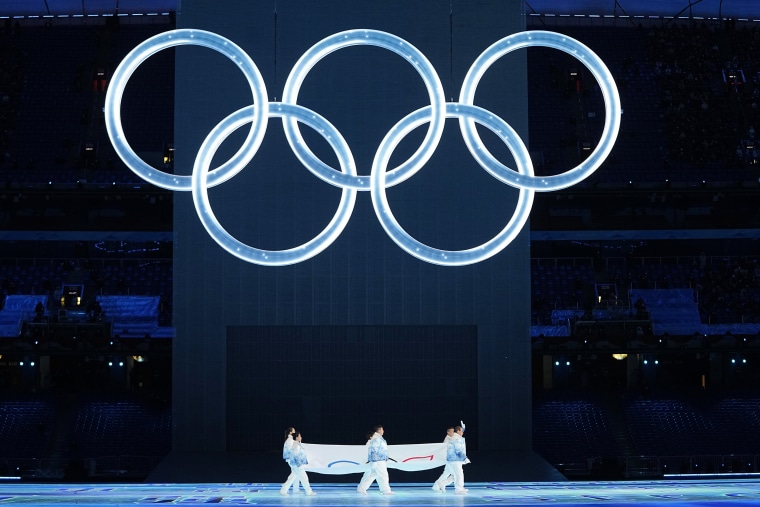 The International Olympic Committee on Thursday condemned what it called Russia's breach of the Olympic Truce, which is intended to ensure a peaceful environment during the Games.
In a statement, the IOC said its president, Thomas Bach, reiterated the call for peace he made during the opening and closing ceremonies of the 2022 Winter Olympics in Beijing. "Observe your commitment to this Olympic Truce. Give peace a chance," Bach said during the Opening Ceremony, according to the IOC.
The truce, which began seven days before the start of the Beijing Games on Feb. 4, extends seven days past the March 13 closing of the Paralympic Games. The truce resolution was adopted in December by the U.N. General Assembly and by consensus of all 193 U.N. member states, including the Russian Federation.
The IOC said Thursday that it was deeply concerned about the safety of the Olympic community in Ukraine following Russia's invasion. "It has established a task force to closely monitor the situation and to coordinate humanitarian assistance to members of the Olympic Community in Ukraine where possible," it said.
The truce dates back 3,000 years to when the ancient Greeks established the "ekecheiria" to allow the Games to take place despite conflicts among Greek city-states, according to the IOC.
Lawmakers received unclassified briefing with White House officials on invasion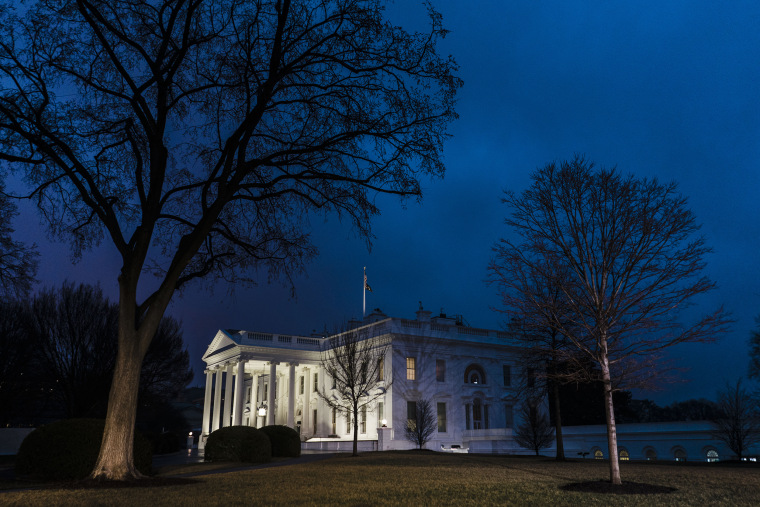 House and Senate lawmakers received unclassified briefings with administration officials Thursday night and discussed a variety of issues pertaining to the invasion. 
Multiple sources on the call said they were told what the administration has said publicly already. There was some discussion of potential humanitarian assistance and the talked-about supplemental spending, as well as future steps on sanctions. 
Separately, Rep. Barbara Lee, D-Calif., asked specifically about humanitarian assistance on the House call, but Blinken made no formal requests, saying the State Department and the Defense Department are still assessing what's needed, two sources on the House call said. 
Rep. Young Kim, R-Calif., also pressed Treasury Secretary Yellen about why the Biden administration wasn't blocking Russia from SWIFT. Yellen defended the decision and echoed Biden, saying new sanctions were more consequential, but she said all options remain on the table at Treasury.
Nothing new was discussed on the Senate call that isn't publicly being circulated, a source said. Senators asked generally about the administration's next steps for sanctions and spoke about working on a supplemental spending measure in a bipartisan way but didn't share specifics or formal requests. 
Sen. Amy Klobuchar, D-Minn., tweeted after the meeting: "Military leaders, Sec of State, Treasury & Commerce Secretaries just briefed senate. Strong denouncement of Putin's barbaric invasion of Ukraine by senators of both parties. Emphasis on need for immediate coordinated sanctions with rest of world. We stand with Ukraine 🇺🇦"
U.N. Security Council to vote Friday on condemning invasion
The U.N. Security Council will meet Friday to vote on a resolution to end Russia's aggression in Ukraine. 
Norway's U.N. mission tweeted that the Security Council will meet at 3 p.m. ET. and "call upon all UN Members States to co-sponsor this resolution." 
White House is aware of Zelenskyy's location
The White House said it is aware of Zelenskyy's whereabouts after sharing that he is in the Ukrainian capital, Kyiv.
"We are aware of where he is located and are in touch with him," Psaki told reporters Thursday. 
Russia sanctions are a 'big deal,' experts say. But effects could take years.
The flurry of sanctions the U.S. announced this week against Russia are some of the hardest-hitting that Moscow has ever faced, but the slow pain they inflict may not be enough to deter President Vladimir Putin from escalating his invasion of Ukraine, experts said.
President Joe Biden and several U.S. allies, including the European Union, the United Kingdom and Japan, have vowed to review further restrictions on Moscow as punishment for the invasion.
The sanctions already announced are significant in size and scope, former U.S. Treasury and State Department officials who handled American sanctions in the past said, but the longtime American reliance on the national security tool has left the U.S. with few other options if Putin and Russia do not respond.
Nevertheless, the Russian economy is already feeling the effects of war, and the sanctions could over time further cause the Russian stock market to falter, deflate the value of the ruble — which hit an all-time low Thursday — and make doing business in Russia increasingly difficult.
Sanctions are focused on preventing 'worst-case scenario,' Price says
Sanctions being pushed on Russia as a "primarily punitive" measure are part of a larger strategic move against Putin, State Department spokesman Ned Price told MSNBC on Thursday. 
The sanctions, which were initially imposed Monday but escalated Thursday after Putin's attack on Ukraine, target 80 percent of Russia's banking assets. But they also limit Russia's ability to import about half of the technologies it needs, Price said.  
"This is to do everything we can to prevent, to deter, a worst-case scenario," Price said. "We know that what Putin has put in place is the ability to mount a massive, large-scale, bloody, devastating campaign against Ukraine, but also against the Ukrainian people."
Price said the sanctions will build and gain momentum over time. Russia has been hit with sanctions by the U.S. several U.S. allies, including the European Union, the United Kingdom and Japan. 
The ruble plummeted to an all-time low against the U.S. dollar Thursday as a result, but Russia's central bank promised to support any bank hurt by sanctions, insisting that it has the ability to maintain economic stability. 
White House says Biden administration is prepared to welcome Ukrainian refugees
White House press secretary Jen Psaki said Thursday that the Biden administration was prepared to welcome refugees from Ukraine into the U.S. but thought many would want to stay in nearby European countries. 
Humanitarian groups and Eastern European governments have warned that a Russian invasion of Ukraine could trigger a major refugee crisis. Already, Psaki said, some Ukrainians have begun to cross the border into Poland. 
"We certainly expect that most — if not the majority — will want to go to Europe and neighboring countries," Psaki said, adding that the U.S. had been engaging with European allies about how to best prepare for the flow of people.
Asked whether the U.S. was considering extending temporary protected status — a program that allows immigrants from countries experiencing instability to stay in the U.S. and work — to Ukrainians, Psaki said it would be a decision for the Department of Homeland Security to make. 
Biden was criticized early in his presidency after he announced he would keep a Trump-era cap on refugees admitted to the U.S. Following significant blowback from Democrats, Biden reversed course and raised the cap.