Trump adviser Boris Epshteyn was arrested in 2021 over allegations that he groped two women at an Arizona bar, newly released police bodycam video shows.
Three sexual misconduct charges were later dropped, and Epshteyn pleaded guilty to a disorderly conduct charge two months after the incident in Scottsdale. The conviction was set aside after Epshteyn completed his sentence of probation.
Bodycam video first obtained by The Arizona Republic of Phoenix shows police speaking separately to Epshteyn and a woman who accused him of repeatedly grabbing her and her sister at a bar called the Bottled Blonde on Oct. 10, 2021.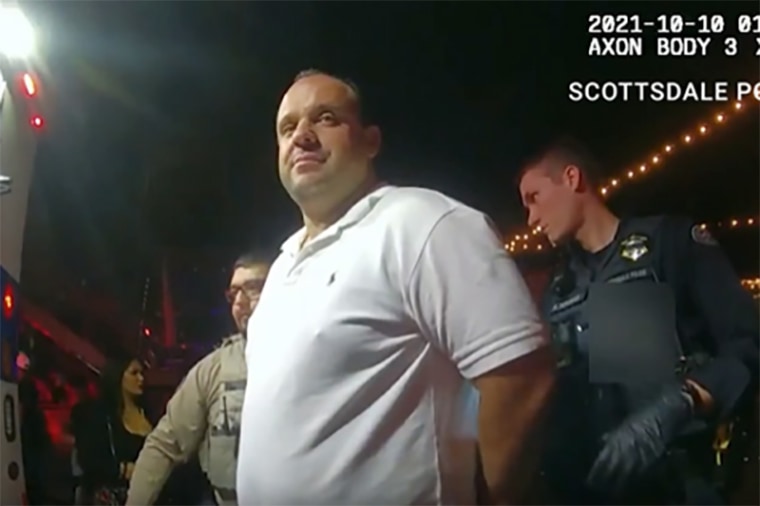 NBC News obtained the video through a public records request.
Epshteyn, a lawyer and top adviser to Donald Trump, traveled with the former president on his plane from New Jersey to Washington, D.C., last week for arraignment on charges he used "unlawful means" in a bid to overturn the 2020 election.
One of the women Epshteyn was accused of groping told police in the bodycam video that the incident started after he approached her group and invited them to his table for free drinks.
At the table, Epshteyn began touching the women "inappropriately," including grabbing them by their waists and pulling them to his crotch, the police report said, citing the woman's account. Epshteyn was 39 at the time.
The woman told police in the video that she left the table but that her sister, 23, did not. When she returned to get her sister, she was "crying and upset," and she told her that Epshteyn had grabbed her and pulled her toward him when she tried to leave.
Asked to describe the man, the woman in the video said that he was "ugly" and that he was wearing a "white Ralph Lauren polo," adding that he looked like a "fatter Tony Soprano."
The bodycam video shows Epshteyn wearing shorts and a polo-style shirt as he is handcuffed while questioning why he is being arrested.
"All night he's been, like, touching me and my sister, especially my sister. He kind of cornered her and grabbed her and, like, just making her super uncomfortable, touching her after we immediately told him to stop touching her," the woman said, according to the video.
"It's not cool what he's doing," said the woman, whose name NBC News is withholding because of the nature of the allegations.
"I don't want it to happen to anyone else here," she added, calling Epshteyn's conduct "creepy."
Epshteyn did not immediately respond to a request for comment Thursday night.
The original video provided by police blurred the identities of the women and some other people at the scene.
The sister told police that she did not want to speak to them or press charges and that she "just wanted to go home," according to the police report.
Before he was read his rights, "Boris made several spontaneous unsolicited statements that he hadn't done anything wrong and had never touched any girls," one of the officers said in the police report.
He was charged with disorderly conduct, harassment, attempted sexual abuse and assault touching. The latter three charges were later dismissed, and he pleaded guilty to the disorderly conduct charge in December 2021. He was sentenced to probation, and his conviction was set aside a year later, court records show.