America was tired.
Tired of the stay-at-home orders, mandatory masks, business closures and social distancing rules.
During the Spanish flu era, officials pushing public health mandates to stop the pandemic in its tracks were met with pushback across the country. From San Francisco to Atlanta, Denver to Cleveland, pockets of opposition sprang up to decry the effects of the restrictions on businesses, religious communities and ordinary people.
The efforts bear a striking resemblance to those taking place today against the stay-at-home orders and other guidelines aimed to stop the spread of COVID-19. The efficacy of the various demonstrations offers a potential warning about how such strong opposition forced cities to roll back orders too quickly and disrupt what public health officials believed was a fairly tractable pandemic.
"I think that human nature being what it is, people don't like to have their lives disrupted," said Alex Navarro, assistant director of the Center for the History of Medicine at the University of Michigan, which detailed historical accounts of the 1918-19 flu pandemic in 43 cities. "Initially, they might go along with it, but as these closure orders drag on and as people's lives continue to be fractured, there's a breaking point."
'Burdensome' requirements
More than a century before armed protesters stormed the state Capitol in Lansing, Michigan, last month, a vocal minority of San Franciscans risked going to jail rather than cover theirs face during the Spanish flu pandemic.
When the city began to require masks, residents largely complied, feeling a sense of duty that dovetailed with the patriotic solidarity of World War I. "The man or woman or child who will not wear a mask now is a dangerous slacker," a public service announcement from the American Red Cross said at the time.
Full coverage of the coronavirus outbreak
But not everyone was on board. Hordes of scofflaws were caught not wearing or incorrectly wearing masks. More than 100 people were rounded up and charged with "disturbing the peace" shortly after the measure went into place and were fined $5 on one day in October. Most cases were dismissed, and the proceeds went to support the American Red Cross.
In another incident, a public health officer for the city shot and severely wounded a man for not wearing a mask in late October, the San Francisco Chronicle reported at the time.
The mandates were largely effective, although city officials, believing the worst was behind them, lifted restrictions. But a spike in cases after the New Year in 1919 prompted the Board of Supervisors to re-enact the mandatory mask ordinance. By that time, the patriotic fervor that influenced compliance had waned.
That's when the Anti-Mask League was formed.
"People are tired of living under these restrictions, both the wartime restrictions as well as the epidemic control measures," Navarro said. "That's why that general grumbling about wearing masks spilled over into an actual organized protest movement in San Francisco."
Navarro believes the group had only one meeting in late January, which was attended by about 2,000 people who did not wear masks (although organizers at the time claimed that the number was more than twice that). Mrs. EC Harrington, who was identified as the group's chairman, urged the city Board of Supervisors to give residents "speedy relief" from the "burdensome" requirement, according to board's meeting minutes.
The group included influential business and community leaders, including a member of the Board of Supervisors, and "were able to organize fairly quickly because there'd been a lot of opposition to the mask order the first time," Navarro said.
Weeks later, the city's mayor rescinded the mask order after the persistent protests. In the end, the city recorded 45,000 cases and more than 3,000 deaths from fall 1918 to winter 1919, according to research by the Center for the History of Medicine.
Religious groups fought back
As with the current round of protests, opposition to social distancing guidelines in 1918 was far-flung and splintered. Some of the most ardent protesters were religious leaders.
In Portland, Oregon, Christian Scientists, who said they believed they were immune to the flu because of their beliefs, protested restrictions on public gatherings, according to the center's research. The group claimed that "the police power of the state should not be used to prevent Christian worship in the churches." Another group of Christian Scientists successfully sued Los Angeles, claiming the restrictions unfairly targeted religious groups.
At least two synagogues in Cleveland decided to hold some small services in defiance of the city's order, which prompted police to arrest some of the worshippers.
Full coverage of the coronavirus outbreak
Tension between religious groups and local officials has also mounted in recent weeks over limits on gatherings during the coronavirus outbreak.
Last month, the Justice Department intervened in a small church's lawsuit against Greenville, Mississippi, which had tried to shut down a drive-in church service. Religious groups also joined a recent lawsuit against Maryland Gov. Larry Hogan, which also includes business leaders, protesting his stay-at-home order.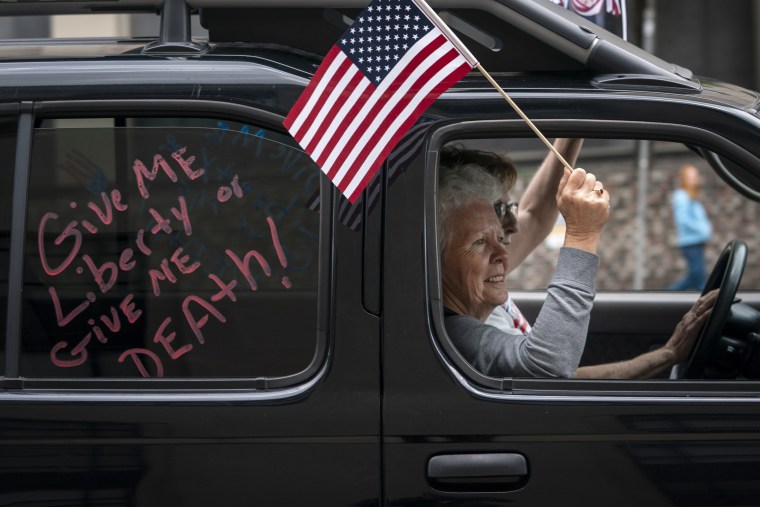 'Political and economic pressure'
After the second wave of the Spanish flu hit, officials in Denver implemented a second round of closures, targeting theaters and other places of public amusement. Within hours, dozens of business owners formed the Amusement Council. They began lobbying city officials against the shutdown, saying they unfairly targeted some businesses over others.
"They represented an estimated $2.5 million in capital, and there was a lot of political and economic pressure. The city rescinded the closure order and just kept the mask order in place, instead," Navarro said.
Entertainment in Atlanta also suffered after city officials shut down theaters, movie houses and other places of public amusement on Oct. 7. The Atlanta Theater Managers' Association estimated that city theaters lost more than $22,000 — about $360,000 today. None of the city's 19 theaters were able to pay their workers. Facing pressure from businesses and worried about the long-term economic toll on the city, Mayor Asa Candler lifted the order Oct. 26.
"The mayor, over the protest of his own Board of Health, decided to remove the closure orders, and it was only about three weeks into their epidemic," Navarro said. "They were definitely not done with their epidemic."
Cases spiked again around Thanksgiving, and another surge occurred into the New Year. However, in many places, there was no appetite to enact another set of mandates.
"Removing those orders and then trying to re-implement them a second time, where some cities tried that, proved to be very difficult," Navarro said. "Either they tried it and they were shot down, or they considered it but realized that the economic and political ramifications were too great."
'That's just the price'
As the coronavirus pandemic drags on toward summer, Navarro sees the same economic, political and social pressures playing out.
As protesters take to the streets, with millions of people out of work and some businesses staring down possible extinction, President Donald Trump has urged states to begin re-opening the economy. Some⁠ — including Republican Georgia Gov. Brian Kemp⁠ — have done so even as the virus kills hundreds of people every day across the country.
Trump said last week: "We have to get our country back, you know. People are dying the other way, too, when you look at what's happened with drugs. It goes up when you look at suicides. I mean, take a look at what's going on. People are losing their jobs. We have to bring it back, and that's what we're doing."
Navarro said the 1918 and 2020 pandemics are part of the "same story."
"I think we've seen bits and pieces of that same story emerge where people are saying: 'We can't keep this economy closed down indefinitely. People have to work. We don't want to wear masks. We're tired of not being able to get a haircut. We want life as normal. It's going to take some lives, but that's just the price we have to pay.'"