WASHINGTON — A man who told law enforcement he had an explosive device in his truck surrendered Thursday after an hourslong standoff near the U.S. Capitol, Capitol Police said.
"He is in custody, and that part is done," Capitol Police Chief Tom Manger told reporters shortly after the suspect got out of his truck and crawled on the ground to be taken into custody. "He gave up and did not resist. Our folks were able to take him into custody without incident."
Capitol Police said they searched the truck and found possible bomb-making materials but no viable explosives.
Manger identified the suspect as Floyd Ray Roseberry, whose last known address was in Grover, North Carolina. Roseberry, who is white, was posting videos from his truck on social media earlier Thursday.
The incident began around 9:15 a.m. ET when Roseberry drove a black pickup truck onto the sidewalk in front of the Library of Congress and told an officer that "he had a bomb," Capitol Police said.
"The officer noticed what appeared to be a detonator in the man's hand," police said.
Officers immediately evacuated nearby buildings, including the Library of Congress buildings and the Cannon House Office Building.
Two law enforcement officials the man was communicating with law enforcement officers on the scene by writing on a dry-erase board.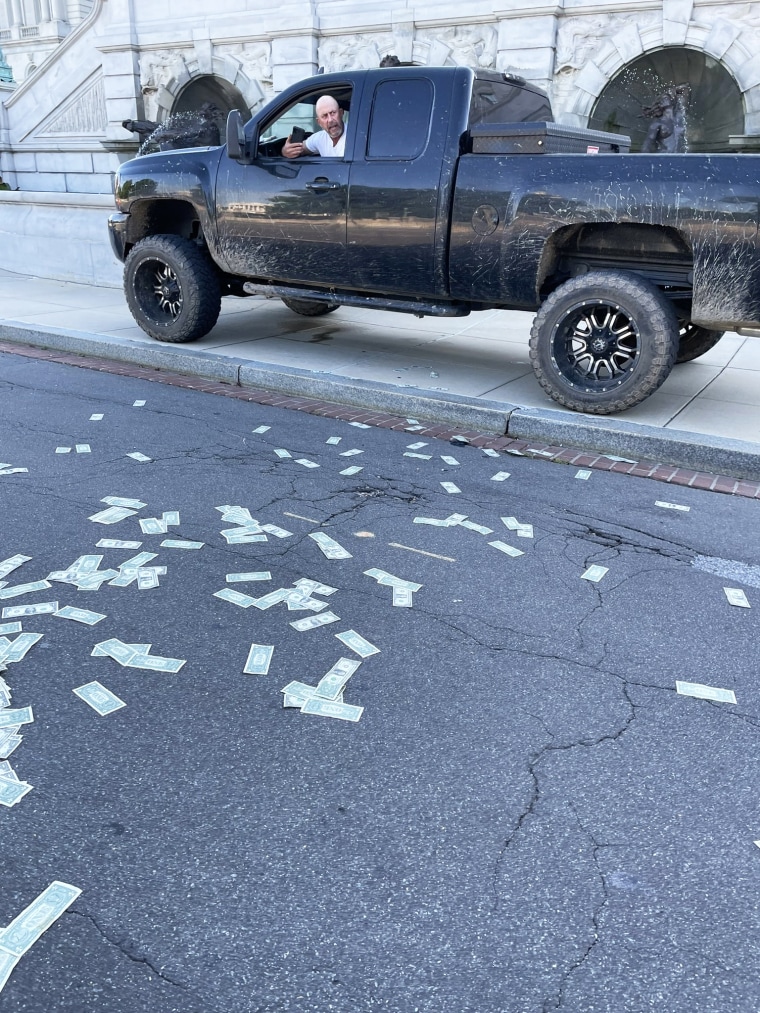 In several Facebook livestream videos on an account identified as that of "Ray Roseberry," he spoke about health care and complained about undocumented immigrants. He repeatedly claimed that he was starting a revolution.
The videos show him driving through Alexandria, Virginia, and then parts of Washington, including near the Washington Monument. The videos then show him parked on the sidewalk in front of the Library of Congress, where the standoff was taking place.
In videos that are largely addressed directly to President Joe Biden, Roseberry made several demands, including calling for U.S. airstrikes in Afghanistan and Biden's resignation, saying he would end his standoff if Biden left office.
Roseberry repeatedly complained about how health insurance didn't cover his or his wife's illnesses, quickly followed by complaints about immigrants. He claimed that his wife had cancer, that her insurance wouldn't cover her surgery and that he is still paying for the procedure. In the next sentence, he complained, incorrectly, that undocumented immigrants receive free health care coverage.
In the videos, he repeatedly says he had an explosive device and shouts at pedestrians to move away from his truck.
Manger said investigators had seen a propane tank in the back of the truck, which was "concerning."
Facebook took down Roseberry's videos as the incident paralyzed the area around the Capitol. "We are in contact with law enforcement and have removed the suspect's videos and profile from Facebook and Instagram," it said in a statement.
It was unclear what prompted Roseberry's decision to give himself up after the roughly five-hour standoff. "As far as we could tell, it was just his decision to surrender at that point," Manger said.
The Library of Congress is just across the street from the Supreme Court and a block from the Capitol. The House and the Senate are in a scheduled recess period, so the majority of members and staffers weren't in the office buildings.
Several streets around the site were closed off, as was the nearest Metro station, Capitol South. Capitol Police said the area was being reopened shortly before 5 p.m.
In Cleveland County, North Carolina, where Roseberry lives, law enforcement officials told reporters that they had secured his residence and were getting warrants to search his property.
In an interview, Crystal Dancy, Roseberry's ex-wife, said that "he is mentally unstable" but that she never imagined he would do "something of this magnitude." Dancy said Roseberry hadn't expressed any major anti-government sentiments or radical political views, but she alleged that he was prone to "outbursts."