JACKSONVILLE, Fla. — In a side room inside Mt. Sinai Missionary Baptist Church, surrounded by photos of the Rev. Martin Luther King and Nelson Mandela, the church's pastor, R.L Gundy, began his conference call with a bowed head and a prayer.
Then it was down to business: a conversation with partners at other churches working on their "Souls To The Polls" campaign, which focuses on turnout at black churches — and looking out for any signs of voter suppression.
This year, Gundy is putting a special emphasis on young voters, whom he says have been increasingly involved in activism around gun violence. When Andrew Gillum, the 39-year-old Democratic mayor of Tallahassee who is vying to become the state's first African-American governor, visited the church later that week, Gundy reserved the front rows for them.
If a spike in black turnout, which typically tails off in midterm elections, powers Gillum, Sen. Bill Nelson and down-ballot Democrats to victory in Florida in just over two weeks, the impact will resonate beyond the state. The results could be proof-of-concept for a 2020 presidential campaign that tacks left on policy and inspires young and minority voters versus a centrist approach aimed more at wooing older whites away from President Donald Trump.
"Florida is one of those states that matters in the next presidential election, and that is a big deal," said state Sen. Audrey Gibson, who's poised to lead the Democratic caucus in the state Senate next year.
Returning to 2012 levels of black support would turn Florida blue in 2020 — along with Pennsylvania, Michigan, Wisconsin, North Carolina and Georgia — even if Trump maintained similar margins with all other voting groups, according to an analysis by demographic experts Robert Griffin, Ruy Teixeira and William H. Frey.
"The path has already been laid out," Adrianne Shropshire, executive director of Black PAC, which is spending $8 million targeting black voters through mail and radio ads in Florida and nine other states. "What we saw during the primaries is a reinforcement that it's an important path that progressive candidates and Democrats need to lean into."
Speaking from the pulpit, Gillum led his speech at Mt. Sinai last week with topics like health care, clean water and criminal justice reform. But he ended it with a call to make change "not by tweeting about it, not by Snapchatting about it," but by organizing.
"We're pulling up our seat to the table, and if they don't want to let us sit at that table, we will build our own table," he said.
Gillum isn't the only one trying to inspire young black voters in Florida ahead of the midterms.
An array of groups, including nonpartisan faith networks, major Democratic donors, grassroots activists and labor unions are pouring millions of dollars into the state as part of a national effort to boost African-American turnout after a catastrophic collapse in 2016.
Many of these programs are focused on millennials, where the party suffered both lower turnout and lost significant support to third parties. Democrats consider these voters crucial, not just to winning midterm races in key states like Florida, Georgia (where Stacey Abrams is running to be the state's first black governor), Ohio, Wisconsin and Missouri, but to rebuilding the party in 2020 and beyond.
They see some signs of hope for Democrats in Florida.
Gillum's upset primary win over Democratic rival Gwen Graham was driven by blowout margins in areas like Jacksonville's Duval County that have large concentrations of black voters and higher turnout around college campuses. Polls show a close race in November and Gillum needs that energy to carry over to the general election, where Republican Ron DeSantis is looking to replicate Trump's winning strategy of racking up votes in rural conservative territory.
Billionaire Tom Steyer is investing huge sums in millennial turnout around the country, but he's placed a special emphasis on Florida. His youth-focused group NextGen endorsed Gillum in the primary and spent $1.4 million. The group plans to spend $8 million by election day in the state, with 125 staff on 45 campuses.
The For Our Future Action Fund, which is backed by Steyer and labor groups, has over 1,100 staff on the ground in Florida in 25 offices, more than in any other state, and they've knocked on 2.28 million doors. Nonpartisan groups like Faith In Public Life, which is coordinating with Gundy, are running programs focused on getting black congregants to pledge to vote early and then making sure they follow through.
'The ghost of 2016'
At Edward Waters College in Jacksonville, the oldest of Florida's four historic black colleges, community organizer Darren Mason, 28, marched past the inflatable trapeze swing at a homecoming party with a bag full of Gillum T-shirts that students had requested.
Mason said the campaign already had some enthusiastic supporters on campus — it doesn't hurt that Gillum is an alum of Florida A&M University, another HBCU — but there were still plenty of students not paying attention to the election that he needed to reach. Turnout at HBCU's plummeted over 10 percent in 2016 and young voters are typically much harder to motivate in midterms than other age groups.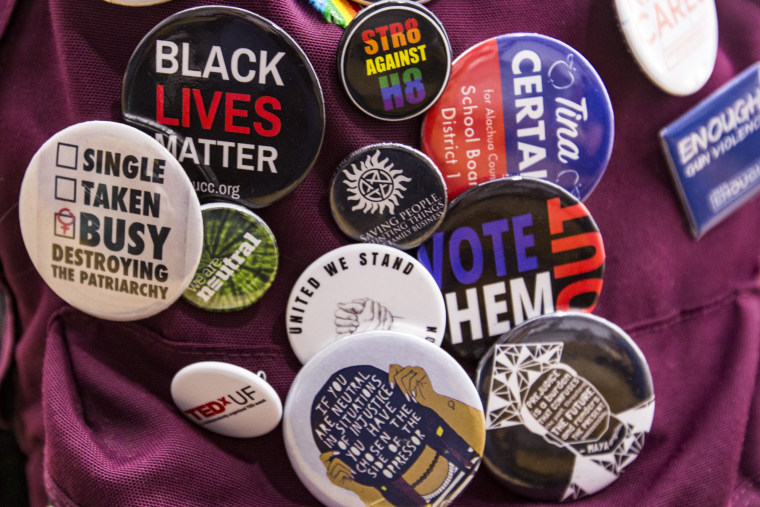 "We have to carry on the legacy of Obama by bringing people to the table at every stop of the process," he said. "Not just the last two weeks."
Mason attributed the 2016 dip in black support to the rancorous presidential primaries that year, which exposed divisions between older Democratic stalwarts backing Hillary Clinton and younger progressives like him who supported Bernie Sanders. He recalled bitter feuds in his church at the height of the nominating contest that split congregants not just by age, but by gender and class.
"After she lost, I was like 'I told you so,'" he said. "If you don't involve young people, and especially people of color in this process, you're going to get this result."
At a grill nearby, Amber Hall, 27, recalled her own deep disappointment with Clinton, whom she felt hadn't adequately apologized for her husband's record on criminal justice or her own comments on "superpredators." She ended up voting for Jill Stein only to regret it after Trump won the state. "I'm still paying for it," she said.
Cornell Belcher, a Democratic pollster who has been conducting regular surveys and focus groups of black voters, said disillusionment and disinterest among young voters — "the ghost of 2016," as he put it — was still his biggest fear heading into the midterms next month.
Belcher was dismayed by a focus group he conducted in Ohio last month of young African-American voters who he found had limited information about the midterms. To him, the results reflected a failure by campaigns to reach them.
"They don't like Trump, but ... Democrats still need to give them something to for vote for, and I'm not sure we're doing enough of that," Belcher said.
The message must be 'black enough'
Leaders of progressive groups who spoke to NBC News sounded optimistic that their large-scale national campaigns could help back up grassroots organizers like Mason, especially in Florida, with a combination of in-person canvassing, digital ads and texting campaigns.
By launching their efforts early in the cycle they think they've honed a blueprint for bringing disengaged young and minority voters back into the fold.
Groups like NextGen and For Our Future have adopted a "silent canvass" approach, borrowing a tactic pioneered by a Milwaukee-based partner, Black Leaders Organizing for Communities.
The goal is to start conversations without making a pitch, instead asking voters to name issues important to them, and only later connect their choices to candidates. Volunteers use the information to build rapport, but also to collect data for the national headquarters to pore over, which then tailor their messages to local communities in response.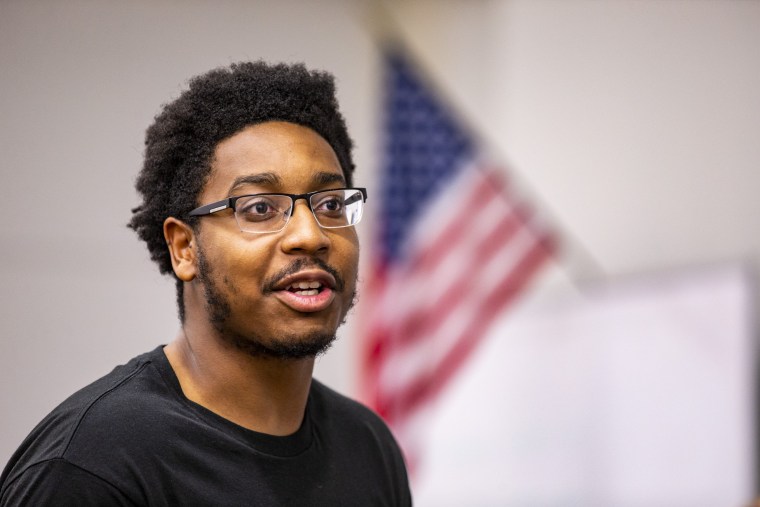 In a tent on the campus of University of Florida in Gainesville, NextGen staff and volunteers welcomed students recently and ask them to fill out survey cards listing their top issues. It helped that one of volunteers brought a corgi who rolled over for belly rubs in front of the table.
"Even apathetic voters care about something," sad Gracey Jean-Bernard, a NextGen organizer. "It's a matter of meeting them where they are."
Leading topics on campus so far include college costs, health care and racial justice. Notably, the organizers and volunteers don't play up their opposition to Trump unless students first bring up the president.
"We don't really talk about the negativity," Jean-Bernard, 23, said. "We want to focus on what we care about and what they care about."
Handouts and scripts link low millennial turnout to a political class that's removed from their concerns. "If we show up to vote," one flyer at the NextGen table reads, "people in power will have to listen to us."
Advertising by Democratic groups use a similar combination of policy and empowerment themes. "Gonna get serious, fam: We need better wages here in Florida, our teachers are some of the lowest paid in the country, and we have a racist 'Stand Your Ground' law," a young selfie-toting actor says in one digital ad by Priorities USA, a super PAC spending $75 million this cycle and targeting millennials in particular. "Most politicians think they don't have to listen to people like me, but Andrew Gillum and Bill Nelson will," he continues.
Justin Myers, CEO of For Our Future, said his group's digital ads in Florida try to reach residents who may be less inclined to vote by echoing what organizers hear on the ground in their specific area.
"When we create African-American content, we literally give it to our folks at the state level first, then they speak to local African-American ministers and other African-American leaders to make sure the content is — for lack of a better term — 'black enough,'" he said, meaning it sounds authentic to the community and not like pandering by outsiders.
Racial justice resonates
Research by groups focused on minority turnout finds plenty of interest in topics like education, climate change and health care that also animate broader groups of voters. But they also find that campaigns must directly address concerns about systemic racism in order to build credibility with black voters.
This is where Democratic candidates can get squeamish: Republicans from Trump on down have often highlighted protests against police brutality and hate groups to stoke backlash among conservative white voters.
In Florida, canvassers are most focused on Amendment 4, a ballot referendum that would restore voting rights to over 1 million convicted felons. Gillum has advocated for its passage, which he ties to a broader effort to reintegrate inmates into society after they've served their time.
Canvassing scripts for Black Lives Rising, a NextGen program, include arguments that "Florida incarcerates way too many young black people" and urges "fighting back against a system that has would rather lock us up than see us succeed."
Tyjah Eady, a 23-year-old University of Florida student, said she was excited about potentially electing the first black governor, but that Gillum's stance on criminal justice reform was essential to her support. She has a sibling who's a felon, and she has been dismayed watching former criminals struggle to find work, housing and support after they are released.
"I like someone who's very close to the community," she said, "and I don't mean his skin color."