Carter Page, an adviser once linked to Donald Trump's presidential campaign, confirmed to MSNBC's Chris Hayes Thursday that he met with Russia's ambassador to the U.S. at last year's Republican convention.
USA Today reported Thursday that Page met with Russian Ambassador Sergey Kislyak at a diplomacy conference at the Republican National Convention last year, a meeting that involved other ambassadors and which was described as not unusual.
"I'm not going to deny that I talked with him," Page, who was once named by Trump as part of his foreign policy committee during the campaign, said on "All In With Chris Hayes."
"I will say that I never met him anywhere outside of Cleveland, let's just say that much," Page said.
He declined to say what the discussions were about, citing confidentiality agreements and agreements to event organizers. "I'm respectful to confidentiality rules, whether it's in government or outside of it," he said.
Related: A.G. Sessions Recuses Himself From Trump-Related Investigations
The questions about Russia come amid scrutiny over contacts with people linked to Trump's administration or campaign and officials in Russia. U.S. intelligence agencies have said Russia was involved in an operation to interfere in last year's election.
Another adviser named in the USA Today report, J.D. Gordon, told the newspaper the meeting in Cleveland with Kislyak was not unusual. "I'd consider it an informal conversation just like my interactions with dozens of other ambassadors and senior diplomats in Cleveland," Gordon said.
Page was among several Trump associates named in a New York Times report in January that said law enforcement and intelligence investigators were looking into any possible links between Russian officials and Trump associates.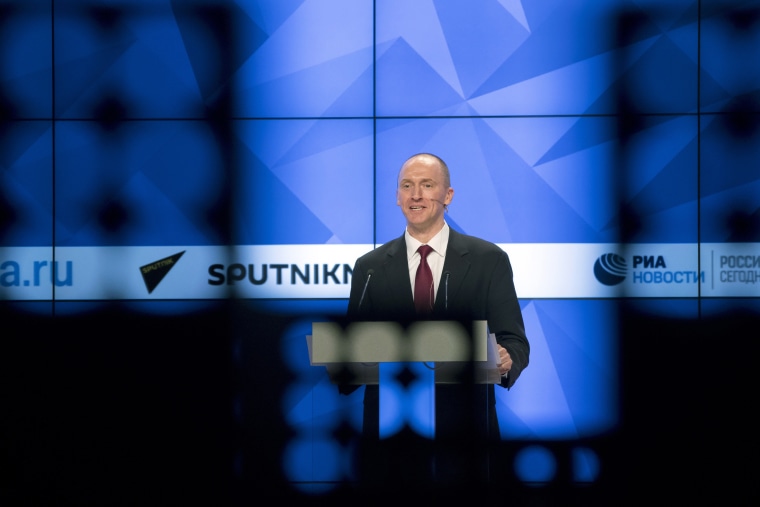 Page traveled to Moscow to give a commencement speech last summer. Asked if he ever served as a liaison between the Trump campaign and Russian officials, Page said, "absolutely not."
Page said he has given speeches at some of Moscow's top universities dozens of times in the past, and lived there for three years. He called the invitation to speak at a commencement not unusual.
He said on MSNBC that he spoke with some scholars and professors and students, but as far as he knows no one involved in Russian intelligence services, and he said "there was nothing specific or really worth discussing that was brought up at the time."
A Kremlin spokesman told a Russian news agency in December that there was no contact between Page and the government.
Related: At Heart of Russia Crisis, Kislyak Stays in Shadows
In March 2016, Trump named Page as a candidate for his campaign's foreign policy team. But in January, Trump's incoming press secretary, Sean Spicer, said: "Carter Page is an individual who the president-elect does not know, and was put on notice months ago by the campaign."
On Thursday, Page said he was part of a named committee that was put together, but did not ever directly brief Trump.
Page would not say how he became affiliated with the Trump campaign, but denied a report in Politico in September that suggested that it may have been arranged by the chief of staff of Jeff Sessions, a then-senator who is now attorney general.
"I can confirm that is not the case," Page said. He wouldn't say how he ended up named by Trump.
"If I started naming names there would be literally dozens of reporters within the next hour calling each of those individuals," Page said. "I'm just respectful to individuals who are colleagues."
Trump's former national security adviser, Michael Flynn, resigned last month after misleading Vice President Mike Pence and others about conversations he had with Russia's ambassador before Trump took office. Trump said Flynn did nothing wrong, but "I fired him because of what he said to Mike Pence."
On Thursday, Attorney General Jeff Sessions said he would recuse himself in any federal investigation involving the Trump campaign, which he supported.
Sessions made the announcement after coming under fire for not disclosing in his confirmation hearing that he met with the Russian ambassador during the campaign.
Sessions said he understood the question at the confirmation hearing to be about contacts regarding the campaign, and said he should have answered differently.