President Barack Obama and key congressional leaders may agree on current national security surveillance policies, but a heated debate is under way outside Congress -- perhaps most fiercely between two former and powerful vice presidents, Dick Cheney and Al Gore. And their rhetorical clash seems to suggest that the national security consensus that has existed since Sept. 11, 2001 may be getting harder to maintain.
On Sunday, Cheney unabashedly defended the National Security Agency's program to monitor phone and email data and was scathing in his criticism of Obama's handling of the War on Terror. Two days earlier, Gore challenged the constitutionality of the surveillance in an interview with a British newspaper, saying, "I think that the Congress and the administration need to make some changes in the law and in their behavior so as to honor and obey the constitution of the United States."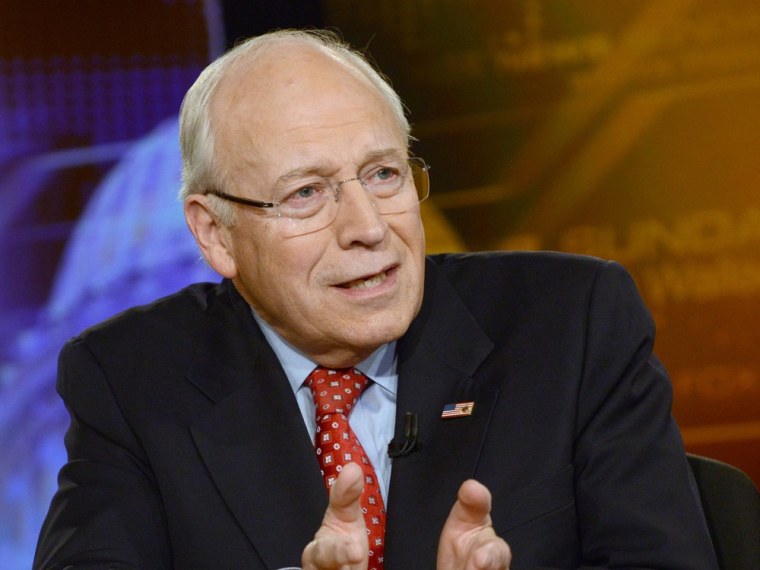 "I don't pay a lot of attention, frankly, to what Barack Obama says," Cheney told Chris Wallace of Fox News. Cheney added that the president is "just dead wrong on the status of the threat" from al Qaida, disputing Obama's judgment that the struggle against al-Qaida is winding down. "The threat is bigger than ever," he contended.
Cheney took personal ownership of the NSA surveillance program saying, "We set up this program back in the weeks after '01 … We did it in my office, in the West Wing." If only the NSA surveillance had been in effect before the attacks on the World Trade Center and the Pentagon, he said, "we might have been able to prevent 9/11."
But Gore, in an interview with The Guardian – the newspaper which first published contractor Edward Snowden's revelations about NSA surveillance – denounced the program as unconstitutional, "not right" and "not really the American way."
The Cheney-Gore clash was a reminder that one can't debate war on terrorism issues – from surveillance to Guantanamo – without considering the prelude of policies from George W. Bush.
Progressive activists who gathered over the weekend at the American Constitution Society's annual convention in Washington voiced dismay over Obama's conduct of the war on terrorism, including revelations about the NSA as well as his use of drones to kill Americans and others overseas.
But American Civil Liberties Union deputy legal director Jameel Jaffer suggested that the fact that Obama, not Bush, is in the White House may not matter as much as people thought it did when they voted back in 2008.
"We are starting to see a kind of indifference of the 'Security State' to the character of the particular administration," argued Jaffer. "It doesn't matter who's in power; these policies just seem to grow and grow. I think the surveillance disclosures of the last week are some evidence of that. The logic of these security polices is so strong that it doesn't matter that much who's in power."
Last week the ACLU filed suit against the Obama administration, asking a federal court in New York to order the NSA data collection to cease.
Jaffer disputed Obama's statement on June 7 that the NSA data collection "was not secret" because "every member of Congress has been briefed on this program" and that NSA programs "have been authorized by broad bipartisan majorities repeatedly since 2006."
Jaffer said, "Most members of Congress didn't know about this meta-data program, they didn't have access to the OLC (Office of Legal Counsel) memos, they didn't have access to a lot of the crucial information about the scope of the program." So, he said, "It's not true to say that there was congressional oversight."
As chagrined as some progressives are about Obama, of course they haven't forgotten Bush and Cheney. Georgetown University law professor David Cole said that Bush and Cheney had engaged in "criminal action" by approving waterboarding of captured terrorists.
A member of the audience, Shahid Buttar, executive director of the Bill of Rights Defense Committee, told the panelists that the Obama administration had failed to "to pursue executive accountability for torture, as is required under international law" thus, he said, "ensuring that torture will recur by making it OK to permit the Bush administration's abuses."
But former Obama administration official Marty Lederman, who served in the Justice Department's Office of Legal Counsel from 2009 to 2010 and from 1994 to 2002, replied, "What is it exactly that this accountability would consist of – but for I guess prosecution of President Bush and Vice President Cheney – which I don't think would be particularly healthy for our public right now." 
Cole said Bush and Cheney need not be criminally prosecuted but he urged that a bipartisan commission to formally investigate torture.
Representing the Bush era on the panel was John Bellinger, an attorney at Arnold & Porter in Washington who served both in the Justice Department in the Clinton administration and as legal adviser to the State Department under Secretary of State Condoleezza Rice from 2005 to 2009.
"We really need to restore bipartisanship," Bellinger told the skeptical crowd. "It is very easy to demagogue these issues from either the right or the left … ."
Looking out over the audience – which contained many law students who might seek future employment in a Democratic administration – Bellinger said, "I hope many of the people in this room will serve in government. When you are in government, you've got to work with Republicans, you've got to work with Democrats. And the way to do it is not to go bashing the other side calling them 'criminals,' impugning their motives."
As Buttar pointed out, there are two types of bipartisanship: the kind Bellinger was urging, which pursues continuity in national security policies, and the more populist kind, which unites libertarian Republicans such as Sen. Rand Paul of Kentucky with Al Gore and other progressive Democratic critics of NSA surveillance.