Director of National Intelligence Avril Haines said Thursday that China and Russia would likely take advantage of a U.S. debt default to portray the U.S. as a dysfunctional, chaotic and unstable nation.
Haines told lawmakers during testimony at a Senate Armed Services Committee hearing on global threats that a domestic debt default likely would create global uncertainty about the U.S. dollar's value and lead to volatility in currency and financial markets.
"I think, generally, both Russia and China would look to perceive — sort of narrate — through information operations such an event as demonstrating the chaos within the United States, that we're not capable of functioning as a democracy, and the governance issues associated with it," she said after being asked about the intelligence community's assessment of the potential effect of a U.S. default on its debt.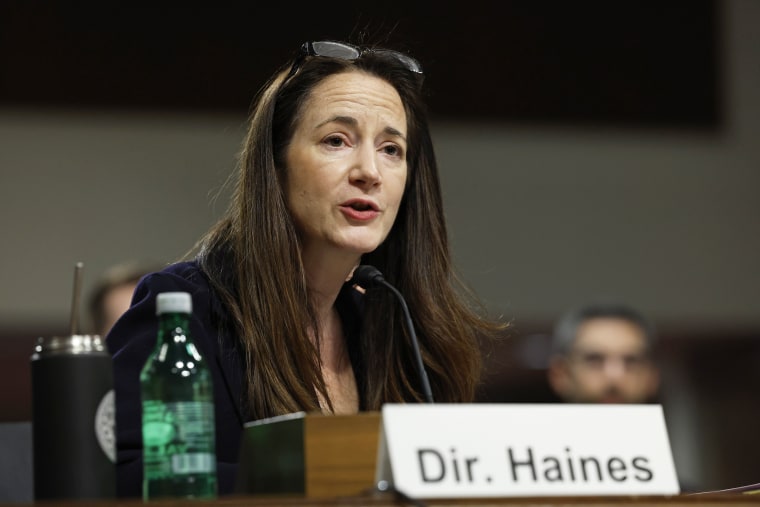 "Almost certainly, it would create global uncertainty about the value of the U.S. dollar and U.S. institutions and leadership, leading to volatility in currency and financial markets and commodity markets that are priced in dollars," Haines said.
Asked if China would try to exploit a U.S. debt default through misinformation efforts, she said: "I don't have any information that suggests that they're planning for that, but I think our analysts would agree with you that it would be, you know, almost a certainty that they would look to take advantage of the opportunity." 
Treasury Secretary Janet Yellen warned earlier this week that if Congress failed to raise the debt limit, it "would cause severe hardship to American families, harm our global leadership position, and raise questions about our ability to defend our national security interests."
She wrote in a letter to Congress on Monday that the deadline to extend the debt ceiling or face the first U.S. default could be as early as June 1, narrowing the timeline even as the path to avert a crisis remains unclear on Capitol Hill.
Yellen had previously said the deadline was June 5, but it's common for the Treasury to adjust the date for when money runs dry based on fluctuating tax collections that can be tricky to predict.
President Joe Biden will meet Tuesday with congressional leaders — including Senate Minority Leader Mitch McConnell, R-Ky., House Speaker Kevin McCarthy, R-Calif., Senate Majority Leader Chuck Schumer, D-N.Y., and House Minority Leader Hakeem Jeffries, D-N.Y. — to try to reach a solution to avoid a default. But so far, there's no sign of an imminent resolution.
House Republicans are pushing to attach spending cuts to a debt ceiling increase, while Democrats have declined to negotiate over whether to pay the country's bills or default. Democrats, resistant to policy conditions, have insisted on a "clean" debt limit increase. They want Congress to negotiate over spending cuts that Republicans have demanded in the separate government funding process, which has a deadline of Sept. 30.
In the meeting next week, Biden plans to "stress" to congressional leaders that they "must take action to avoid default without conditions," a White House official previously told NBC News.