Chris Christie ignored the scandals surrounding his administration Tuesday, using his second inauguration speech to deliver a message of bipartisan cooperation.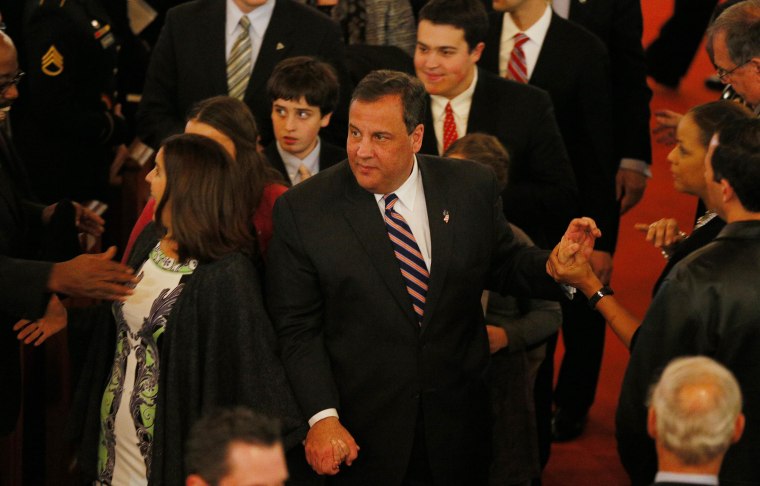 Christie spoke of his commanding re-election victory, and claimed it as a mandate for his second term – even as new investigations prompted by Democrats in New Jersey's state legislature threaten to all but grind Christie's agenda to a halt and hamper his potential presidential plans.
"Now the people have definitively set the course for the next four years – they have affirmed the decision to take on the big problems," Christie said. "It wasn't just some our people who affirmed this course … No, this time, it was the largest and loudest voice of affirmation that the people of our state have given to any direction in three decades."
And Christie talked up his bipartisan credentials, saying that he would insist on bipartisan cooperation in the state's business, even as partisan acrimony in Trenton reaches new highs.
"I will not let up. I will insist we work together," he said. "And I will make this government truly work for those who pay for it."
Christie delivered a speech that seemed as though it was written well before Jan. 8, when local media revealed an aide to the governor's participation in a political retribution plot that has prompted a wave of investigations into the Republican governor and his administration.
A top Republican contender for the White House in 2016, Christie focused solely on themes that would serve as pillars of a presidential campaign.
So far, Christie has sought to move past the scandal since addressing it in exhausting detail during an initial press conference after emails indicated a top aide to the governor had conspired to close lanes on the George Washington Bridge to punish a local Democratic mayor that had declined to back the governor's re-election.
At his state of the state address last week, Christie only referenced the controversy in passing.  And while fundraising over the weekend in Florida, the governor acknowledged to GOP donors that he hadn't particularly enjoyed the swirling controversy.
The scandals enveloping the Christie administration weren't the only factor overshadowing Tuesday's inauguration festivities, either. An impending east coast snowstorm has already put a damper on celebrations: an inaugural party at Ellis Island was canceled early Tuesday in anticipation of inclement weather that evening.
The governor though sought to demonstrate his crossover appeal by railing against Washington and touting an immigration reform bill – which resembles a stalled piece of legislation in Congress – he won from his state's legislature last year. 
"We cannot fall victim to the attitude of Washington, DC. The attitude that says I am always right and you are always wrong.  The attitude that puts everyone into a box they are not permitted to leave," Christie is set to say. "As we saw in December regarding the DREAM Act, we can put the future of our state ahead of the partisans who would rather demonize than compromise." 
And he emphasized a message of lower taxes and small government that might appeal to Republican primary voters come 2016. 
"I do not believe that New Jerseyans want a bigger, more expensive government that penalizes success and then gives the pittance left to a few in the name of income equity," Christie said. "What New Jerseyans want is an unfettered opportunity to succeed in the way they define success. They want an equal chance at the starting; not a government guaranteed result."