CHICAGO – The 2016 presidential campaign takes center stage here Thursday with two of the top potential contenders -- Hillary Clinton and Chris Christie -- sharing co-billing at the high-profile Clinton Global Initiative "America Meeting."
No two figures will stand apart more from the business luminaries, government officials and nonprofit leaders gathered in Chicago than the Republican governor of New Jersey and former secretary of state, who is just re-emerging into public life after serving four years in President Barack Obama's administration.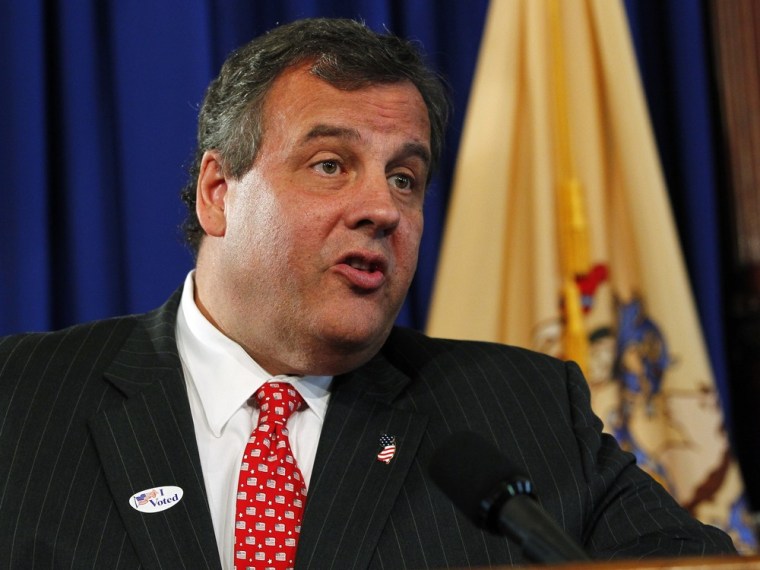 Their joint presence at the meeting marks the first opportunity for a head-to-head comparison of the two for a campaign that remains years away but effectively has already begun.
Clinton and Christie hold large advantages within their parties in a potential national race and every movement by both leaders is met with close examination for potential clues -- their decisions, appearances and even social networking forays.
Clinton will help kick off the event with remarks Thursday morning at the conference organized by her husband, former President Bill Clinton's foundation, and is set to emphasize "solutions that promote economic recovery in the United States." Christie will speak Friday evening.
Clinton's remarks speech on Thursday will be closely scrutinized because her public words and deeds have been so sparing since she left office on Feb. 1. The few steps she has taken have begun to carve out a new public role for the former New York senator, as the country waits to see if she will make another White House run.
"I would expect that there is going to be a little more definition now to what some of her top priorities are going to be -- what she is going to spend time focusing on," Mo Elleithee, a Democratic strategist and senior spokesman for Clinton's 2008 campaign, said.
Elleithee suggested Clinton could look to outline those priorities during her speech on Thursday.
Christie's speech -- during which he will discuss his state's post-Sandy economic recovery and rebuilding -- presents another opportunity for the New Jersey governor to demonstrate his bipartisan appeal before a high-profile audience.
"This is one of those rare audiences and rare opportunities where candidates can elevate their profile and elevate the discourse. The folks that attend CGI on the media-side and the corporate-side, they are the most influential of the influential," said a Republican veteran of several presidential campaigns who asked not to be identified. "I think this is one of the times they can actually speak about big issues for country."
Different paths
Both of these household names face different challenges to any eventual potential presidential run.
Speculation about Clinton's future plans has already reached a fever pitch, just months out of office. She ventured into the social media world this week joining Twitter. And the somewhat cryptic biography on the account -- which suggested her future plans are "to be determined" -- practically invited followers to spin up as much speculation as they could about her presidential aspirations.
"I think we are going to see that 'TBD' Thursday. She can go in about 32 different directions moving forward, whether political or some other form of advocacy," Elleithee said. "She has a unique ability to have impact. I don't think she has fully decided what direction to go in and the 'TBD' was a recognition of that while sort of dealing with the 800-pound gorilla in the room – does she run or not."
Christie's immediate future is more certain. He must win re-election to a second term as New Jersey governor this fall before he turns his attention to any other political office. A Republican governor in a heavily blue state, Christie has garnered national attention due to his blunt personality and his crossover appeal to independent and Democratic voters.
To that end, June's NBC News/Wall Street Journal poll found 40 percent of Republicans, 41 percent of independents and 43 percent of Democrats see him in a positive light.
By comparison, Clinton -- who has been a fixture of national politics for over 20 years -- is more polarizing. Eighty-three percent of Democrats view her positively, compared to 15 percent of Republicans.
The New Jersey governor has practically seized every opportunity to stress his bipartisan credentials, though. He appeared with Obama to toast the re-opened Jersey Shore in late May, months after praising the president's handling of Hurricane Sandy just days before last fall's presidential election.
An aide to Christie said his remarks would focus largely on New Jersey's economy, and its work to recover from the devastation from Hurricane Sandy.
Still, Christie's actions at times have helped provoke rising skepticism from conservatives who had once championed his work as governor.
Christie's close relationship with Obama and some of the governor's other actions, though, could turn back against him in a 2016 Republican presidential primary and its gauntlet of conservative stalwart voters.
"I find Gov. Christie's leadership style extraordinarily refreshing because he represents political leadership that works in a bi-partisan fashion to achieve results for the people of his state. He is less concerned about the chatter from the right and the left and I applaud him for it," Phil Musser, Republican political consultant and former Executive Director of the Republican Governor's Association, said.
"He has been providing really strong, steady leadership that is being recognized in his own state and I think would be a great model for the nation at the appropriate time."
But Clinton hasn't been able to escape controversy either, despite having left public office.
An ongoing, Republican-led investigation into the Obama administration and State Department's response to last year's Sept. 11 terror attack against a diplomatic outpost in Benghazi, Libya, has quickly become fodder for Republican attacks against Clinton.
Other would-be Republican presidential hopefuls, like Kentucky Sen. Rand Paul, have argued the State Department's management of the crisis should disqualify Clinton from further office.
But the high-profile speaking slots at the CGI offer both Clinton and Christie an opportunity to define better themselves -- on their own terms.
The advice a strategist would give to Clinton or Christie: "I would go there and confront an issue that is outside the box for people. Take a stand on an issue and make a strong argument for an issue that would be somewhat unconventional."
NBC's Michael O'Brien contributed to this report.
Related stories: