At the outset of a pivotal week in Washington, FBI Director James Comey delivered a political gut-punch to President Donald Trump Monday — and the news possibly could get worse for the president in the days and weeks ahead.
In sworn testimony before the House Intelligence Committee, Comey said there was no evidence to Trump's claims that Barack Obama wiretapped him and Trump Tower, as the current president alleged in a series of tweets earlier this month. And he confirmed that his agency was investigating the 2016 Trump campaign's links with Russia's effort to intervene in the presidential election.
His confirmation of that investigation was "historic," as NBC's Ari Melber declared on MSNBC, even as the director declined to discuss details.
Related: "No Information" To Back Trump's Claim Obama Wiretapped Him
So, in the span of an hour, the head of the FBI debunked Trump's explosive charge that Obama tapped his phones:
And he contradicted Trump's tweets from earlier in the morning that allegations of possible ties between his campaign and Russia were "fake news":
Comey's testimony also threatened to overshadow what could be a political win for the president — the mostly smooth confirmation process for his Supreme Court nominee, Neil Gorsuch.
Monday's back-to-back revelations from Comey could complicate matters for Trump's team and agenda in at least three key ways.
One: Confirmation that the FBI is investigating Russia's contacts with the Trump campaign will only heighten Democratic calls for a special prosecutor, especially after Attorney General Jeff Sessions recused himself from federal inquiries involving the 2016 campaign.
"The Department of Justice and Trump administration must allow Director Comey's investigation to move forward without any interference, meddling, or political pressure of any kind whatsoever," Senate Minority Leader Chuck Schumer said.
Two: Comey's testimony could lead to additional hearings. The Republican political operative Roger Stone, who congressional Democrats allege might be at the center of contacts with Russian operatives, tweeted during Comey's testimony that he wanted a chance to respond.
Three: The Comey claim that there is no evidence to support Trump's assertion that Barack Obama wiretapped him — undercutting the president's credibility — could hurt Trump as he tries to twist Republican arms in the health-care debate.
House Republicans are set to vote Thursday on the GOP plan to repeal and replace the Affordable Care Act, and they can afford only 21 GOP defections to pass the legislation. Per NBC News' count, 17 House Republicans are opposed or leaning against the bill.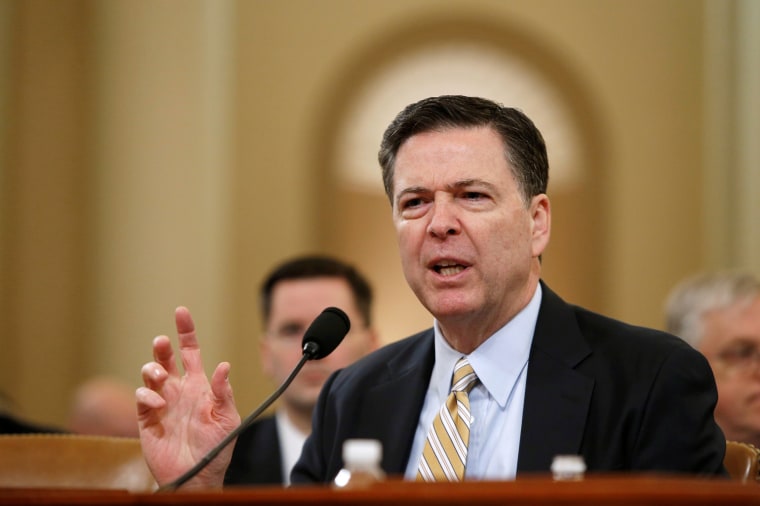 The White House dismissed the impact of Comey's testimony, especially his confirmation of the FBI's investigation. "Nothing has changed. Senior Obama intelligence officials have gone on record to confirm there is no evidence of Trump-Russia collusion and there is no evidence of a Trump-Russia scandal," a senior administration official told NBC's Hallie Jackson. "Obama's CIA director said so. Obama's Director of National Intelligence said so. We take them at their word."
"Investigating it and having proof of it are two different things," White House Press Secretary Sean Spicer added about the allegations.
Republican members on the House Intelligence Committee also did everything possible to change the subject about Comey's revelations, focusing their questions about leaks of classified information.
And it's still possible that House Republicans pass their Obamacare repeal/replace legislation, giving Trump a boost to his agenda.
But the timing of Comey's twin announcements — on Russia and Trump's wiretapping claim — couldn't have come at a worse time for the White House.