WASHINGTON — Congressional Republicans struggled to make sense of President Donald Trump's mixed messages on DACA Wednesday as Democrats ratcheted up pressure to save the program.
One day after Attorney General Jeff Sessions announced the end of Deferred Action for Childhood Arrivals, the Obama-era program that permitted undocumented immigrants who came to the U.S. as children to stay in the country, Trump tweeted that he would "revisit the issue" if Congress fails to act by March. This seemingly contradicts the administration's previous stance — that only a legislative fix would do — by dangling the prospect of unspecified action.
A bipartisan chorus of lawmakers have spoken out against taking a punitive approach to the estimated 800,000 so-called Dreamers, as participants in the program are known, currently residing in the United States. But unclear messaging from the White House has left GOP leadership on its own to decipher what Trump wants to see as part of a bill.
"We will not be advancing legislation that does not have the support of President Trump, because we're going to work with the president on how to do this legislation," House Speaker Paul Ryan said about the prospect of a comprehensive immigration bill that addresses DACA.
Congress has not tried to put forth a major immigration bill since 2014, when efforts to find a bipartisan solution collapsed. And early indications on Capitol Hill suggest a DACA fix will not be part of a large-scale package.
Republicans have instead suggested they will attach DACA to other legislative priorities, like Trump's proposed wall along the U.S. border with Mexico.
"It's totally reasonable and appropriate that when you take a look at the DACA dilemma, this is a dilemma that, in large part, stems from the fact that it is a symptom of a larger problem," Ryan said Wednesday. "And the larger problem is that we do not have control over our borders. And so it's only reasonable and fitting that we also address the root cause of the problem, which is borders that are not sufficiently controlled while we address this very real and very human problem that's right in front of us."
Democrats, however, are hoping the bipartisan support for continuing the program is enough to push Republican leadership to vote on a clean DACA bill without any other interests attached.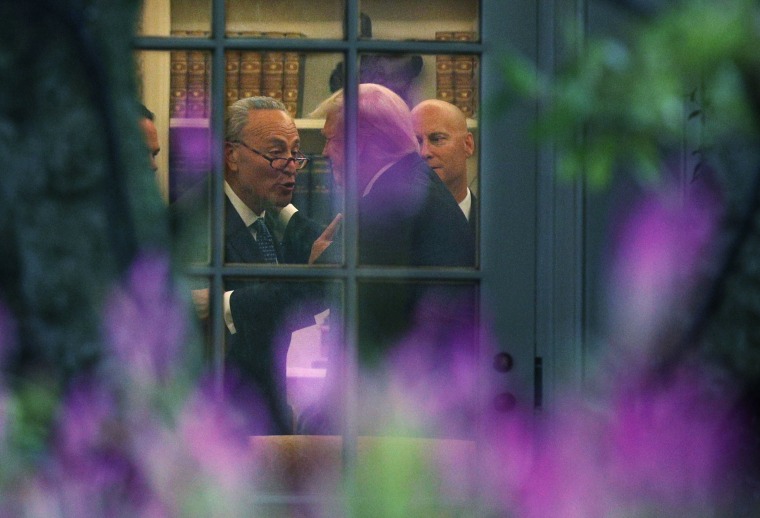 "Congress has an ability and obligation to act, which is why we today are calling on Speaker Ryan and Leader McConnell to immediately put the DREAM Act on the floor for a vote in the House and Senate," Senate Minority Leader Chuck Schumer said during a rally to save the program. "We are ready to pass it. I am confident, if put on the floor, it will garner overwhelming support from both sides of the aisle."
But Democratic leaders have also threatened to use the same parliamentary tactic as Republicans to force a vote.
"Let us say this and I think I speak for the leader as well, if a clean DREAM Act does not come to the floor in September, we are prepared to attach it to other items this fall until it passes," Schumer said.
It's a fight many Democrats are eager to have. An NBC News|SurveyMonkey Poll released last month found more than 60 percent of respondents favor DACA.
House Minority Leader Nancy Pelosi emerged from a White House meeting Wednesday saying the president told her he would sign a bill protecting DACA if other priorities are included.
"He said, 'If you pass it, I'll sign it,'" Pelosi told NBC News. "He obviously wants some other things, so we will see what that is."