A conservative scholar behind a high-grossing film condemning President Barack Obama pleaded guilty Tuesday to making illegal campaign contributions to a U.S. Senate candidate in New York.
Dinesh D'Souza, 53, of San Diego, entered the plea in federal court in Manhattan on the day his trial was to begin, admitting he had two close associates each contribute $10,000 to Wendy Long's campaign with the understanding that he would reimburse them.
"I did reimburse them," D'Souza told U.S. District Judge Richard M. Berman. "I knew that causing a campaign contribution to be made in the name of another was wrong and something the law forbids. I deeply regret my conduct."
A plea agreement D'Souza signed calls for him not to challenge any sentence within the range of 10 months to 16 months.
His attorney, Benjamin Brafman, said in a statement immediately after the plea that he was hopeful that the judge "will recognize Mr. D'Souza to be a fundamentally honorable man who should not be imprisoned for what was an isolated instance of wrongdoing in an otherwise productive life." Sentencing was set for Sept. 23.
Long, who lost the 2012 election to the Democratic incumbent, Kirsten Gillibrand, was prepared to testify against D'Souza, said Assistant U.S. Attorney Carrie Cohen.
D'Souza, who made the documentary "2016: Obama's America," entered the plea a week after the judge turned down his claim that he was selectively prosecuted. Berman said D'Souza had shown the court no evidence that he was targeted.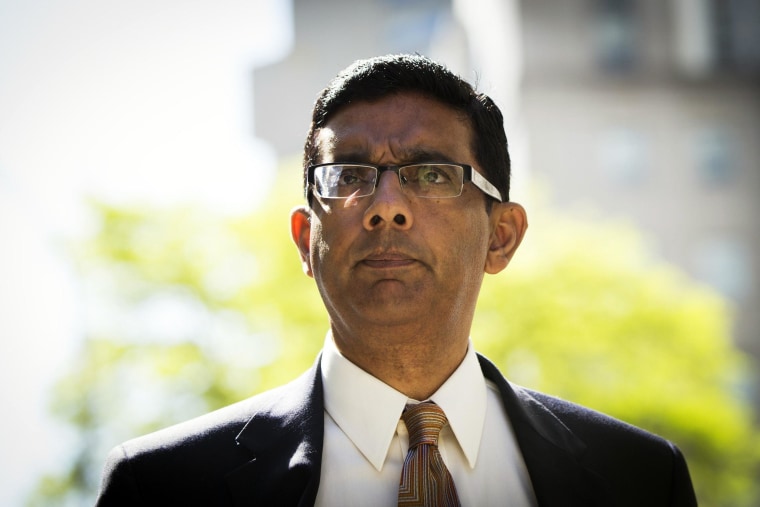 — The Associated Press