Conservative Republicans seem to be surrendering in the fight on gay marriage.
At an annual conference on Thursday and Friday for the Faith and Freedom Coalition, the religious conservative organization led by former Christian Coalition executive director Ralph Reed, the wave of court rulings over the last year that have struck down gay marriage bans from coast to coast went almost entirely unmentioned.
Speaker after speaker – including a parade of possible 2016 presidential candidates – served up plenty of criticism of the Obama administration and its policies. But none condemned "activist judges," as Republicans like George W. Bush have in the past. A handful of them invoked the phrase "traditional marriage" or suggested marriage was between a man and a woman, but the leading presidential hopefuls -- including Kentucky's Rand Paul, Texas' Ted Cruz, and Florida's Marco Rubio -- completely avoided the subject.
Instead, they highlighted their opposition to abortion and argued that the Obama administration's policies threaten Americans' religious freedom.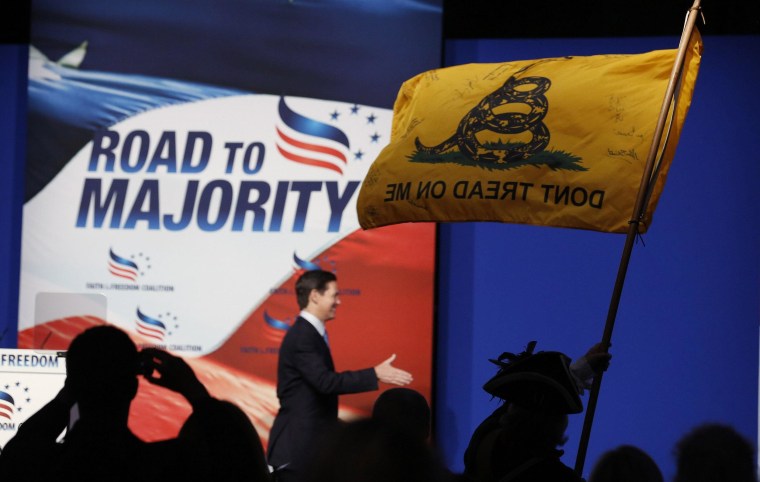 Most notably, neither Reed himself, nor former senator Rick Santorum, who ran in 2012 as the champion of social conservatives, highlighted opposition to gay marriage in their remarks, although Santorum did allude to it, saying "children need mothers and fathers."
In interviews with some of the more than 500 attendees, all said they oppose gay marriage. At the same time, the social conservatives at the conference displayed a reluctant acceptance that same-sex marriage will be legal nationwide in the near future.
"I think it's going to continue to spread," said Gregg Potts, a 53-year-old Baptist pastor from Emerson, Georgia, referring to same-sex unions.
"The way I interpret the scripture, it's wrong," Potts said. "But I want to minister to everybody. And if you come out against this, it is interpreted that you are not loving. I try to love all people and that guides me."
"I want marriage to stay traditional," said Gail Sonatore, a 67-year-old from New York who works in financial planning. "But I think we have a fight on our hands with the libertarians. They are for it, so that is part of our challenge."
Michael Medved, a talk show host and author who spoke at the forum, said it is easier politically to oppose abortion than same-sex marriage.
"It's hard to see the victims from the fact that states are permitting same-sex marriages," he added.
Reed, in an interview, emphasized that some of the speakers here did repeatedly condemn same-sex marriage, such as Benny Tate, a Georgia pastor. Reed added that he and most elected Republicans are "steadfast supporters of traditional marriage."
The idea our federal government is coming after religious liberty now is stunning and heartbreaking
"It's not an indication of any change all," he said, when asked about the potential presidential candidates not highlighting the judicial rulings in favor of gay marriage.
The relative silence is another illustration of the dramatic shift on gay rights over less than a decade. In 2004, then-President Bush supported a federal constitutional amendment that would have defined marriage as between a man and a woman. Four years later, both Hillary Clinton and Barack Obama also emphasized they did not support gay marriages.
Now, it is virtually a requirement for a Democrat to support same-sex marriage, outside of the Deep South. At the same time, only a few Republicans in federal office, most notably Sen. Rob Portman of Ohio, have said they back same-sex marriage. Polls show the majority of Republicans over 50 and people who identify themselves as evangelicals, two power blocs in the Republican Party, strongly oppose same-sex unions.
Bob Vander Plaats, an influential social conservative in Iowa, has said that he and other religious voters in Iowa , which votes first in the presidential nomination process, would strongly oppose any GOP presidential candidate who was not an opponent of same-sex marriage.
Caught between the rising public approval of gay marriage and the continued opposition to it from their base, Republican candidates are shifting course. In front of Christian conservative audiences, GOP politicians increasingly speak, as Cruz did at this conference on Thursday, about defending religious rights for people of faith.
Cruz and other Republicans argue that federal legislation could require conservative business owners to violate their faith -- by mandating that they offer services to gay couples or provide contraception for employees, for example.
"The idea our federal government is coming after religious liberty now is stunning and heartbreaking," Cruz said in his speech.
"It's all about this idea of persecuting people of faith," said David Brody, the chief political correspondent for the Christian Broadcasting Network and author of "The Teavangelicals," a book that describes the link between conservative Christians and the Tea Party.
"Abortion and gay marriage were the issues of the Christian Coalition days," he added. "They are being joined as top-tier issues with this religious liberty issue. That is going to be the defining issue going forward in 2016."