Senate leaders struck a deal on Tuesday to avoid the "nuclear option," as Republicans relented and allowed a series of President Barack Obama's stalled nominees to move forward toward confirmation.
As a sign of a break in the stalemate, Republicans allowed a vote Tuesday morning to advance the nomination of Richard Cordray to permanently lead the Consumer Financial Protection Bureau, passing 71-29. In a final vote Tuesday afternoon, Cordray was easily confirmed by a vote of 66-34. 
In exchange, Democrats backed off their threat to unilaterally change Senate rules – the so-called "nuclear option" – to allow for presidential nominees to be confirmed by a simple majority vote, an historic rules change which Senate Majority Leader Harry Reid, D-Nev., had been threatening for days. 
Reid appeared on the Senate floor Tuesday morning to announce that a deal was near.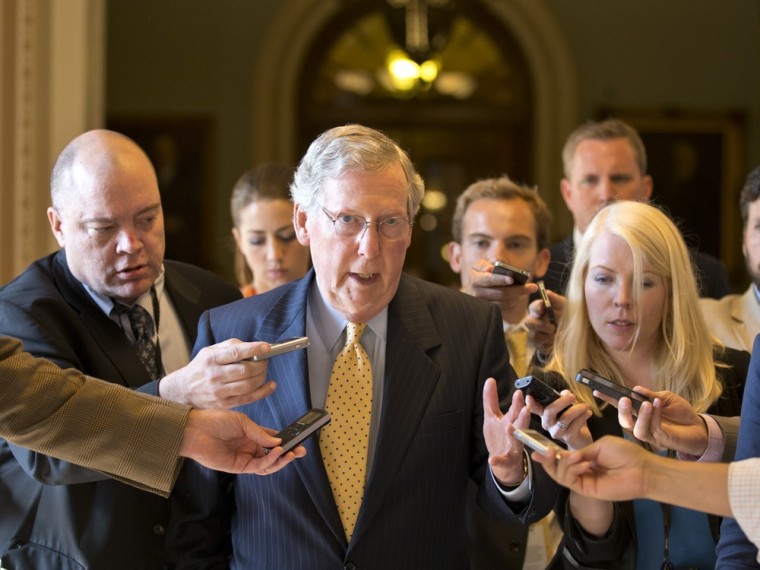 "We may have a way forward on this," Reid said in brief remarks. "I feel fairly confident, but as you know, that's why we need the time."
He added, without describing the nature of the agreement: "It is a compromise, and I think we get what we want, and they get what they want."
According to sources familiar with the deal, Republicans would allow a series of stalled nominations to move forward, but make no commitment to avoid filibustering future nominations by Obama. But, in a concession to Republicans, the president will also name two new appointees to the National Labor Relations Board to replace interim officials on that panel. Republicans agreed to fast-track those future nominees' confirmation votes.
Sen. Mitch McConnell, Ky., the Republican leader, expressed his relief at a press conference Tuesday afternoon. 
"We are pleased that the majority decided not to exercise the nuclear option," he said. "We think that's in the best interests of the institution."
The agreement represents a major breakthrough following days of tense saber-rattling by Democratic and Republican leaders alike. Liberal Democrats had pushed Reid to invoke the nuclear option to allow easier confirmation for nominees by a simple majority vote, rather than occasionally subjecting them to the filibuster-proof, 60-vote supermajority sometimes demanded by the minority party (in this case, the GOP).
The Nevada Democrat had threatened to change the rules unless Republicans relented on a series of nominees Reid had been set to bring up for a vote, beginning with Cordray.
Tuesday's developments also follow a rare, hours-long meeting of most all senators of both parties on Monday evening failed to yield an agreement, prompting an expected showdown this morning. But Reid's remarks suggested that the situation had calmed somewhat, which the majority leader credited to a somewhat unlikely figure: Arizona Sen. John McCain, R.
"John McCain is the reason why we're at the point we are," Reid said.
Had Reid invoked the nuclear option, some Republicans had vowed to further slow the chamber's mechanics, propelling partisan rancor to a new level and imperiling many of Obama's second-term priorities.
The NLRB appointees had appeared, for a time, to be a sticking point; Republican regard the labor board with a high degree of suspicion, worrying that it might impose sweeping restrictions on businesses' labor practices with Democratic nominees on the panel.
Frustrated by inaction on confirming NLRB nominees, Obama last year named interim members to the labor board using his power to place officials in a position when Congress is on an official recess. Business groups had challenged Obama's appointments, because they were made during a pro forma session of Congress while the Senate was out of town, and a federal appeals court had ruled the president's appointments unconstitutional. The Supreme Court had been set to hear arguments on the matter this fall.
NBC's Kelly O'Donnell contributed reporting.