Citing a lack of a coordinated national effort on contact tracing, two congressional Democrats whose states have among the highest cases of COVID-19 are proposing to create a "coronavirus containment corps" to assist state and local health departments with tracing potential victims.
The proposal by Sen. Elizabeth Warren of Massachusetts and Rep. Andy Levin of Michigan would require the director of the Centers for Disease Control and Prevention to submit a strategy to Congress on hiring, training and deploying people who can help health authorities do contact tracing. Under the proposal, the Labor Department would fund state and local workforce agencies, which would in turn help unemployed individuals find jobs as contact tracers and other related roles.
Full coverage of the coronavirus outbreak
It's a strategy that Warren and Levin, whose states are already implementing their own contact tracing initiatives, said they are working to get included in the next coronavirus relief package.
"To confront a national crisis, we need a proactive nationwide strategy — and the Trump administration is failing to come up with one," Warren said, adding that "we need a national contact tracing program that will stop the virus in its tracks, instead of us perpetually chasing it from behind."
Levin added that to "defeat a virus that can jump from state to state with a plane or car ride, we need a national plan." He faulted the Trump administration, which he said "has spent months trying to catch up when we need to be thinking ahead."
The proposal, which was shared with NBC News, also outlines rapidly developing guidance and training materials to support public health departments; the CDC providing additional, noncompetitive funds to those departments for use in future public health crises; ensuring tribal health departments are also included in funding availability and tracing efforts; and that individuals are hired from within the communities they live to better reflect diversity.
Warren's support for increased contact tracing comes amid her announcement Thursday morning that her oldest brother, Don Reed, died Tuesday evening from the coronavirus. He was 86.
"It's hard to know that there was no family to hold his hand or to say 'I love you' one more time — and no funeral for those of us who loved him to hold each other close," she tweeted. "I'll miss you dearly my brother."
The battle against the coronavirus has become front and center in Washington. Other Democratic members of Congress have proposed initiatives that include a "Health Force" to recruit unemployed Americans into public health careers and the use of members of AmeriCorps and the Peace Corps in contact tracing and other jobs.
Governors this week have pointed out the need to ramp up contact tracing efforts, which involves first identifying infected people, logging where they went and with whom they've been in contact, then following up with those contacts about their health, if they have been tested and if they should quarantine.
It's a daunting operation, but one that public health officials say is needed alongside testing in order to know where COVID-19, the disease caused by the coronavirus, has been spread in a community and if the cases are few enough that stay-at-home orders can be lifted and businesses reopened.
Download the NBC News app for full coverage and alerts about the coronavirus outbreak
A report this month from the Johns Hopkins Bloomberg School of Public Health and the Association of State and Territorial Health Officials found that Congress would need to appropriate about $3.6 billion in emergency funding for contact tracing efforts, including for the hiring of 100,000 contact tracers, paid or volunteer.
Funding levels for Warren's and Levin's plan are still being worked on, but the report notes how useful contact tracing has been to mitigate the spread of tuberculosis in the United States, while other countries, including South Korea, Taiwan, Germany and Iceland, are using it to help contain outbreaks of COVID-19.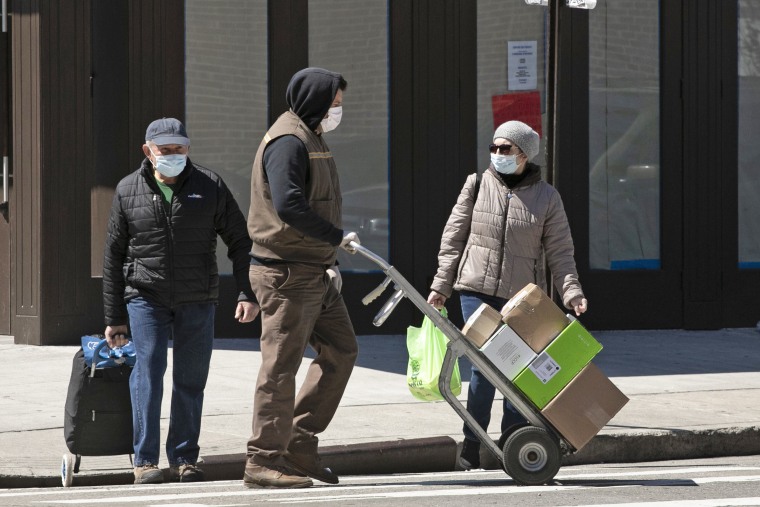 The race is on for state and local health agencies to get contact tracing underway as CDC Director Robert Redfield warned this week that this fall and winter could be particularly hard on people with both the coronavirus and the flu going around and "we have to distinguish between the two."
Redfield, whose agency's languid response to testing more Americans has faced criticism, told NPR earlier this month that it's "critical" to scale up contact tracing for those who test positive for COVID-19.
"We can't afford to have multiple community outbreaks that can spiral up into sustained community transmission — so it is going to be very aggressive, what I call 'block and tackle,' 'block and tackle,'" he said.
He added that there's more than 600 people "in the field right now from CDC in all the states trying to help with this response, but we are going to have to substantially amplify that."
Various governors also said this week that coordination is key.
New York Gov. Andrew Cuomo on Wednesday said former New York City Mayor Michael Bloomberg will help fund contact tracing efforts in the region that includes New Jersey and Connecticut. Bloomberg is expected to spend at least $10 million.
Cuomo told reporters that doing testing, contact tracing and isolating on this scale is uncharted territory.
"So it is an intimidating exercise. But I say, so what? Who cares that you have never done it?" he said. "We have to put together a tracing army. We put together armies before, never a tracing army, but we can put together people, we can organize, we can train and we can do it."
Other states' leaders have been cautious about such efforts. Gov. Tom Wolf said this week that Pennsylvania doesn't "have a lot of good leads on that at this point and we certainly do not have a budget."
But that's where Warren and Levin say federal agencies can play a stronger role.
"The federal government will need to step up and massively expand our health care workforce, make sure states and localities have the support they need, and ensure Americans' privacy is protected," Warren said.